Telling Others You're Pregnant
As an Amazon Associate I earn from qualifying purchases. For more details, please see our disclosure policy.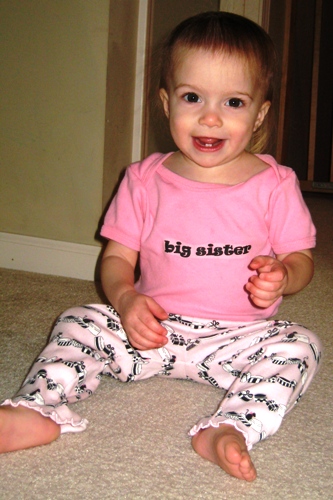 Sharing the news that you're expecting a new baby can be an exciting time. When I was pregnant with my first child, we gave my father-in-law a picture frame carved sayings about grandparents. We wrapped it up and gave it to him for his birthday. He was so happy!
When FishBaby FishChick2 was in utero, I staged the above photo. FishChick3 was a toddler and the known "baby of the family." It took some people awhile to make the connection that "the baby" really wouldn't be wearing a "Big Sister" tshirt. I've enjoyed being a little clever when I spread the news of an impending arrival.
Yes, yes, I have.
There are a multitude of ways to share your good news with others. And I bet you know of quite a few!
How have you shared your Big News?
:: Check out more Baby Love all week long.
:: And, no, I am not pregnant. 😉