Telling Others You're Pregnant
We are a participant in the Amazon Services LLC Associates Program, an affiliate advertising program designed to provide a means for us to earn fees by linking to Amazon.com and affiliated sites. We participate in other affiliate programs as well. For more details, please see our disclosure policy.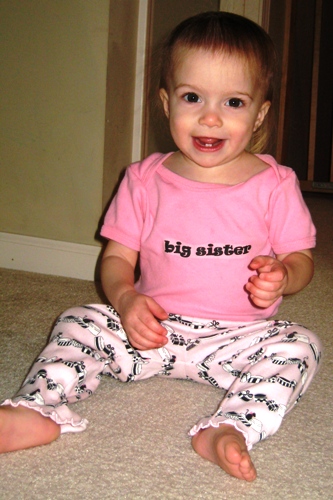 Sharing the news that you're expecting a new baby can be an exciting time. When I was pregnant with my first child, we gave my father-in-law a picture frame carved sayings about grandparents. We wrapped it up and gave it to him for his birthday. He was so happy!
When FishBaby FishChick2 was in utero, I staged the above photo. FishChick3 was a toddler and the known "baby of the family." It took some people awhile to make the connection that "the baby" really wouldn't be wearing a "Big Sister" tshirt. I've enjoyed being a little clever when I spread the news of an impending arrival.
Yes, yes, I have.
There are a multitude of ways to share your good news with others. And I bet you know of quite a few!
How have you shared your Big News?
:: Check out more Baby Love all week long.
:: And, no, I am not pregnant. 😉