DIY Dress-Up Skirts
As an Amazon Associate I earn from qualifying purchases. For more details, please see our disclosure policy.
Learn how to make a simple dress-up skirt from Life as MOM contributor Janel. This is a great way to make a piece of costume when you can't find just what you need.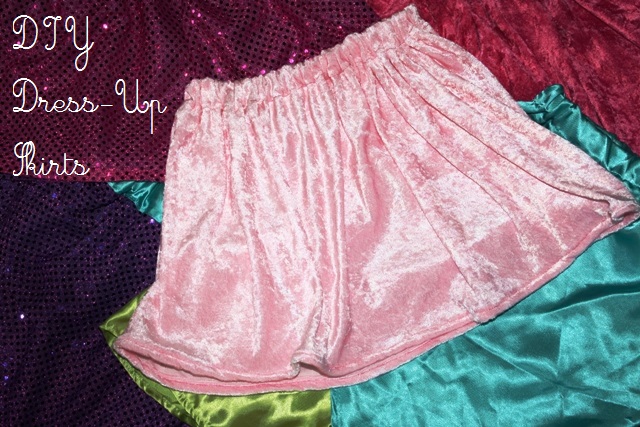 All photos: Janel
A few years ago, my sister Jamie lent me her sewing machine for a project that I was working on. Generous soul that she is, she just let me keep the machine when I was done. It has been such a tremendous source of enjoyment for both me and my girls. I get to indulge in my creative side, and the girls get some really cool stuff.
Some of my recent dress-up clothes projects have included:
A super-easy Princess Leia costume for my daughter's Star Wars party this past January. (Long plain white fabric skirt paired with white turtleneck and fat ribbon "belt")
Mermaid Dress-Up Costumes (Long, thin costume satin skirt with a flared "fin" at the bottom)
Musketeer Dress-Up Costumes – Barbie Style (Crushed Panne Velvet skirt with separate waistband)
and even Popstar Costumes – Barbie-style again (Confetti Dot reversible skirt with contrasting color costume satin waistband)
What can I say, I love making them dress-up clothes! Since we are on a tight budget, there is no way that I could afford to buy them store-bought dress-up clothes either. You might be thinking, "Isn't fabric expensive?" Well, honestly it can be…if you buy it full-price. But, I never do that. Ever.
Thankfully, I live very close to a Joann Fabrics, and they almost always have a 40% or 50% off coupon that I can use on full-price fabric. If I'm not using a coupon, I buy fabric that is significantly on sale. This past month, they've had costume satin on sale for just $2/yard. I can make knee-length skirts for both of my girls with just about 1 yard of fabric. That is so much cheaper than anything I can buy for them at the store.
I'm the first to admit that I'm not a skilled seamstress. I know how to thread the needle on my machine and can manage a (mostly) straight line. Thankfully, most of my projects involve skirts, and those are super easy to do. Let me show you how…
Determining What You Need
Okay, to figure out how much fabric you'll need, you need to make a couple of decisions:
How full do you want the skirt to be?
How long do you want the skirt to be?
For a fuller skirt, the fabric rectangle you use will need to be wider. Usually, I just use a normal width of fabric (like 44 or 45″). For a slimmer skirt, the fabric doesn't need to be as wide. I'd still recommend that it be at least 1.5 times your child's waist measurement so that it is easy for your  girl to pull it on and off.
As for the other dimension of the fabric rectangle, you need to know how long you want the skirt to be. Measure from the child's waist to where you want the skirt to end. To this measurement, you'll need to add about 1 1/2″ for the waistband (or larger if using wider elastic than 3/4″) and another 1 inch for the hem.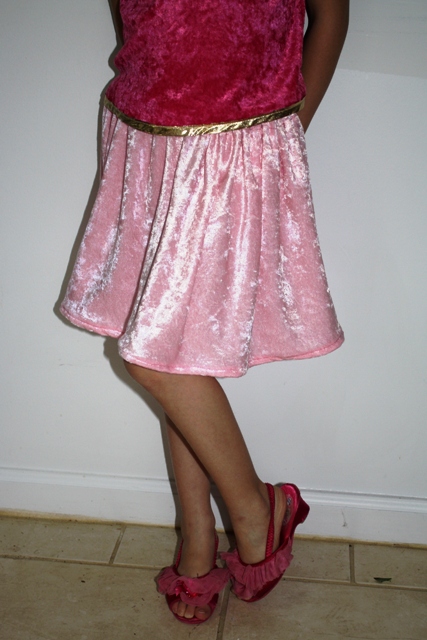 How to Make an Easy Dress-Up Skirt
This is the easiest skirt to make. It's just a matter of sewing four lines and inserting elastic. The tutorial below is for making a fuller 14″ knee-length skirt. Adjust the dimensions of your fabric rectangle accordingly to your child's measurements. This is an easy skirt to make if you can't find just what you need at the store. I used this technique to help my daughter to be "Princess Leia" for her birthday!

Supplies:
measuring tape
fabric of your choice
pen
straightedge (I use a yardstick)
scissors (pinking shears are good for fabrics that fray easily like costume satin)
straight pins
iron & ironing board
sewing machine
thread
3/4″ elastic for waistband – you'll need your child's waist measurement plus 1 inch
safety pin
Instructions:
Use the measuring tape to measure your child's waist and the distance from her waist to where you want the skirt to end. Follow the instructions above to determine how large of a fabric rectangle you will need. Mark the fabric using a pen and straightedge, and cut it out. If you use costume satin (or other fabric that frays easily), using pinking shears to cut the fabric will help to reduce fraying.
Fold the fabric in half with right sides facing together. You'll have a double thickness rectangle that is 22″ x 16.5″ (if you're making a 14″ full skirt). Use straight pins to hold the raw edges together that are opposite of the fold. Stitch with 1/2″ seam allowance. This will make the seam that goes up the back of the skirt.
Use an iron to press this seam open so the fabric lays flat.
At the bottom of the skirt, iron the edge under by 1/2″ and then over another 1/2″ to create the hem. Some fabrics don't iron very well. If this is the case, just do your best. Use straight pins to hold this hem and then stitch the hem into place. This makes the bottom hem of the skirt.
At the top of the fabric, create the casing for the waistband. Fold the top down by 1 1/2″ to the INSIDE of the fabric. Fold the raw edge under 1/2″ inch, iron down (if possible) and pin in place. Stitch this edge down ALMOST completely all the way around — leave an opening to insert the elastic.

Cut a piece of 3/4″ elastic to fit your child's waist plus 1″. Attach a safety pin to one end and use it to help you insert the elastic through the casing. Make sure the loose end of the elastic doesn't pull through — you might want to pin it to the outside to make sure it doesn't. Once the elastic has been threaded through all of the way, overlap the ends of the elastic and attach with a safety pin.
Turn skirt right-side out and have the child try on the skirt. Adjust the overlap of the elastic if needed. Stitch the elastic ends together and remove the safety pin. Stitch the waistband casing closed.
Ta da! You've got a dress-up skirt!
– Janel is a stay-at-home mom of two daughters and a "law school wife" in Virginia. Raised in a budget-conscious and DIY-minded family, she blogs about motherhood, crafts, and living on a law school budget at Life with Lucie and Ella.