Presenting the Indiana Jones Birthday Cake…
As an Amazon Associate I earn from qualifying purchases. For more details, please see our disclosure policy.
Well folks, to make your own Indiana Jones cake start with this:
Do a little mixing, baking, cooling, crushing, frosting, sprinkling and placing, and get this: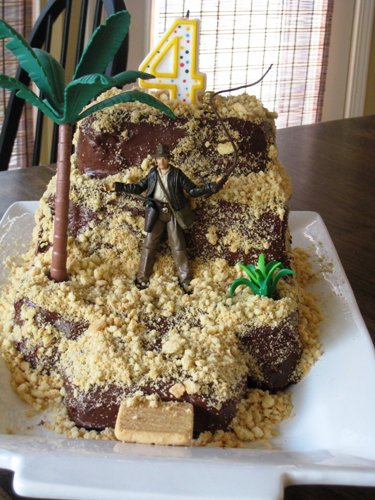 This cake really was one of the easier ones to make. You can do this, too! Here's a quick how-to for all you Indiana Jones fans.
You will need:
1 plastic palm tree (These are Playmobil, but you can use any kind of toy you want.)
1 plastic bush
1 Indiana Jones action figure
square cake pan
loaf pan
mini loaf pan
1 dark chocolate cake mix
1 small package chocolate pudding
4 eggs
1 cup sour cream
1/2 cup oil
1/2 cup warm water
1 teaspoon vanilla
1/2 package chocolate chips
1 tub premade chocolate frosting
1 small box Lorna Doon shortbread cookies – on sale this week at CVS for $.99 😉
Completely wash and dry toys. Preheat oven to 350 degrees. Spray all three pans with non-stick cooking spray. In large mixing bowl combine cake mix, pudding mix, eggs, sour cream, oil, water, and vanilla. Mix well for several minutes using electric mixer. Fold in chocolate chips. Pour evenly into pans. Bake for 20-35 minutes, keep checking for doneness. Cool cakes completely.*
Place square cake on serving platter and frost top. Cut off about 1 inch from the end of the loaf cake to make it the same size as the square cake. Place smaller piece in front of square cake for a "step." Place loaf cake on top of square cake near the back edge. Frost the top. Place mini loaf atop the regular loaf. Frost the entire thing. Let the kids each eat a shortbread cookie. Reserve one cookie for a "bridge" and then place the rest in a plastic bag. Seal bag and crush cookies with rolling pin. Sprinkle cookie crumbs all over surface of cakes.
Place palm tree, bush, and action figure. Watch your child's face light up. I didn't show him the toy until he saw it on the cake so he was super-excited. He rushed all over the house, shouting, "Guys! Guys! Come see ma cake!" (We live in Kansas; he has a little twang.)
*This cake recipe is one that I originally found in a community cookbook about 12 years ago. I think it's been in circulation for quite some time. A version of it is available in The Cake Mix Doctor, entitled "Darn Good Chocolate Cake."
Updated: One of my readers added a great embellishment: a grey-frosted popcorn ball to "chase" Indy out of the temple. Excellent! Got another great idea? Share it with all us Indiana Jones fans!