Get Ready for Summer with a Time Budget
As an Amazon Associate I earn from qualifying purchases. For more details, please see our disclosure policy.
Ready to have the best summer ever? No? I got an idea that will help you make it happen.
The summer's going to be wonderful, isn't it? Cherry Limeade by day, S'mores by night. Laughing children who never get bored. Weekly outings to the library where kids earn their reading program prizes for books well read. Adventures at the beach or the lake, coming home to a clean house and dinner in the slow cooker.
Right?
That's a dream summer in my books. Darn near perfect. Part of me says, "Not a chance," but the other, more optimistic side of me says,
"It's possible!"
A good summer is likely. A great summer is possible. If we play our cards right.
Have you ever listed all the things that need to happen at your house in a week during the summer?
Consider this list:
play at the park
clean bathrooms and floors
wash and fold laundry
change sheets
clean and vacuum bedrooms
clean and vacuum living areas
go to the pool
make, eat, and clean up breakfast x7
make, eat, and clean up lunch x7
make, eat, and clean up dinner x7
meal plan and grocery shop
attend/deliver kids to summer school/homework/summer camp/VBS
pay bills
balance the checkbook
take care of the garden/yard
attend church
make doctors, etc. appointments
go to doctors, etc. appointments
attend/deliver kids to swim/dance/sports classes, practices, and games
plan and orchestrate family game night
plan and orchestrate family movie night
go to the beach/lake
go on a family outing
clean out the car/get gas
Those are the things that I am guessing the average family does, give or take a few items, each week during the summer. Add in weddings, birthday parties, vacations, and all the other activities that are unique to your family. That's a lot of stuff, people!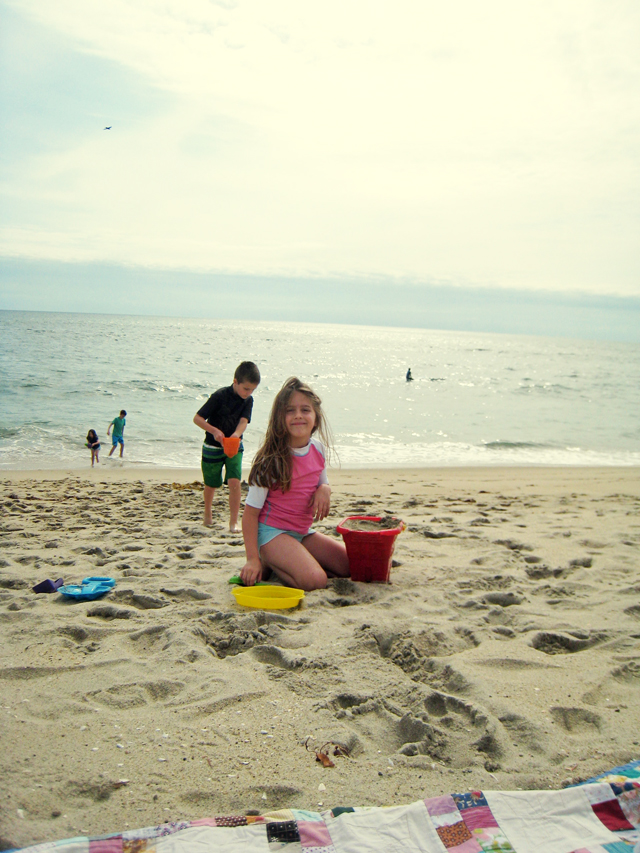 How do you get it all done?
Some people just have a natural knack for getting things done, right?
No, actually, the most regimented person I ever knew gave her babysitters minute-by-minute instructions of what to do with her kids while she was gone. So, I'm guessing that even the most with-it person you know probably has a plan for all these things.
The rest of us fly by the seat of our pants and do things when we can and hope that we're not a day late or a dollar short. Right?
What I've realized is that we don't have to be super regimented or super flaky.
We can find comfort in the middle, allowing time for each thing that needs to happen, giving ourselves space to be spontaneous and enjoying a great summer.
Budget your time.
This is where a time budget comes in handy. I first heard of this time management technique years ago when Amy Lynn and Crystal were talking about time budgets. It has helped me tremendously through different seasons of life.
You budget your money, right? (You should. Go here if you don't already.)
We need to budget our time, too. If we tell the minutes where to go, instead of letting life just happen, we won't need to worry about being a day late. We'll have done what we needed to do.
Last summer, I rebooted my personal planning system. (<— You can buy your copy at the link right there.) I had such a good time printing off fresh calendar pages and really thinking about what helps me do "all the things". Or at least half of them.
One thing that I included in my Print & Go Planner is a Time Budget form (<–try it free here). I have a good time each week, marking it all up in multi-colored markers.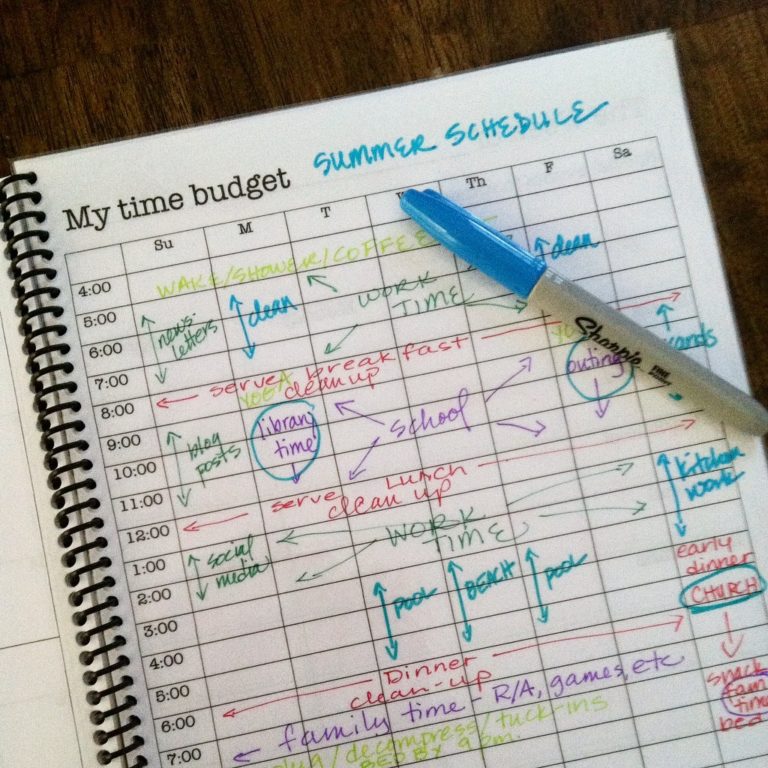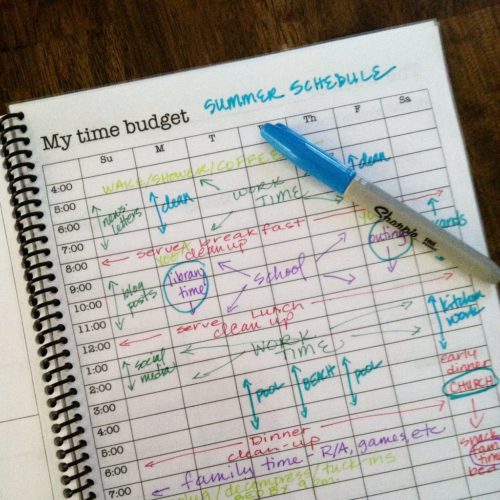 If you want to try out the time budget thing, laminate the page first. Did you know you can erase permanent marker from laminated plastic with rubbing alcohol or acetone?! Game changer. If Sharpies aren't your game, use a wet-erase marker.
I currently have a spiral-bound notebook with a year's worth of time budget forms included, but I also create a master schedule for each season. I referencE this loose schedule o that I can make sure to put the big rocks into each week. Will I follow it to the minute every day or every week? Of course not. You should know by now that everything in my life is subject to change. But, I need to have a target, right?
For our summer schedule, I've already decided when I'll take the kids to the pool or when we'll go the library. I know when I'll try to run errands. After I spent four hours on Saturday updating the books, I realized I needed to add a banking/money meeting field to my budget. Obviously, budgets need to be fluid, so this page will change over the summer.
But, when the kids ask when we're going to the pool or what day is library day, I don't have to think. I don't have to answer, "I don't know." I have a plan. I have a routine.
I love routine! It's been one of my best friends in this motherhood gig. Even though we've grown past nap times, routines still help us. And this time budget helps me establish a new routine for each season of life.
THIS is how I survived writing a cookbook, hockey season with three kids playing, another kid in karate, and two more in ballet. WHAT was I thinking? But this time budget dealio helped me pull it off.
Some of you might have already seen the picture I posted last week of my time budget for the summer. Some of you went, "Eep!" when you saw that I'm going to try to wake up at 4:30.
This is because I'm an introverted mother of six. I might be lucky and have a couple hours by myself in quiet if I get up at the crack of dawn. This is debatable, however, since Sunday morning at least two teenagers were awake at 6:30am! Since FishPapa's alarm goes off at 4:45 on weekdays, why not plan for and early morning when it's going to happen to me anyway!
And you thought I was wonder woman…. I'm just desperate for some time alone. Ha!
Seriously, though, when I map out life like this, I get perspective.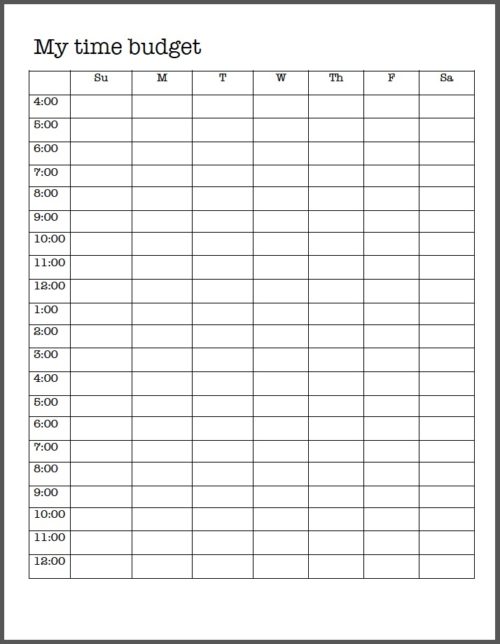 Get perspective with a time budget.
Today, I want to encourage you to get perspective on your life as it will play out this summer. Consider all the things that you want to fit into the summer with your kids, all the things that you want to do for YOU, all the things you need to do to keep your home sane and healthy.
Got those swirling in your head? okay, then…
1. Write those all down. Include everything, big or small.
2. Print out this weekly calendar grid. I started it at 4 am because you already know why. I ended it at midnight because some of YOU really thrive on being a night owl. This should work for everyone.
3. With a pencil — unless you go laminate — mark out blocks of time for your general stuff in a week. Obviously, the day that three kids have dental appointments will veer from this routine, but just go for it. Mark out time for meals, outings, summer activities, chores, etc.
4. If you want to go big, grab The Print & Go Planner.
You will see how packed or how loose your summer will be, as it is planned today. This information will guide you when opportunities arise as well as help you prioritize your days and weeks coming up. You might need to erase and move things around, but you'll have a target for how you get to spend your days.
Time management skills can vary from mom to mom. I know from experience that I need to tweak every time management technique I hear about until I find the right settings for me. But, I know from experience that this time budget strategy promises to help you have a great summer and stay sane.
Read these books to help you manage your summer time better:

Do you need a little more of a kick in the pants when it comes to getting yourself together for the summer? Check out these books:

The Print & Go Planner – this printable planner contains a year's worth of time budget forms to make life easier!
Organizing Life as MOM
What are YOU doing to make this summer the best one yet?