Trusting God to Keep Our Children Safe
As an Amazon Associate I earn from qualifying purchases. For more details, please see our disclosure policy.
Do you worry about your children's safety? Life as MOM contributor Deanna shares how she deals with the anxiety she experiences in keeping her children safe.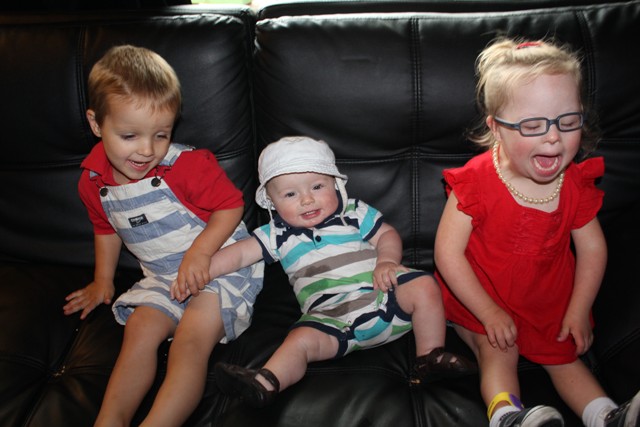 Want to save this post?
Enter your email below and get it sent straight to your inbox. Plus, I'll send you time- and money-saving tips every week!
Something that I have really struggled with lately is trusting God to keep my children safe.
Every time I log onto Facebook, there's another post about a child randomly dying or getting seriously injured while doing a rather innocent activity.
We have had an issue with Addison (4 1/2, Down syndrome) starting to run and escape- putting herself into the line of danger.
My seven month old (Eli) is at a very vulnerable age where he crawls everywhere and puts everything in his mouth.
My two year old (Carter) is a daredevil who is always testing the boundaries and limits.
There are days when I spend all day keeping my mind ahead ten paces- imagining Eli putting some plastic into his mouth and choking, worrying that Addison has escaped into the street (again), fearing that Carter is one handstand away from an ER visit. When we go to the pool, beach, or out on an exploratory adventure, my anxiety rises.
So many things could go wrong.
Sometimes I feel like every time I turn around one of them is getting into/doing something they should not be doing. I teach. I pull them away. I put up new boundaries. I keep the house baby crawling friendly and making-it-impossible-to-escape for toddlers. I buy floaties for water activities. I teach some more.
But some days I feel like it just isn't enough.
You know that the Bible doesn't promise us that our kids will stay safe and healthy? Or even alive? There's no scripture you can hold onto that says "If you love Jesus, He will sustain the life of your child…and keep them happy and healthy. Amen." This passage does not exist.
I have watched my sister lose a child. I have had a baby born with severe health problems and a diagnosis of Down syndrome. Sometimes I feel like these experiences have taken away my ability to choose hope over anxiety when it comes to the health and safety of my children.
I have lived the reality that sometimes you beg God for health and safety- and sometimes He says "no." Does this mean that God isn't still good? Does this mean that he stopped watching out for our kids? No and no.
It just means that we are not the ones in control. We can hope and pray, baby and toddler proof, but ultimately the lives and safety of our children do not lie in our hands. As a new mom, this concept has been a hard one for me to swallow.
Sometimes this means for me:
I stay off of Facebook. I just DON'T read those articles of a dozen worst case scenarios happening around the world that day. My anxiety cannot handle it. My husband often tells me that the Internet was the worst thing to happen to me (for this very reason).
I plan ahead. For me this meant getting a GPS tag for my daughter's ankle. A safe zone plan in each room for the crawling baby (as well as extra sweeping and vacuuming). And I try to do all of my hot dish/boiling water cooking while my eager to help two year old is either asleep or when Daddy is home to keep little fingers away from danger.
I ask for help. My nerves are just shot trying to watch three young children every second of every day. I cannot do this myself. And while I can get an aide for my daughter to give me some hours every week for our adventures out, the biggest person that I am begging help from is my Heavenly Father. He IS the one in control. I know I can trust him even when my anxiety and doubts argue with this trust. I can trust him. He is bigger than my anxiety.
I told my husband the other day that I wished that they were all just a little bit older and easier to keep safe. He very kindly pointed out to me that with each new phase, there will be new areas of danger- new potential accidents waiting to happen. And while this didn't help with the anxiety, I realized that he was right.
This issue isn't permission to wish the next five years away. This issue is one that will always be with me in different forms. The only resolution to this issue is to trust a sovereign God. Just one day- one activity- one child at a time.
Deanna is passionate about special needs advocacy and new motherhood- two things that go hand in hand for her right now. Three kids four and under, the oldest of which has Down syndrome- keeps her quite busy. But there's always enough time left at the end of the day to write all about the insanity at her blog Everything and Nothing from Essex. And to laugh- always, always there is time to laugh.
Technically labeled a "special" mother, Deanna really finds nothing special about herself. Truly, special needs parenting is just about taking it one day at a time- enjoying the highs, sloughing through the lows, and stumbling through the mundane while drinking too much coffee. Read all of Deanna's posts here.
More on Parenting