12 Ways to Save on Clothing
As an Amazon Associate I earn from qualifying purchases. For more details, please see our disclosure policy.
Everyone needs clothing. Yet, there's a range of money that one could spend just on new threads. Check out some ways to save.
It seems recently I've needed to retire more and more of my eight year old's clothing. As the fourth boy, he's been the recipient of quite a few hand-me-downs that have now gone on to greener pastures. You can guess that he and I will be making the rounds of the back to school clothing sales in the next month.
Clothing six kids is no small chore. (Don't even get me started on the laundry!)
Whether you have ten kids or no kids, it's still a great feeling to save money on clothing. Check out these twelve ways to save:
1. Buy classic styles.
If you focus your clothing funds on classic styles, you are more likely to get good wear from them. They won't go out of style before they wear out. Rachel does a great job in explaining the importance of including classic pieces in your wardrobe.
2. Buy quality.
Quality clothes are more likely to last several seasons instead of getting pilly and worn within a few months. Where the budget allows, buy better quality.
The exception to this rule would be for baby clothes and play clothes. Babies grow too quickly for this to matter. And kids muck up play clothes with just as much speed.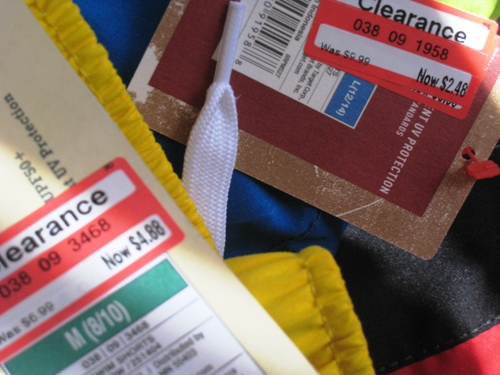 3. Shop seasonally — at the end of the season or during peak sale times.
There are certain times of the year when it's best to buy certain items. The end of a season is always good to find markdowns. And peak sale times, like back-to-school and the holidays afford you some cheap shopping opportunities.
We often buy our holiday clothes (khakis and polos?) during the late summer and early fall because that's the best price.
The only time this doesn't work is when the items are going to run out before the season ends. When you need winter gloves and mittens, you just have to pay full price to make sure you can get them at all.
4. Get thrifty.
I do not like  thrift stores. I avoid them at all costs. But, my friend Jen has amazing success finding beautiful clothes for pennies. She is, indeed, a Frugal Fashionista. Check out her series to find out how you can pull together a great wardrobe for chump change.
5. Try consignment.
OK, I'm not a great resale shopper either. (Target clearance and I are best buds.) But, I know that deals are to be had at second-hand clothing stores. Often you can take the items that you or your kids have outgrown or tired of and get credit at the consignment store for more money than if they paid you cash.
Read Rachel's tips for buying children's clothing at resale shops.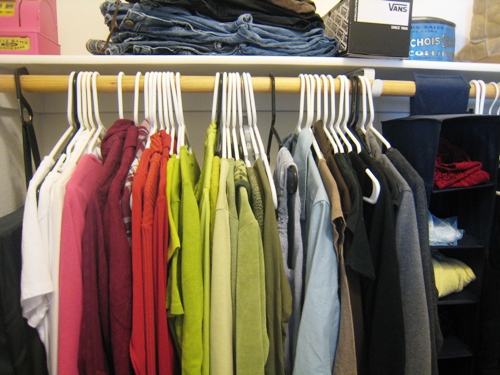 6. Shop your closet.
I can testify to the beauty of shopping your closet. You may be pleasantly surprised that you really don't need new clothes. You just need to weed out the unwearables!
Once you pull out the things that you don't wear, you can set your mind to creating a mix-and-match wardrobe based on what you already own. After you have a good understanding of what works for you, you can fill in the gaps with a few "new" pieces.
7. Save your kids' used clothing.
Hand-me-downs have saved us a boatload of money over the years. My kids have no problem wearing something that an older sibling once wore. In fact, usually they get really jazzed that the cool Pokemon or Star Wars tshirt no longer fits the older kid. My daughter has done many a happy dance over hand-me-down clothing.
8. Have it tailored.
How many times have I purchased too long pants with the intention of wearing heels when in reality I hate wearing heels and the pants hang lonely in the closet? What a waste of money!
Jules makes a great case for having your clothing tailored to fit you just right. You'll get your money's worth simply by wearing your own clothes!
9. Stroll the clearance section.
I love the clearance section of Target! I know, it's not the highest quality, but it works for my "it'll-get-stained-anyway" kind of life. I find great deals for all of us by shopping the clearance section. I don't have great luck at other stores, but Target seems to be made for clearance finds.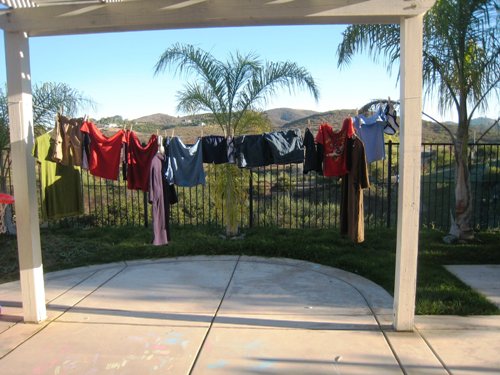 10. Wash it well.
I confess that I'm not super diligent about sorting or stain treatment, but I'm learning the wisdom of better clothes care. If you take good care of your clothes, they will last you longer. It's just common sense.
Check out Mama's Laundry Talk  for tips and tricks on how to wash just about everything.
11. Buy the right size.
I have three beautiful garments hanging in my closet right now. I never wear them.
One is the dress I wore for my sister's wedding. We were a little optimistic when we ordered a size small. The spanx did its job — for an evening. But, I don't think I'll ever wear it again. Which is sad. It's a beautiful dress.
Next to it hang two pairs of dress slacks. Same story. Apparently the day I tried them on was a skinnier-than-normal day. They don't fit me at all today.
And so these beautiful clothes are wasted on my closet until I lose weight or admit defeat and give them away. Lesson learned: buy your right size, no matter how optimistic you are.
12. Buy ahead.
If you know your child will be moving into size 6 next year and you see size 6 tshirts on sale for a buck, buy a few. If you know you will be nine months pregnant this winter and you see a winter dress on sale at a garage sale, buy it (if you like it).
Planning ahead for purchases can be advantageous, provided that you're keeping in mind the previous 11 tips. A bird in the hand is worth two in the bush.
Today's Frugal Friday!
Time to swap ideas and inspiration for saving money.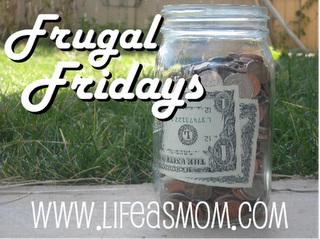 How do YOU save money?
Please remember to follow the Frugal Friday Guidelines or be deleted.
Post a money saving idea and explain how it is helpful in your post.
No giveaways or deals posts.
Recipes are allowed, but you must explain how it saves people money.
Please include a link back to Life as MOM.