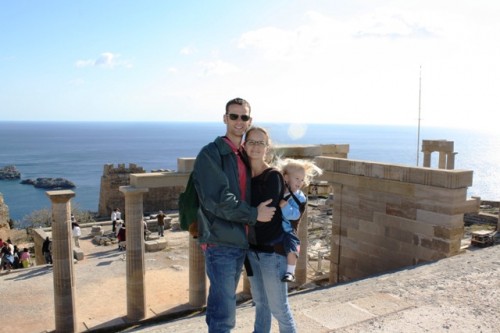 One of the things that we've embraced about parenting is that life is different with each season and with each new addition to our family. If you expect life to stay exactly the same, you're going to be disappointed. However, if you go into it with the mindset that you're on a new adventure and look for the good things about the "new normal," you'll be okay.
Traveling with a baby is different than the kind of traveling you did on your honeymoon. Surprise! But, "different" doesn't have to mean less enjoyable. A vacation with babe in arms can be just as enjoyable as those of the past, it just takes a little more planning.
As the holidays approach, folks are getting ready to hit the road. And who doesn't want to show off Baby to the grandparents at Christmastime? Think through how to make this year's holiday travel memorable for you and your wee one.
Have Baby, Will Travel?
Here are some things that we've found helpful over the years.
Dining – You know me, I live to eat. Our honeymoon and other pre-children vacations included romantic meals at candlelit restaurants. And while I think that you can still take a baby to such places, it's a little too stressful for me personally. Casual restaurants that allow some movement for parents to walk fussy babies and still chat have worked best for us. Whether that's a fast food restaurant, a grill or a bistro, going to a relaxed setting just works better.
Accomodations – Many establishments are designed for adults only. For instance, bed and breakfast type places don't often allow babies. And really, who wants the pressure of shushing a baby during your entire stay? Major chain hotels are often the best bet. They are set up for families and usually have cribs and other child-friendly features available. Save the B&B experience for the parents-only trips.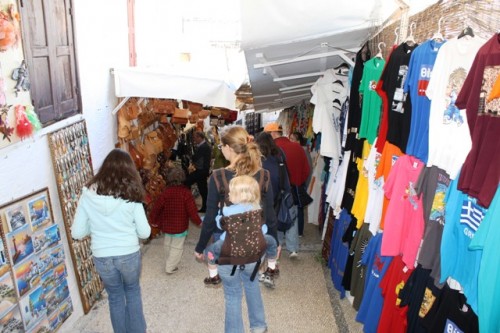 Baby carrying/wearing – A good baby carrier can be worth your baby's weight in gold, especially when traveling. We have a thirteen-year old Kelty backpack that was once a splurge. Now that we've used it on six kids, it's more than paid for itself. My sister swears by her versatile Beco front and back carrier that she has used with her daughters from birth to almost three years old.
While strollers are nice, they often don't have the flexibility to go everywhere you want to go, making babywearing an extremely practical, not to mention relationship building way to go.
Schedules – If your child is used to regular naptimes and bedtimes, then travel may be tough. Try to keep things as steady as you can even when on the road. Some parents who travel into other time zones prefer to keep their kids on home time, when practical. Others adjust naps. Find what works for you and your kids and stick to it.
Supplies – Have a favorite brand of diapers, ointment, wipes, and baby food? Then you might want to pack an ample supply. Unless you know that you will have time to shop and that you will easily find what you need, carting from home may be your best best. Alternatively, if you are visiting family, you can send a shopping list and money ahead of you, so that Gramma can do the shopping for you.
A Giveaway from Steribottle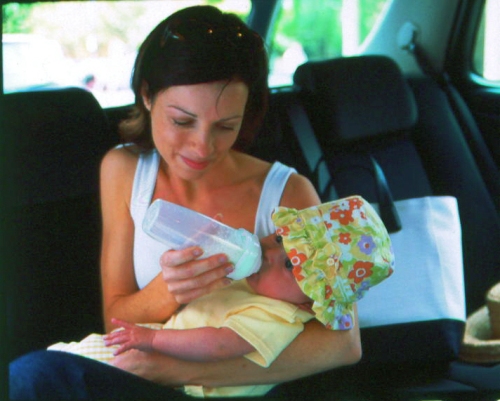 (THIS GIVEAWAY HAS ENDED)
One item that can make traveling with Baby a little easier is the Steribottle Ready to Use bottle.
No need to wash or sterilize – just open the box, take out one ready-to-use bottle and nipple, fill, and feed.
Perfect for traveling – when you don't want to take a full kit of bottles and sterilizers with you. And there's no need to carry home half-finished bottles that have been sitting around for hours – once you've done feeding, just dispose or recycle.
Ideal for those 3 a.m. feeds when you don't have any clean bottles and just want another 10-15 minutes of rest. Steribottle helps you feed your child and get back to sleep faster.
Each package comes with complete bottles and nipples that are ready to use, BPA-free and phthalate-free and 100% recyclable.
This week five LifeasMOM readers will each receive a 10-pack box of Steribottle Ready to Use Baby Bottles – perfect for holiday travel.

To Enter:
Pick one, pick 'em all. You choose.
1. Leave a comment, telling us your favorite baby travel tip

2. Follow FishMama and Steribottle on twitter. Then tweet this giveaway, such as "It's Baby Week at LifeasMOM! Enter this giveaway from @FishMama and @Steribottle: http://wp.me/pLlgS-2PF" Then, leave a second comment, telling us you did so.
Giveaway will be open until Sunday, October 31 at 8 pm, PST. Winner will be chosen at random and notified via email. Please respond within 48 hours to claim your prize.
Congrats to debbie.chum@, sundevilseattle@,  jennifer.goode22@,  ayyogurt@, laurapilker@!
Disclosure: Steribottle is an advertising sponsor of the Baby Love series and has provided these prizes. I was not compensated to post positive comments. For more information, see my disclosure policy.
:: Check out more Baby Love.