Tips for Teaching Foreign Languages to Kids
As an Amazon Associate I earn from qualifying purchases. For more details, please see our disclosure policy.
The knowledge of a second language is a great gift to give to our children. Here's one approach to teaching foreign languages to kids.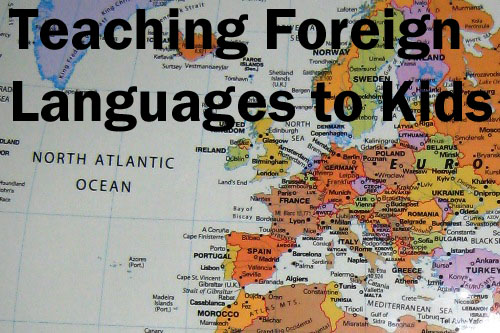 About 25 years ago this month, I walked into my new high school to register for my freshman classes. I carried a heavy burden — at least for a suburban ninth grade girl with big hair in the late 80's.
My dad had insisted that I enroll in Spanish.
Of course, that made sense. We lived in Southern California. Knowing Spanish would be a huge plus in life and in business.
But, alas, I was not pleased to be practical. I wanted to learn French! I had no good reason for it, except that I had been infatuated with the idea of learning French since I was about five years old.
Imagine my joy when all the Spanish classes were full. I did a happy dance right there in front of Madame Stephenson and Senor Madrid. One was pleased and one was perplexed, I'm sure.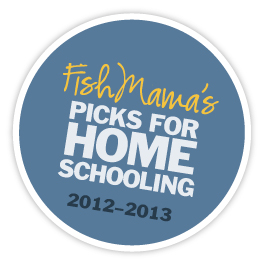 I ended up taking French classes for the next eight years as well as living in Bordeaux, France during my junior year in college. And eventually, I became the one teaching those gawky freshman la langue francaise.
Despite my great love of French, I've remembered that moment at high school registration and allowed my own children to choose what they want to learn — to a point.
So far, I've had one child begin high school coursework. After dabbling in Latin, Spanish, and French, he chose Latin as his official foreign language for high school.
This year I'm enforcing parental will and including French across the grade levels. As you may remember, we're dreaming a big dream of taking all the kids to France in 2014 in honor of our 20th wedding anniversary. We're doing several things to prepare for this European vacation of a lifetime.
Teaching (and learning) a foreign language can seem daunting. Here are some of the things that I've learned over the last few years decades.
1. Desire matters.
I believe that my own interest in learning French was extremely critical to my actually learning the language. A college professor during my sophomore year told me that I had no business in the French department. My language skills were atrocious — how could I ever major in French literature?
If my desire had been lesser, I might have backed into a corner, licked my wounds, and quickly changed my major.
Instead, I fought to prove her wrong. A year later, I spoke and wrote French fluently — and could hold my own with my senior level French professors. Clearly, I didn't have natural skill, but I had desire.
Interest in learning a language correlates to learning it.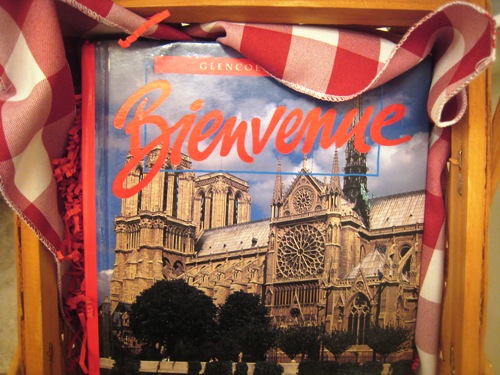 2. A teacher's enthusiasm matters.
My high school French teachers (I had three) all had a great love for the language and culture of France. It was infectious. Most of us in AP French continued on in the class thanks to the passion of our teacher.
I see that same dynamic at play in my son's Latin class. Last year, thanks to the recommendation of Joy at FiveJs, we landed on Visual Latin. We bought the DVDs, but also outsourced my son's instruction to an online class from the same instructor, Duane Thomas. That was a wonderful experience.
Outsourcing was a double blessing for us. Not only did it free up my time (and lift the guilt) so that I could work with the other kids, but it also provided my son with an outside influence, one who was passionate about his field and one who could give the perspective and feedback who didn't share the same gene pool.
FishBoy15 did really well in the course and is set on continuing with Latin in the future, thanks in part to the class and the enthusiasm that Duane has for Latin. (And I'll be honest, I don't have that same passion for Latin, so he's definitely the better one to be teaching it!)
A passionate teacher who enjoys what he does makes a huge difference in a student's experience.
3. A mixture of language and culture matters.
All work and no play makes John a dull boy. If language study is merely lists of verbs to conjugate and vocabulary to memorize, a child will run out of desire pretty quickly. I think it helps to expose kids to the culture of the language as well as the language itself.
I well remember the French restaurants that Madame Stephenson took us to as well as the in-class feasts we had. We watched movies of French life and listened to her tales of her life in France.
My own experience of living in France had the biggest effect on my language skills, of course. My apartment had a TV, so I watched French programming. I had a wonderful French family take me under their wing. I ate, drank, and slept in French — eventually.
Living the culture helped the language sink in.
Our French Language Studies

This year while my eldest continues in Visual Latin, our entire family will be working on French in anticipation of taking Europe by storm. While I don't expect fluency in the next two years, I'm hoping that the kids might be able to find a bathroom, ask for help, and answer a few questions. Who knows?

Here's our plan for French learning this year. (Many of these ideas are borrowed heavily from Ann Kroeker's DIY French Instruction.):

1. Regular independent practice and instruction via Rosetta Stone French 1.

We received a review copy of Rosetta Stone French 1. This a new program for us, so I can't give it a full review just yet. But it's an independent computer learning system. Come back later today to learn more about the program as well as to enter a giveaway from Rosetta Stone.

2. Group instruction via an old school textbook.

Years ago I taught private French lessons. The high school textbook I used then (15 years ago) is the one we'll be working from.

3. Language videos.

In high school, we watched The French in Action series. These are available for free. Yeah!

4. French songs for children.

I recently purchased a couple CDs with children's songs in French, like this one. Many of these melodies are ones that FishBoy10 is learning in his piano lessons, so they are familiar. Eventually, we might all understand what the heck they are singing and maybe even sing along.

5. French movies and movies in French.

Yes, there's a difference. There are movies that were made in French by French speakers and then there are American movies that are dubbed in French. We'll be watching both this year.
That's our plan for the year when it comes to foreign language instruction.
How does your family interact with other languages and cultures?
Disclosure: This post does include affiliate links. If you make a purchase through a link, I might be paid a small amount in way of advertising or referral fees. However, these are resources that I really am using and would tell you about anyway.