Can You Afford to Homeschool or Not?
As an Amazon Associate I earn from qualifying purchases. For more details, please see our disclosure policy.
Can you afford to homeschool? It's a good question. Here I share what we have spent this last 15 years of homeschooling as well as what it would cost us to choose other schooling options.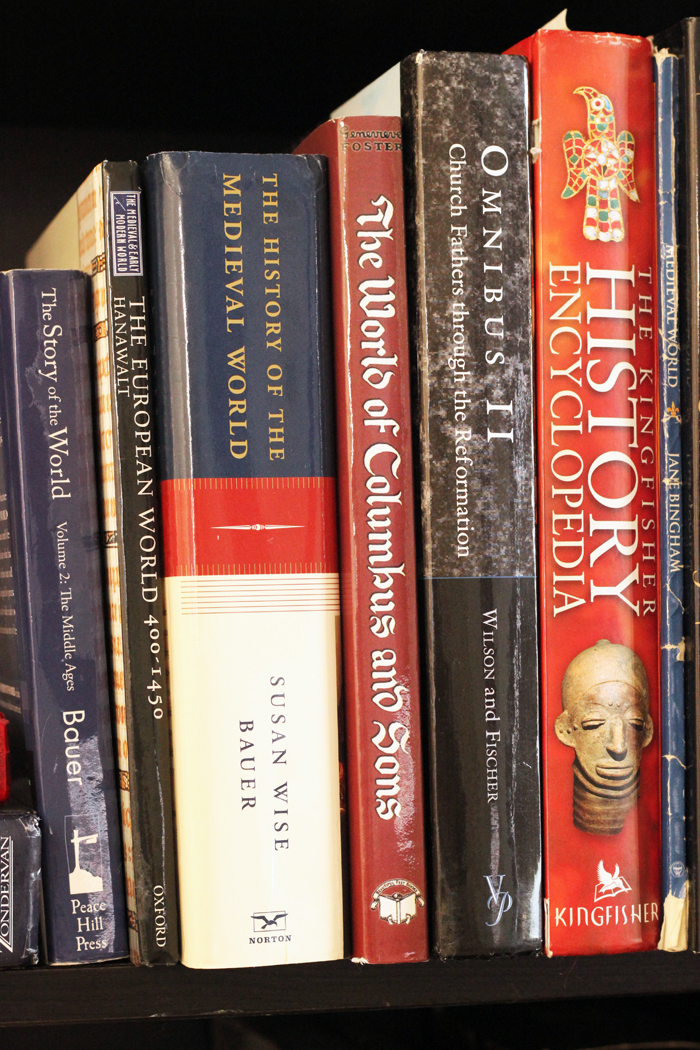 Homeschooling has been, hands down, one of the most fulfilling experiences of my "life as mom." It's also been one of the hardest. But, I'm so glad that we chose this path.
Teaching my kids at home has not been without its costs, though. Right up front, you know that a homeschool mom has given up a lot of "free time." Her days are not her own. She's hard pressed to hold a traditional career and still give her kids a solid education. Her home decor is characterized by wall-size maps and charts and unusual science projects. Her brain holds teacher-parent conferences every day of the week.
Books and other school supplies also cost a pretty penny. Over the years I've kept track of what we've spent on homeschool costs over time. I've been at this gig for 15 years with 6 children, so yes, it's added up.
Curious if you can afford to homeschool?
While I can't answer that question FOR YOU, I can give perspective on how much it has cost us in dollars and cents, as well as what strategies we use to keep costs down and morale high. There's a give and take in this endeavor. The cheapest way is not always the best way.
Keep in mind that since mom's free time is at a minimum, sometimes the financial cost of delegating coursework to another teacher is worth the savings in mom's peace of mind.
How much we've spent to homeschool:
For numbers geeks, here's how it's broken down for us over the years. These are calendar year costs that include books, school supplies, curriculum, field trips, class fees, lessons, computers, and software.
It was too difficult to break it down into school years because we start and end at varying times, I buy ahead, etc. But since most of my shopping applies to the school year starting in the year below, I think it works.
2002 – 1 student – $376
2003 – 1 student – $514
2004 – 1 student – $870
2005 – 2 students – $485
2006 – 2 students – $560
2007 – 3 students – $860
2008 – 3 students – $560
2009 – 4 students – $1155.00
2010 – 4 students – $1200.00
2011 – 5 students – $2700 (includes paying piano, Latin, and science teachers)
2012 – 5 students – $2900 (includes paying piano, Latin, and science teachers)
2013 – 6 students – $3177 (includes paying piano, Latin, and science teachers)
2014 – 6 students – $2577 (includes online Latin and writing classes)
2015 – 5 students – $4253 (includes online French and writing classes)
2016 – 5 students – $5120 (includes online French and writing classes and co-op fees)
The increase over the last few years can be attributed to being debt-free (yay!) and, therefore, having more money to spend. It is also due to having a students in the middle and high school years, thereby working more disciplines (and more books) into the course of study as well as paying more outside teachers.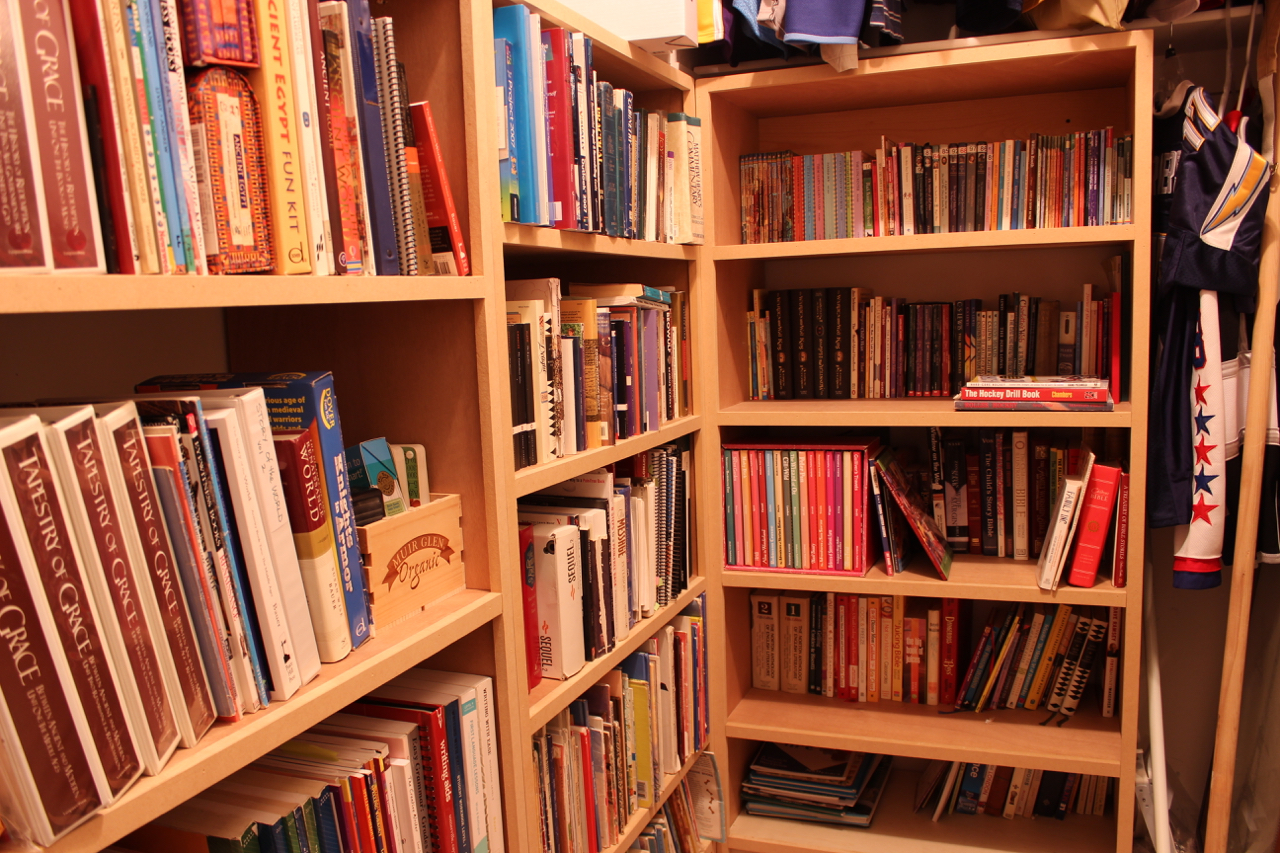 What we do to keep our costs manageable:
Borrow as much as possible.
Over the years, I have had generous friends and a great library to loan me books, tapes, and movies. Not only does this save me money and storage space, but it also saves me from making unwise purchases — I can test the resource out before buying it. It also helps me make wise purchases — if I love something that I've borrowed, I know it will be a good investment to purchase our own copy.
Buy what you can afford.
Our kids' education is an investment. While I don't want to scrimp in this area, I also don't want to go in debt. This has been difficult to discern over the years. Sometimes I've paid a stupid tax on school books that just didn't fit the bill. But, with practice I'm learning which things we truly need.
Sell the stuff you don't like or don't use.
When applicable, I sell the curriculum that I don't like or need anymore in order to acquire the new things that I want. Sometimes this backfires on me like when I sold some books that I now want and have to buy again. But, if it keeps us out of debt, then I think selling is a good thing.
Reuse books and resources with younger kids.
Since I have six kids, we reuse whatever we can. It also helps us rationalize a larger purchase. If we know we're going to use something six times (or can resell it), we can risk the investment.
How we've splurged:
From 2002 to 2009 we lived with debt hanging over our heads. Once we paid off all the loans and credit cards, we didn't look back, paying cash for all purchases. Since then we've also splurged on certain school expenses. In order to offset convenience with frugality, I've allowed myself to:
Buying books instead of paying library fines
Once my kids reached a certain age, library trips fell off our weekly schedule. I'm not sure how it happened, but part of it had to do with our routine changing and the library falling off our regular driving route. Though we have two different library systems at our disposal, neither have quite the selection we had when we lived in Kansas.
Managing the number of books we checked out and dealing with fines was more of an inconvenience — and in some ways, more of a cost — than just buying the books outright. And yes, sometimes I even buy multiple copies of a book so that there isn't any squabbling over who's reading it when. Or who lost it. Ahem.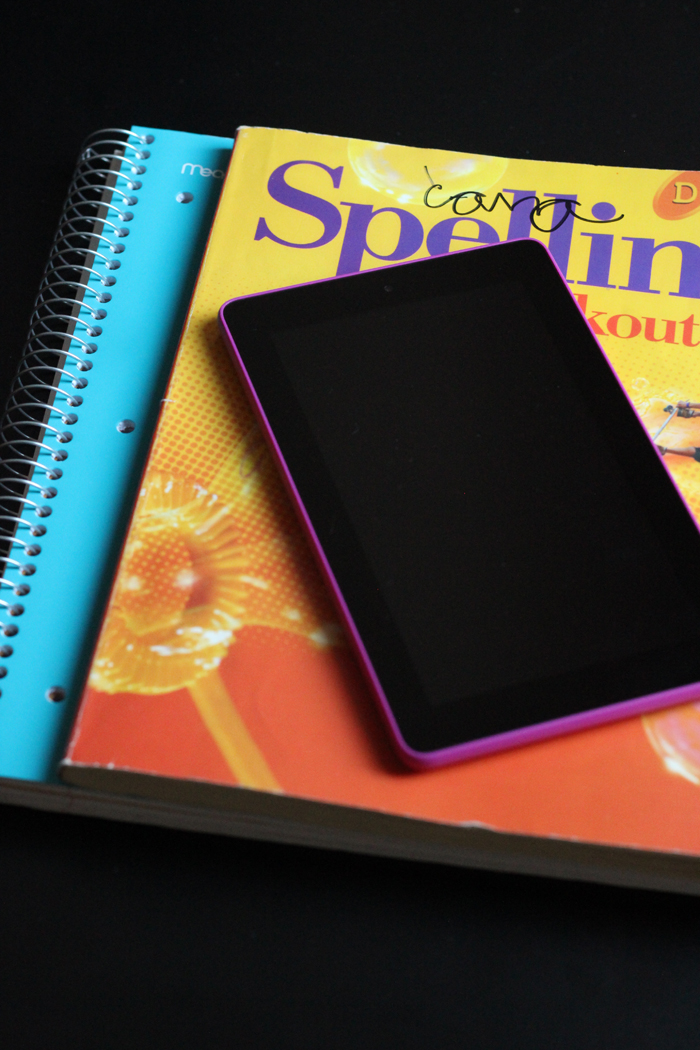 Buying Kindles for the kids
I spent about $150 last summer buying kindles for all the kids. This was a good investment as we use the Kindles in our homeschool on a regular basis. The initial investment has paid for itself. With each child having access to his own device, I can also buy many of our books in the Kindle format, saving me on the above splurge.
Paying for online classes
When my first child hit high school about six years ago, I fretted how I was possibly going to TEACH THEM ALL and not lose my mind. My husband wisely pointed out that being their primary teacher did not mean I had to be their only teacher. We started outsourcing and I'm so glad we did!
Over the years we've paid for teachers to handle science, writing, Latin, and French. Next year we'll be signing up for online Spanish courses and delving into the world of dual enrollment at the community college. I still oversee my child's education and pick and choose based on individual needs and seasons of life. My children receive instruction from someone other than me; I get less push-back in some areas, and they learn to meet "real" deadlines.
How does it compare to other schooling options?
Our financial costs are significantly lower than if we enrolled our kids in a private school. The closest private school to our home would cost us $48,332 — far more than I make as a writer, so basically not an option for us.
While it is "free" to attend a public school, I've learned over time that there are still costs involved, including but not limited to school supplies, class fees, fields trips, uniforms, trips, and incidentals that arise throughout the school year, not to mention the costs that can be incurred to live in a "good" school district.
According to this article, our family would have shelled out $4770 for the 2014 school year, more than we actually spent to homeschool our kids. The 2016 number keeps pace at $5271, again more than the $5120 we spent on school costs last year.
Our home-based private school can give public school a run for its money. While it would be difficult to assess which education was better, at least from a financial standpoint, it's clear that homeschooling is an affordable option.
If you're interested in getting started in homeschooling, read my series, Getting Started in Homeschooling, which recounts our experiences in teaching our children at home, the things that I've learned, and some resources I've discovered along the way. Our way isn't the only way, but it works for us. Your mileage may vary.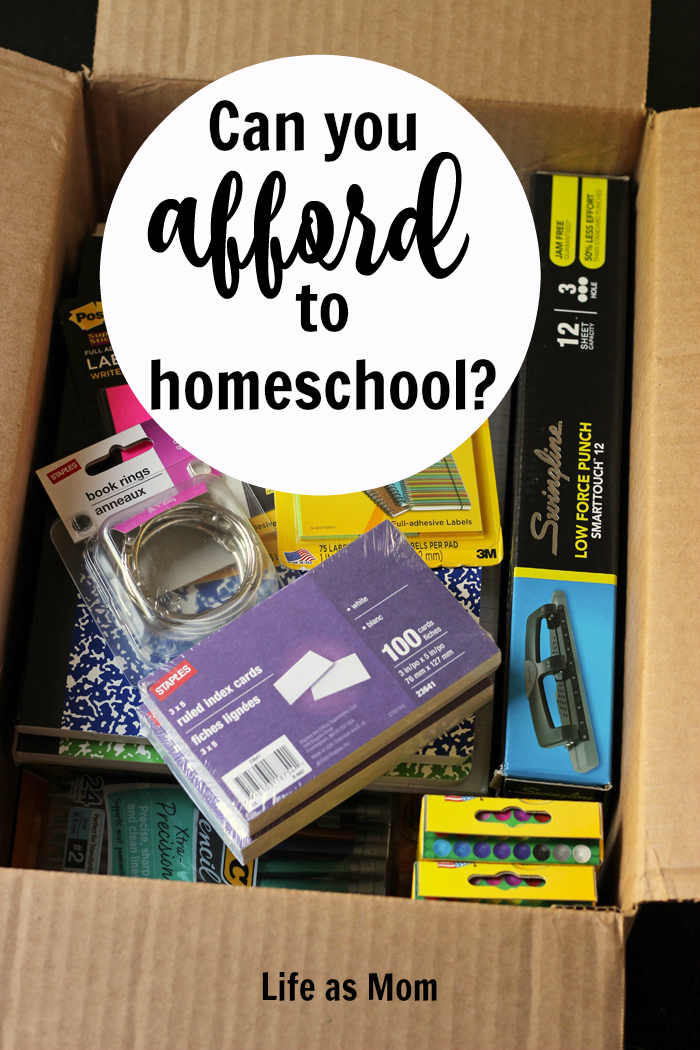 Originally published September 8, 2011. Updated May 6, 2017.