A Gift Guide for Boys (12 Days of Christmas Family Fun)
As an Amazon Associate I earn from qualifying purchases. For more details, please see our disclosure policy.
Wondering what to get for that young man in your life? As the mom of FOUR boys, I got you covered with this gift guide for boys, aged 5 to 15.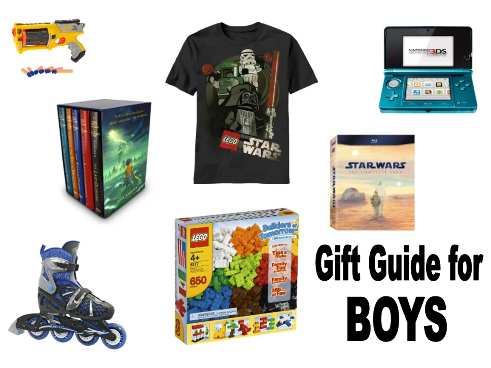 Let's face it. Part of the fun of Christmas is the presents. There, I said it.
I've said it before, Jesus is the best present. And I stand by that. We have more than enough in Him.
But, at the same time, it's cool to give and get presents. And as a child, that's part of the fun. It should never be the sole focus or the most important part of the fun, but it's fun, nonetheless.
As the mother of four boys, aged 14, 11, 9, and 7, I kind of pride myself on being an expert at boy gifts. I've been giving them for a long time. And really, shopping for my boys is quite easy. Determining a budget and sticking to it is the hard part.
And quite honestly, as I look at this gift guide, I think the men in your life might enjoy these gifts, too!
Here are some FishBoy favorites: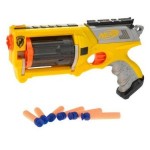 Dart guns
Four years ago my sister sent the boys each dart guns for Christmas. What fun they had running about the house on Christmas morning shooting one another. The video is great fun to watch!
My kids have an entire arsenal of dart weapons as well as foam swords and shields. Nerf is the brand of choice as it is a quality product that is pretty soft upon impact.
And while I've grown pretty lenient about the scope and intensity of their battles, usually they're fought during date night when I'm gone. I like that part. My brother referees and they have a blast together.
Good friends of ours have pointed out that good eye protection and some rules about targets are in good order. I agree, so I've started investing in goggles as well.
Legos
What young man doesn't love Legos? We caught my brother playing with them over Thanksgiving. He's 25. So, apparently, grown men like them, too.
It's amazing how much fun legos can be for kids. My guys know which sets will be discontinued, which ones are coming back, when the sales are going to be held, etc. Surely they can remember their mother's birthdate!
At least one of my guys dreams of being a Lego designer one day, so I'm more than happy to encourage his dreams. I love this huge starter set to get the creative juices flowing.
Sports equipment
Last year we gave each boy a "gift certificate" for sports equipment. It was great fun to watch where their interests led them. Roller skates, skateboards, and disc golf equipment made their way into the carts along with the appropriate safety gear. It was a wonderful experience to "let go" and let the kids choose a way to be outside and active.
Since then they've all been fitted for roller blades, and I've become a hockey mom! Even hubs can be seen out there skating and shooting the puck. It's been a great way to increase our family's physical education.
Books
We are a family of book worms, having worked our way through a number of series over the past year or two. While my oldest ones might prefer to read on their own, they'll still stop and listen if I'm reading a chapter book to the younger set.
Some of my favorites include:
:: The Wingfeather Saga by Andrew Peterson: On the Edge of the Dark Sea of Darkness, North! Or Be Eaten, and The Monster in the Hollows
:: The Chronicles of Narnia by CS Lewis
:: The Hobbit and The Lord of the Rings by JRR Tolkein
:: The Harry Potter series by JK Rowling
Movies
My boys have some very favorite movies, like Star Wars, that they enjoy owning for themselves. The younger ones still appreciate Disney and Pixar movies. So do the others, actually, though they might not ask for one as a Christmas present.
Since we've upgraded to a Blu-ray player, we're starting to invest in the movies that we really love on Blu-ray, like the Lord of the Rings trilogy.
Character T-shirts
You can't go wrong getting a graphic tee with your kid's favorite character. I typically find these on clearance at Target and stock up for upcoming birthdays and Christmas. And FishChick is always excited when the brother up from her outgrows one so that she can inherit the shirt!
Video games and gaming systems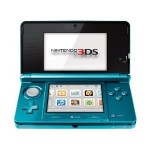 We've rarely bought a gaming system for our kids, mainly due to the expense. But, they've diligently saved their money to purchase almost everything that they've ever wanted. (We did buy the Wii years ago.) Our boys have bought their personal systems as well as the archaic Game Cube and Nintendo 64. What savvy little eBayers I'm raising! They are currently each saving to buy a Nintendo 3DS. More power to 'em!
That said, we typically will pick out a game or two each year to give them as a group gift. And hubs enjoys playing it with them as much as they do.

Remember: You're the best part.
One caveat about these gifts. Most of these are more fun if you, the parent, participate.
OK, the one-person game player is hard to share, as is the character t-shirt, but your boys would love if you built Legos, read stories, watched movies, played sports, or had a dart gun fight with them. A toy is just a toy.
But a parent + a toy? That's a memory in the making.
12 Days of Christmas

I'm participating in 12 Days of Christmas, a collaboration to bring you all kinds of great ideas from around the web.

Be sure to visit these blogs for more Christmas inspiration on a variety of topics.
What's a preferred gift of the boy in your life?