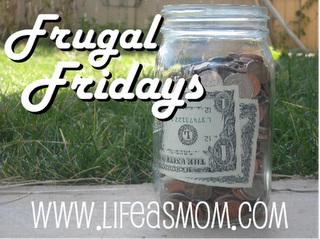 This week we've been talking Christmas planning here at LifeasMOM. As you probably know, the weeks between Thanksgiving and New Years are the biggest retail weeks of the year. Stores want your money and they'll go to great lengths to get you to buy their product.
We need to be diligent all 12 months of the year, but Christmas time can be an exceptionally tempting season toward overspending. Thinking about it today can help you spend less and save more in the long run. Create a battle plan now before the sights and sounds of Christmas sway you toward not so wise choices.
The following are ways that we have made ends meet at the holidays.
Make Presents
For years this was my main mode of operation. I enjoyed the creative exercise, and we saved money. If you're going to make gifts, NOW is the time to gather ideas and supplies and to get started. Handmade gifts can take longer than you think, and it does you no good if you are burning the midnight oil on December 24th.
Request Free Samples
You may already regularly request free samples. A few years ago I started saving all those sample size packages of cereal, granola bars, and other treats for Christmas. I keep a box on a shelf in the pantry to stash them in and then I fill my kids' stockings with breakfast — for free.
I love Swagbucks. My family uses it as our main search engine and daily wins points that we redeem for Amazon gift cards. Last year we bought all the kids Christmas gifts on Amazon with Swagbucks. Loved it! And since we didn't earmark money all year long, it relieved some of my spending guilt.
If you haven't signed up yet, do so now and start using SwagBucks as your search engine. By the time the holidays roll around, you should have a nice little nest egg to trade in for gift cards.
Even though we live in the same state as most of our family, we don't get to see everybody on the holidays. I've found that if I know I am going to ship a present, I do better to skip the middle man (me) and have the gift go straight from the store to the gift recipient. They usually know I'm too cheap to spring for gift wrapping, so they know not to open the package until Christmas
Since I order a fair amount online, I've found that using ShopAtHome or Ebates works well to get a little cash back from online purchases. Last year I ordered holiday clothes online via Black Friday and got great deals, free shipping, and cash back from my purchases.

Make Do with Less
This is probably the most obvious as well as the most difficult way to save money at the holidays. But, there are lots of things that you might think are necessary at Christmas time, that really aren't. Talk with your family and find out what is really important to them. Make those things priorities and if the rest doesn't fit the budget, then do without it this year.
Christmas cards used to be a "must-have" for me. But, three years ago I stopped sending them and haven't looked back. The world went on without a holiday greeting from us in the mailbox.
How do you save money at the holidays — or the other 11 months of the year?
Share your favorite money-saving ideas today. Leave a link to a post that shares some frugal wisdom. (Please no giveaways or deals posts. Teach us how to fish!)