Give a S'mores Kit as a Fun Gift
As an Amazon Associate I earn from qualifying purchases. For more details, please see our disclosure policy.
Package up the ingredients for s'mores for a fun, frugal, and easy holiday gift.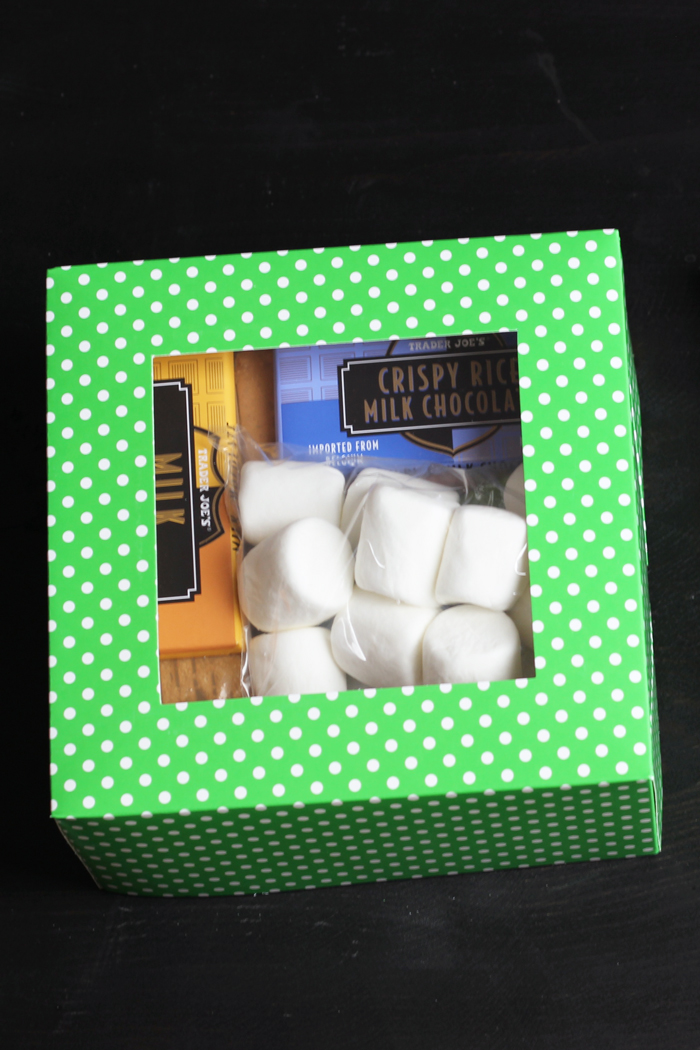 I have fond memories of watching my mom put together holiday gifts. She was super creative and frugal to boot.
One Christmas that stands out in my memory is the year when she gave pie kits to all her friends. At Pic N' Save, she had found cutesy, very 1970's ceramic pie plates with recipes decorated on the bottom. In fact, they looked just like this. She made up several batches of my Gramma John's pie crust and bought a few cans of pie filling because that's what we used back in those days. She packaged it all up as a pie kit.
Another year was cookie dough, sprinkles, and cookie cutters all packaged up as a cookie kit. One year, she gave my soon-to-be brother-in-law a box labeled "instant Christmas tree". It had all the basics to decorating a Christmas tree.
In typical Nanna fashion, I've created a cheap and easy gift that is so fun and tasty, I may just stash a box in my office for one of those days. It's a S'mores Kit complete with instructions on how to make s'mores indoors.
Here's what you'll need for a s'mores kit:
gift boxes (I chose some with windows) or gift bags
graham crackers
marshmallows
ziptop bags
chocolate bars
the printable recipe cards (see below)
Here's how to make a s'mores kit:
Once you have your items handy, it's just a quick matter of assembly. I used a collection of different chocolate bars, but you could use just one kind if you like.
Divide the marshmallows into ziptop bags and then divide all the other ingredients among the boxes you have assembled. We included enough ingredients for at least eight s'mores per box.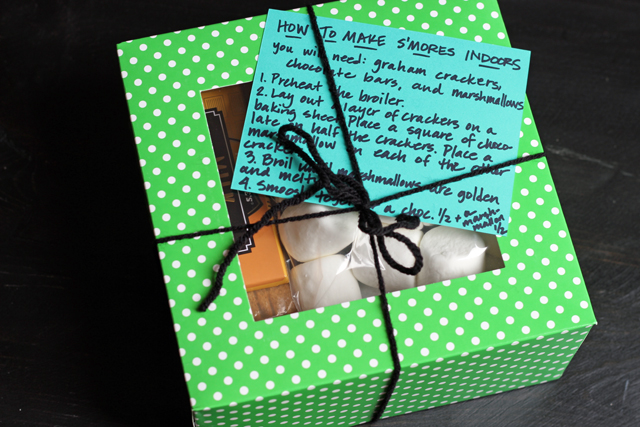 Be sure to include the instructions for how to make s'mores indoors. You can write them on a card by hand or print out these simple recipe cards.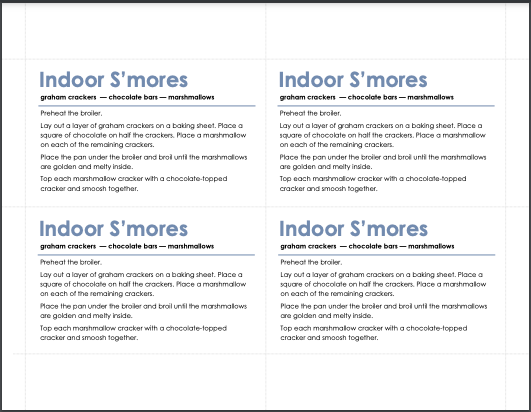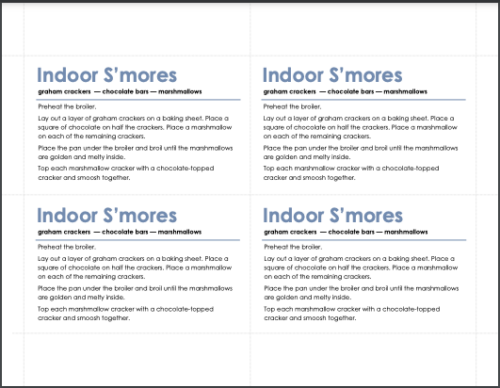 Get the free printable recipe cards when you subscribe to the Life as Mom newsletter.
At the same time, you'll get instant access to the Life as Mom Free Resource Library, including guides and printables for all seasons and holidays.
That's all there is to it. You can easily pull together these kits in about 15 minutes or less. I know for a fact that Legoland sells them for nine bucks and they aren't half as cute. 😉
These make great Christmas gifts, but you can easily gift it all year round. When are s'mores out of season?

For more great gift ideas that you can DIY on a dime, check out these projects or browse the DIY archives:
Chocolate Box of Money – an ingenious way to gift money
A Lego Table – perfect for your Lego-maniacs
Microwaveable Heat Packs – the most excellent way to warm up this winter.
What's YOUR favorite kit gift to give?