Gift Guide for Little Girls (12 Days of Christmas Family Fun)
As an Amazon Associate I earn from qualifying purchases. For more details, please see our disclosure policy.
I may have started out my parenting career with FOUR boys, but we've got two girls at the end of the train. I'm learning afresh what makes a little girl smile and what makes a good gift.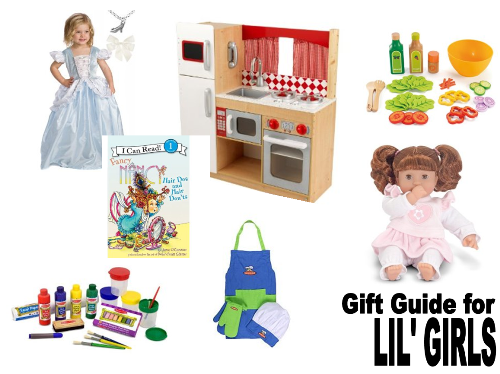 Over the weekend, I shared my gift guide for boys, aged 5 to 15. Experience tells me that a guy of any age, really, would enjoy one of those gifts. So, here we are with the female version.
At first glance, this gift guide may look extremely "feminine." To be honest, I tried to reduce the amount of pink because I really don't care for pink. But, my my five year old and three year old daughters? They love pink.
My older girl got absolutely giddy when she saw this picture. All of these items are things that would send her over the moon with joy. I had to remind her that she pretty much already owns something  of each of these items.
That said, each of my two little girls really and truly loves each of these kind of gifts. Here's the rundown of our FishChick gift guide for little girls.
Dress Up Clothes
My boys always loved to dress up as cowboys, natives, pirates, Romans, and Patriots. It was a very big deal for them. We've saved the costumes, and the girls have enjoyed those same costumes, with a few additions, of course.
Princess costumes and a few crowns have entered the mix. Last year, I bought my girls these Cinderella costumes. I've been really impressed with the quality of these gowns. They've definitely held up to lots of play.
Play Kitchen & Play Food
We have almost always had some kind of play kitchen or BBQ for all our kids. Last year, we invested in a larger wood kitchen for the girls to play with. We got ours at IKEA. It's been a great addition to our girls' playtime.
In my efforts to go away from plastics, we've invested in some felt and wood toys. My girls have enjoyed playing with their Melissa and Doug Cookies, Haba petit fours, and Green Toys Tea Set. This year, we're adding a few items to the collection, including some handmade items from The Felted Pear.
Books
My kids are all bookworms, much to their mother's pleasure. The girls enjoy any books. Some of their favorites include Mashed Potatoes, Fancy Nancy and the Posh Puppy, and Dora's Potty Book, complete with flushing sound.
While they really do enjoy Dora and Fancy Nancy, I'm looking to add some more classic tomes to their personal collections this year. I've already bought each of the boys a book for Christmas, I'd love your recs for the girlies.
Art Supplies
While I'm not quite brave enough to give the girls full reign on independent art, they sure do love it. Talking with a friend recently reminded me how much they would love some time doing art.
When FishChick5 saw the picture above she cried because she wanted all those things. When I told her she had them already, she protested that she didn't have paint. Well, we have paint, I'm just usually too chicken to pull it out for the girls to do. The boys and I have done painting during their naptime for years. So, it's time to bust out the paints that we already own.
Kitchen Gear
I'm an apron girl. Since I tend to wipe my hands on my clothes, better to wipe them on my apron! And the girls love to have their own aprons to wear. And there tend to be some squabbles over favorite aprons.
Baby Dolls, etc
Both my girls love to play with baby dolls. We have a number of them. This year instead of adding to the collection of dolls, I'm looking to find some accessories, like clothes and diapers, so that they can continue to play with the babies they already have. I would love to find a doll stroller that wasn't a piece of junk, but believe it or not, FishChick3 is just as content to use her old umbrella stroller. Works for me!
These are the basics of what my girls are "into." They love Duplos and blocks and swords and Little People, too. But, I'm guessing since we already own all of those things, they aren't items they would request. Girlie stuff, however, has thus far been a novelty for them since those are new additions in their lifetimes.
12 Days of Christmas

This week we're sharing quick and easy ideas for family fun while some friends are sharing tips in different areas.

Want to plan a fabulous holiday? A Simpler Season holds almost everything you need to do just that.
This guide to planning the winter holidays provides creative ideas , time-saving tips, and budget-minded inspiration for making the most of Thanksgiving, Christmas, and New Year's. With the busy family in mind, I've provided recipes, to-do lists, children's activity sheets, planning pages, gift ideas, and step-by-step tutorials for creating homemade gifts. It's all in here.
What do YOUR little girls enjoy?