A Homeschool Day in the Life with Kids Aged 17, 14, 12, 10, 8, & 6
As an Amazon Associate I earn from qualifying purchases. For more details, please see our disclosure policy.
Ever wonder what life is like when you're me? Ha! Here's a little peak into a day in my life with kids aged 17, 14, 12, 10, 8, and 6: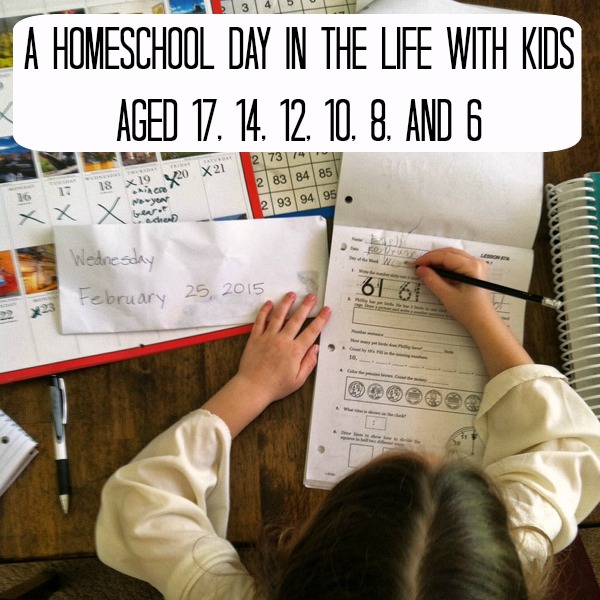 Want to see what life is really like at the FishHouse? Well, that would be impossible even if we had a reality show because you know those people crank it up for TV. But, here's a glimpse of what last Wednesday looked like.
I wake at 5:30 as hubby is leaving for work. He's been up since before 5. I lie in bed scanning Facebook and instagram on my phone. There's a picture of my sister and Billy Idol. Seriously. That's kinda cool.
I get out of bed at 6. I start a load of my clothes even though it's not my laundry day. Someone else did laundry on my day. But, I figure the kids aren't awake, so the washer is fair game.
As I head to the kitchen I'm thinking I'm so awesome because last night I loaded the espresso machine — the 20-year old espresso machine from our newlywed years — with the coffee that we bought last night at Peets. I rarely go to the trouble of getting the beans ground for espresso, so I'm feeling like hot stuff. Until the machine won't work. Ugh. Coffee drips slowly, more slowly than molasses. Eventually my latte is made so I head to the office to start my blogging to-do's.
It's a little list of things to do to help keep the blogs afloat each day. I get as far as replying to comments for awhile. It's really important to me to answer comments all the time. But, we were in France for a month and then the holidays hit, so I have 200+ comments to reread and respond to. I chip away a little every day, but it's slow going. Like my espresso maker, apparently.
I finish answering emails and google chat with a friend for a while. I find a cool picture to text to my sister, the Billy Idol sister. She sells Younique mascara and is a coffee fiend, so it's perfect. I should find that shirt, shouldn't I?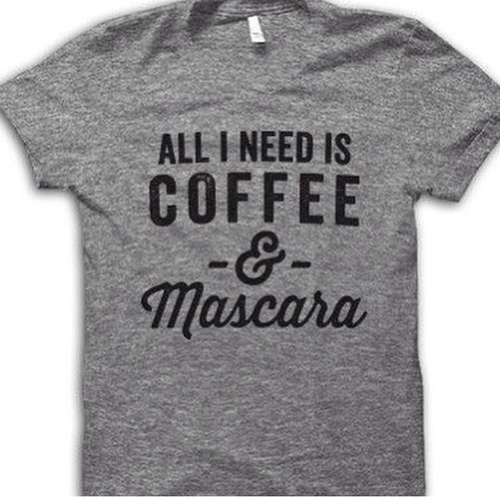 I decide to skip yoga because I'm still sore from Monday's class. The Wednesday teacher is a butt-kicker and I'm not in the mood for getting my butt kicked. I'll go Friday.
The kids are up at 8. It's cereal day. I love cereal day. I don't love the high cost of cereal — I only buy Joe's O's at $1.99/box but still. Regardless, the kids can make their own breakfasts so I love cereal day.
I head upstairs to change the laundry. I start a load of bras because I'm running short. I'm the weird person who washes bras almost with every wearing. I said that on Facebook once and folks thought I was out to lunch. Oh well. I stink. I guess.
I know I should handwash bras, but I don't. Instead I put them on delicate in a lingerie bag and call it good.
I take a shower and get dressed. There's a bra left, not a great one, but still: a bra. By the time I'm out of the shower, the load of bras are done, so I hang them up while the girls start their laundry.
I tidy the bathroom counter a bit since I tend to ignore it. It's very cluttered. I blow dry my hair at the same time 'cause I have skills like that, but I only dry it enough so it doesn't drip down my back. Because who has time for more?
For the longest time, like 15 years, I had this blowdryer my dad bought me. At Christmas time, I was dreading how slow and tired it was. I thought about getting a new speedy one like my hairdresser has. A day or two later, I started digging around under my sink and — lo and behold! there's a brand new power dryer in there. My dad gave it to me for Christmas like five years ago and I had stashed it because I didn't "need" a new one at the time. Very cool. Thanks, Dad!
The girls are still loading their clothes because I mentioned that it would be quicker on the folding end to get them right side out. Laundry has been piling up somehow. It's not supposed to do that when folks do their own laundry. Mental note to myself: I need to troubleshoot this.
I hang up a few of my own clothes. And then decide to go fix my hair. I put on the gemstone earring my friend Suzanne gave me like 7 years ago and put my hair in a Duchess of Cambridge half-up so that when we're living in England someday, we'll run into each other at the park and she'll say, "Gosh — if only I could look that good when I'm 42." Just kidding. But Kate's 'do has inspired me to grow out my hair so I don't look at old as I do.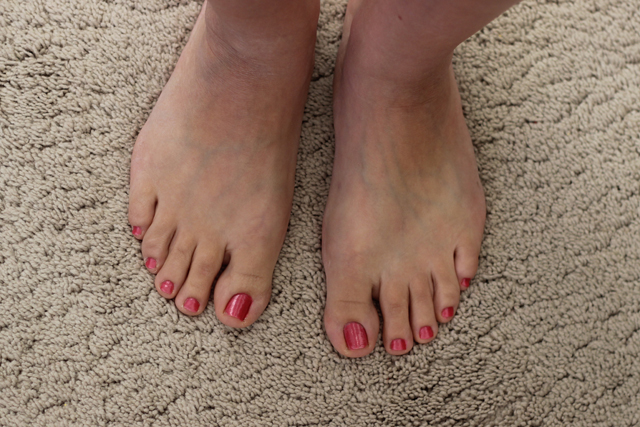 Since it's 60s/70s weather these days, I'm in shorts. (No hating.) I give my toes another coat of pink, but what I really need is for my Billy Idol-coffee-mascara sister who happens to be a manicurist to get down here, collect her Christmas presents — yes, it's been that long — and do my toes.
Our room's a wreck and in need of a good tidy, but it's almost 9, so I need to see what my peeps are doing. It's hump day. I look at the progress of a week in terms of "majority rules". So far school hasn't been as rigorous as I would like. If I can change the trajectory now, it could still be a successful week.
On my way downstairs I open the windows so we can air out. We're almost to the point in the year when we can leave them open all day long, but not yet.
At 9 I check on the kids. One is making his power breakfast. I ask him to make double so I can have some, too. I ask the girls to clear the table. FishBoy10 is already putting away dishes. I ask FishBoy12 to go fold towels so we can set the laundry area to rights. FishBoy14 is already folding his laundry.
I go to make mayonnaise for lunch later, but somehow the dishwasher didn't do a great job on the food processor. Stuff is stuck in the crevices. I wash it by hand and let it dry.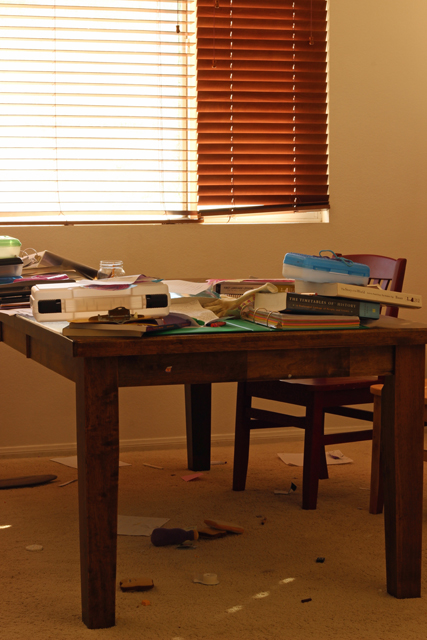 The school table is a disaster. While the kids tackle their jobs, I tackle the table.
At 9:20 I interrupt my school table cleaning to fold my own laundry and make room for the girls' wet clothes. I always forget to fold when they're still hot, so the clothes get wrinkled and I have to run the dryer again.
Once I'm done, breakfast is ready. Thank you, Man Child. While I eat, we watch episode 4 of the Bible miniseries. When I'm done with my frittata and toast, I grab a glass of water and finish the table. Next I start on the to do lists that didn't get done yet this week. Changing the trajectory, right?
At 10:25 the episode is over. While the kids do independent work, I finish up my planning. It's taking longer than it should because I got derailed by looking up books at the library, like this: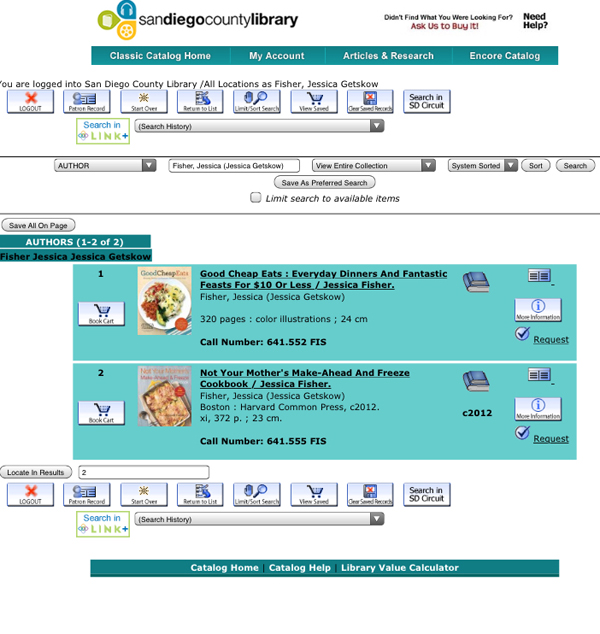 Total distraction, but cool nonetheless!
FishChick6 does her handwriting and an independent math fact sheet while I finish up at 10:53.
I begin math with her. We're behind so we're doing 2 lessons today to try to catch up. I can't find the meeting book, so we make do with this calendar that Jessika gave us. Math is slow, like my espresso maker.
I see the glass is half full. Literally. I haven't been drinking much. I finish the class while waiting for the girl to write today's date.
At 11:15 we've finished one math lesson. Time for a break! The littles head out for "recess" while I head to the kitchen to make lunch. The lunch menu is Tuna Melts, Tuna Sandwiches, Grilled Cheese, depending on who you are and what you like. I make the mayo.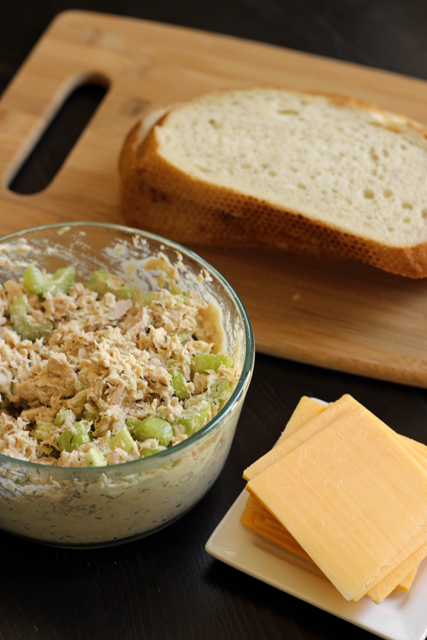 11:30 rolls around and I remember that I forgot to give FC6 her meds. Mental note: squeeze in 2 more doses before bedtime.
I proceed with prepping the tuna salad and cole slaw. I find forgotten pea tendrils and radishes in the top veggie draw. Add those to salad. I also find that someone bumped the button on the bottom meat-drawer-turned-veggie-drawer. All the carrots — all four pounds! — are frozen. Ugh to infinity.
I finish lunch and do some photos. At 12:15 the kids come in to eat. I eat quickly and take a phone call with a friend. At 1:10 I am back to orchestrate lunch clean up. Dish-putter-awayer is doing his math of his own volition so I do his job.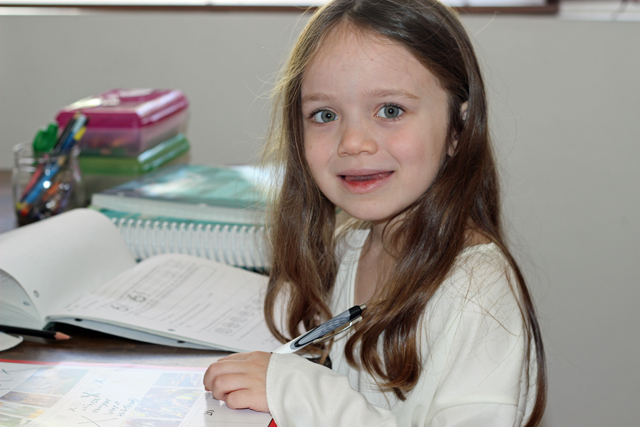 1:25 – I'm back to math with FC6. All this while the others work on their independent stuff and ask questions as needed. I try to down another glass of water which gets me to 4 cups. At 5 minutes to two we are finally done with math. We tackle reading. Then from 2:15 to 3 I read our final chapter about WWII to the littles.
At 3 FishPapa comes home. He takes the espresso machine apart to see if he can fix it. I do grammar with FishChick8 and then with FishBoys 10 and 12. I spend 15 minutes answering emails before heading to the store at 4. Despite the multiple store stops this week, I forgot an essential ingredient for a recipe I'm testing.
FishBoy17 and FC8 go with me. We buy far more than the two things on my list and forget something else I wanted. Oy! We'll make do.
We're home at 5 which means I have less than 40 minutes to beat the sun for light for dinner photos. While I make chicken stir-fry, the girls and FishBoy10 make brownies from scratch. They pretend they have a cooking show and narrate the entire process.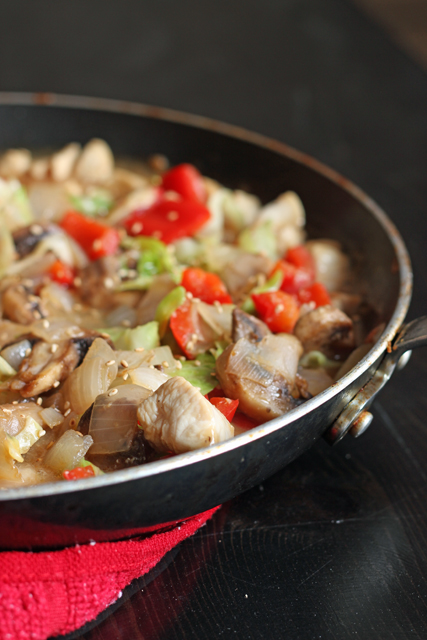 I'm able to prep dinner, take pictures and eat by 6:15 when the kids tackle KP and I sit at my computer to catch up on some work. I work until 7:30. Time for jammies and a viewing of the last episode of Agent Carter. Afterward, the baby and I watch Marvel youTube videos until 9:30. Then we hit the hay.
The days are long — that's for sure — but the years are short. The day was a good one. Not perfect, but probably as good as it could be. I suppose if I were more on top of the housework, there wouldn't be those distractions, but I was able to blend homeschool with work-at-home stuff. Everyone had food and clean clothing, so I'll call that a win.
What are YOUR days like?