Using a Kindle for Homeschooling
As an Amazon Associate I earn from qualifying purchases. For more details, please see our disclosure policy.
Wondering how to use a Kindle for homeschooling? Here's how we're doing it with our 11th, 9th, 7th, 5th, and 3rd graders.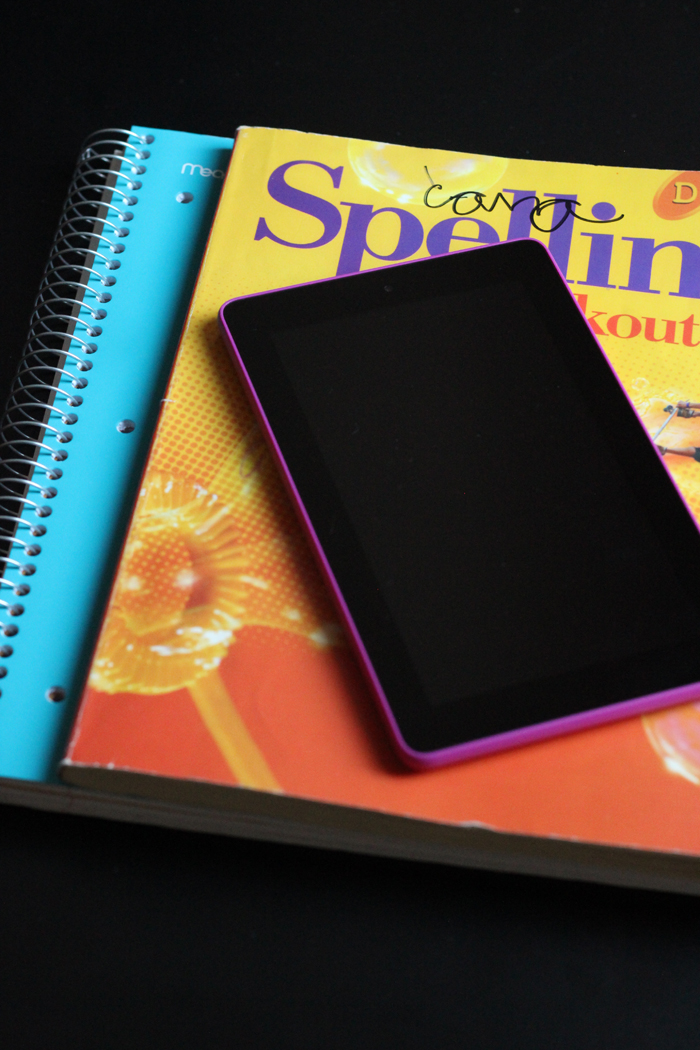 We are a device family. We play video games. We watch movies. I love my iphone like a seventh child.
But for about 15 years of homeschooling, we were mostly a pen and paper family. I wrote out all the homeschool to-do lists on paper. The kids did their work on paper. We did all quizzes and tests on paper.
I invested in a lot of paper each fall.
Until this summer when I invested instead in five Kindle Fires.
They were on sale for a great price, five costing less than a new iPad. I figured we'd take the plunge. If anything, I'd be Mom of the Year for at least a day.
When I first heard about Kindles, I wasn't impressed and had no desire to own one. Then I won one. And then it broke and I missed it. A few Christmases ago I bought one for our school, but it wasn't until I bought myself a Kindle Fire this summer that I realized how cool the new devices are.
Initially I bought these Kindles for extra reading devices, but they've evolved into being a major tool in our homeschool. Here's how we're using Kindles for homeschooling.
How we use Kindle for homeschooling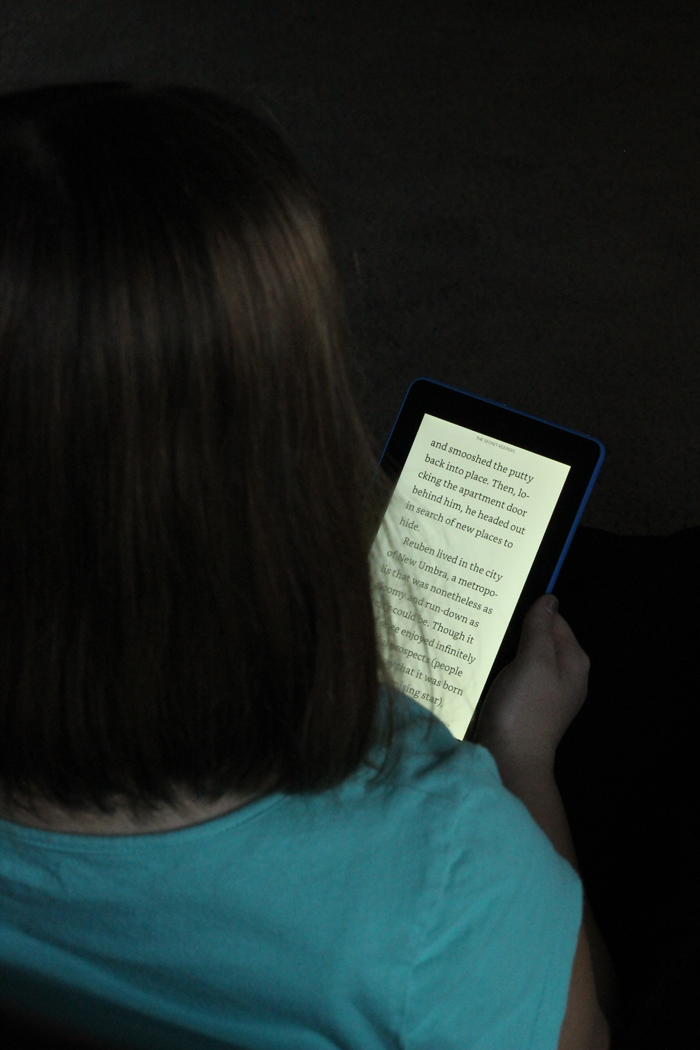 1. For reading
The most basic use of kindles for homeschooling is, of course, for reading. Having kindles allows us to read on the go. If I pack a Kindle for an outing or trip, I know that we always have reading material on hand. No matter what.
Though I do think that paper books are an important aspect of our culture and I do purchase and cherish our favorites, I often buy Kindle books over paperback. One reason is for price, but the second, and maybe more important reason is that more than one of my children can read a Kindle book at the same time. This eliminates fighting over a book or someone saying that he can't do a school assignment because he couldn't have his turn at the book.
Giving my kids Kindles for homeschooling opens up their opportunities for reading whenever and wherever. You can't really forget your book at home if you've got your Kindle along.
Kindle books can also never get lost. Ahem.
2. For book storage
We currently have hundreds of books in our Kindle library. That's hundreds of books that I don't have to store in our family library or keep track of. While I love our family library, it's nice not to keep track of so many books.
As I thin our physical library, I will often check out Kindle Matchbook to see if the Kindle version is available of a book I've purchased and now want to discard. Kindle Matchbook will enable you to buy some selections for as low as 99 cents! You can buy the digital version and then give away the physical copy.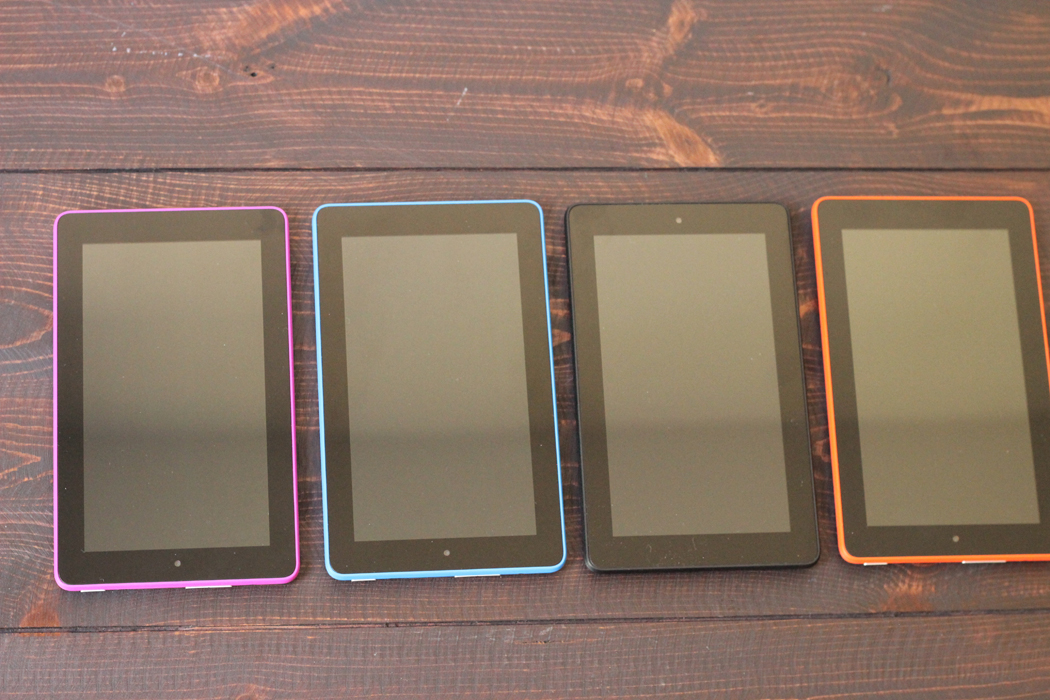 3. For library loans
I used to be notorious for turning in books late at the library and accruing fines. Now that we check out most of our library books via Kindle, our library fines are virtually nothing.
See what I did there? Virtually? 😉
Through our public library and Overdrive, I'm able to check out any number of titles (up to 20 at a time) via Kindle and Amazon. When the book is due, it simply disappears from our account. Voila. No late fees.
Additionally, we save money not buying books but checking them out from the library instead.
4. For educational games and apps
Kindle is Android-based. While I miss the syncing and familiarity of iOS — my husband and I have all Apple devices — I appreciate the fact that many of the educational games and apps we had on iPad are also available on Kindle. I've paid very little in apps, to be honest, because many of the educational apps are completely free.
I've loaded each child's device with educational games to fit their age and capabilities. (And yes, they get to farm, too! Ha!)
5. For spelling quizzes.
Spelling has never been my favorite subject to teach. Having a spelling app has changed that. This year we're using the mobile pass from Spelling City.
I can type the kids' spelling lists into my online account; the kids can access their lists from their Kindles. The app reads them the spelling words and quizzes them on their accuracy. While this particular app uses a computer-generated voice that sometimes sounds weird, it's freeing up space in this mama's calendar.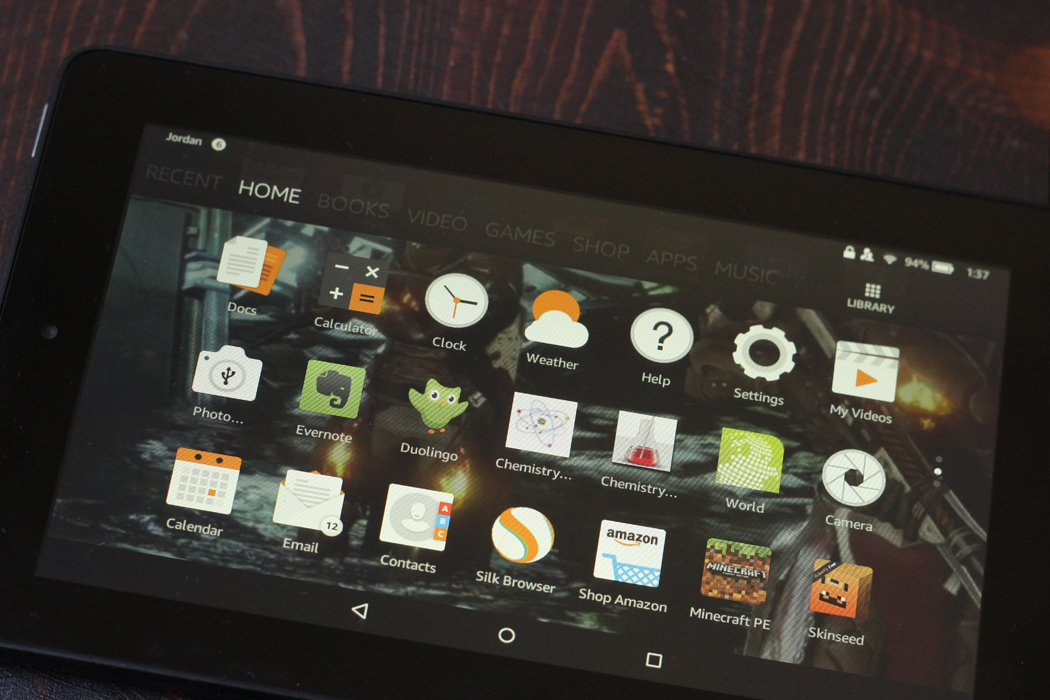 6. For work control
This year I did away with paper to do lists for my kids. Instead, I purchased a subscription to Evernote and loaded the app to everyone's kindle. (Evernote is free for up to two devices, but I wanted to sync my account to six different devices, so I invested in the year package.
I created notebooks for each child within the app. This serves as our work control system.
Each day the kids can consult their device for their to-do list and check assignments off as they're completed. Since Evernote is widely used in business, I figure my kids are getting some real life skills to draw from later as a bonus.
7. For audio and video
A lot of our homeschool curriculum is available or enhanced via audio and video files. These are accessible via the Kindles. I've loaded foreign language mp3s as well as audio books for history.
Via Amazon Prime Video, I've also selected a number of history documentaries to supplement our study of the middle ages.
8. For independence and confidence
When I handed my kids their Kindles on the first day of school, I was surprised what an impact it had on them. From the third grader all the way up to the high school junior, they felt empowered and independent having a device of their own.
Again and again they thanked me. So, I did get Mother of the Year — for a couple days, anyway. 😉
But what about kids goofing off? Giving your kids devices can be a scary thing!
Thankfully, the Kindle has pretty nice parental controls. I can set curfews, block certain functions, and even monitor usage. I named each Kindle in my Amazon account, so I can see who's doing what when. The monitoring even tells me how many minutes each book was read or how often someone was farming during a school day.
Using a Kindle for homeschooling may not work for every family, child, or subject, but it does have the potential to be a very viable digital resource in your homeschool.
Do you use a kindle for homeschooling?