Sorting and Storing Kids' Clothes (Zone Defense)
As an Amazon Associate I earn from qualifying purchases. For more details, please see our disclosure policy.
This year we're on Zone Defense, moving room by room, tackling clutter and disorder. This month we're closing in on the laundry room, linen closet, and clothing storage.
Two weeks ago I gave you your linen closet/laundry room assignment. Last week I shared my results in tackling those two related zones. At least they're related at your house.
Today we're talking about another area of textile storage: kids clothing.
Save Those Hand-Me-Downs
Chances are if you've got more than one child you have some type of clothing storage. With four boys born in quick succession, you can bet that I held onto their outgrown clothes to pass from one to another. Some of those articles of clothing have even survived long enough for their sisters to wear! Saving hand-me-downs has saved us a boatload of money.
In the kids' younger years, it seemed that we had dozens of boxes of clothes to sort each time the seasons changed or a kid moved up a size. Especially with a baby in the house, you'll find several groups of sizes: newborn, six months, nine months to a year, etc. The increments are small and outgrown quickly, so it's in your best interest to have a sorting method.
Now that my kids are bigger, it seems that the immensity of our hand-me-down collection has lessened. But, we still need a good sorting method, nonetheless.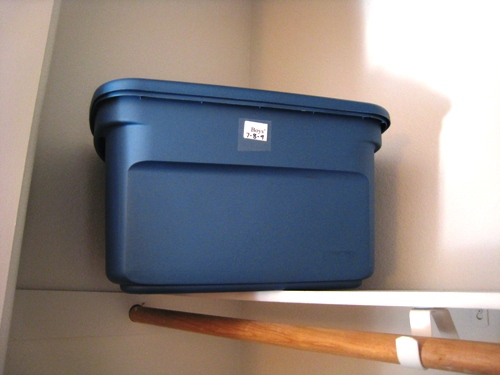 Tips for Sorting and Storing Children's Clothing
1. Limit what your kids have access to.
While I wouldn't call us minimalists, I think hubs and I realize that we have an abundance of stuff and we try to curb it whenever we can. And we try to do that with the kids' clothing. We aren't flashy dressers and we live in a moderate climate, so this helps in limiting ours and the kids' wardrobes.
We want to make it easy for our kids to put away their clothing, so we limit how many articles of clothing they have access to on a regular basis. This amounts to about:
4 pairs of shorts
4 pairs of pants
5-7 tshirts
4 long sleeved shirts
2 sweatshirts
an abundance of socks and underwear
For the girls, 3 to 4 dresses are in the mix
If there are extra items, we store those in a box in the closet. It's easily accessible, but not in the way. Since I do laundry everyday, there's rarely a shortage. But, if you have a different system for clothes care, you may need to change the amounts.
Limiting the kids' wardrobes limits the amount of laundry that could accumulate so at least Mount Washmore isn't as huge as it could be! I don't know about your house, but I often find clean clothes strewn about the floor or stuffed in the dirty hamper. I'd like to limit their ammunition for this type of activity.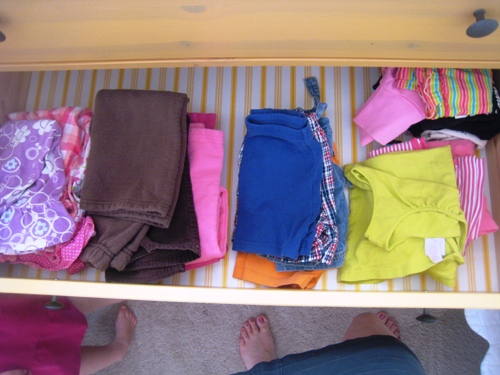 2. Don't store things you (or your kids) don't like.
When money is tight, it's tempting to save everything. However, to hoard clothing items because you "might" need them clutters up your house and prevents you from sharing with folks who really do need them.
If it's stained, torn or a decade out of style, don't save it. The stains deepen, the tears aren't going to fix themselves, and your kids will bless you for not dressing them in tasteless clothing.
Instead trust God to provide for the needs as they arise.
3. Store clothing that is in good condition.
That said, feel free to save clothing that is in fair to "like new" condition. Utilizing hand-me-downs is a great way to save money and conserve resources.
4. Use dust-free, bug-free packaging.
Storing clothing implies that you hope to use it again. Be sure to package it in a way to help it hold up over time. I like to use plastic totes with lids to keep out dust and bugs. You can add bay leaves (cheap when bought in bulk) to further deter bugs.
Be sure to label the boxes so that it's easier to find what you need at a later date. I have blue boxes for boys, and label according to size, and beige boxes for the girls. Store the boxes in a cool, dry place, out of the way of your household traffic, like a closet.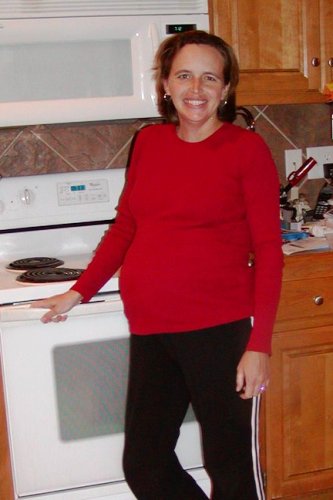 What about maternity clothing?
These same tips hold true for storing maternity clothes if you hope to have another pregnancy. Remember, though, that pregnancy is the time when we are tempted to feel the blahs about our looks. If you can help it, don't hold onto the clothes that make you feel frumpy. It's not going to boost your spirits as your body changes.
Consider loaning your maternity clothing to friends in the interim. Hopefully, your friends are good about laundry and stains. If they're not, don't sweat it. It's still a great way to bless someone else and free up space in your closet.
Do you have a trick for sorting and storing kids' clothing?