DIY Anna Costume from Disney's Frozen
As an Amazon Associate I earn from qualifying purchases. For more details, please see our disclosure policy.
Thrill the little girl in your life with a DIY Anna Costume. Life as MOM contributor Janel shows you how. Looking for Elsa? Here's the Elsa Costume tutorial.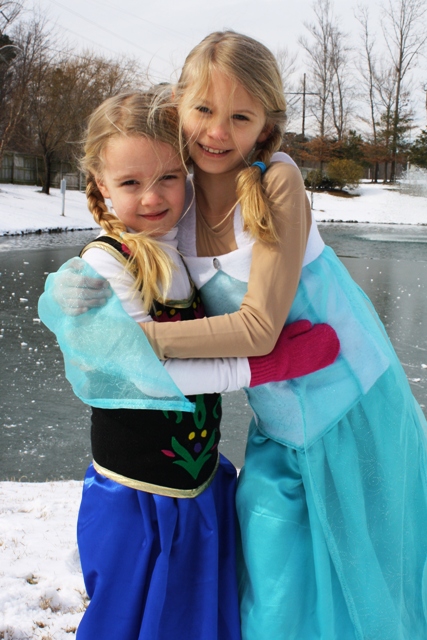 all photos: Janel
I'm not a professional seamstress, nor do I play one on tv. I'm just a mom with some very basic sewing skills and a desire to please my kids with homemade dress-up clothes. Over the past few years, I've tackled several homemade costumes for my girls. Mermaids, Hogswart students, Musketeers, and even Popstars – I've made them all. It's almost an addiction to see what I can devise for them on the cheap.
I blame my mom. She was crafty rock star mom. When I was in elementary school, I came home and asked if she could make me a poodle skirt for 50's day the next day. Not only did she whip one out that night, but it was AWESOME! That memory has stuck with me and has inspired me to do the same for my girls who LOVE dress-up and pretend play.
Their latest obsession is reenacting Disney's movie Frozen. Their auntie (aka FishMama) gifted them with the Frozen soundtrack for Christmas, so it's a very audible experience too. Since both of their birthdays fall in January, I decided to try my hand at making them some Anna and Elsa costumes, and thought I'd share the process with you.
Buying the store-bought costumes would run me at least $20 per costume (if not more), but that is just not in our family's law school budget. Instead, I bought fabric at Joann's (either on sale or with a 40% or 50% coupon) and spent about $20 total to make 4 costumes – one of each for both girls so they both get a chance to play each character. They are thrilled that they have these fun costumes, and I'm thrilled that it didn't break the bank.
How to Make an Anna Costume:
For Anna's Skirt
Supplies:
scissors
royal blue costume satin
blue thread
sewing machine
1-inch elastic
Instructions:
To measure:
Measure the child's waist. You'll need a length of elastic this long plus about 1-inch.
Measure the distance from the child's waist to down to about her ankle. Take this measurement and add about 2.5 inches for the bottom hem and the waistband casing. You'll need this much royal blue costume satin, so your fabric will be this measurement by how ever wide the fabric is. Costume satin is typically about 44 inches wide.
To assemble the skirt: Follow the step-by-step instructions in this DIY Dress-Up Skirt tutorial.

For Anna's Top
I decided to use felt for the top because it doesn't fray so you don't have to hem it and you can just glue on the embellishments. It also comes in a very wide width (mine was 72 inches), so you'll have extra fabric to make multiple tops or use it for another craft.
Supplies:
black felt (from a bolt)
small sheets of colored felt – green, pink, purple, and yellow
fabric scissors
straightpins
fasteners of your choice, such as sew-on snaps, hooks, or Fabric Fusion Velcro
1/2 inch extra wide double fold bias tape in metallic gold
thread – black and gold
sewing machine
fabric glue or hot melt glue & glue gun
Instructions:
To Measure: Take three measurements:

Measurement A – Measure around child's chest under armpits
Measurement B – Measure from the chest where you want top to start to below the waist where you want the top to come to a point (about 2 inches below the waist).
Measurement C – Measure how long you need the straps to be.

Cut a rectangle of fabric that is Measurement A plus about 3 inches (for overlap) by Measurement B.
Take this rectangle and fold it almost in half — have the bottom layer stick out by about 1 inch. Use straight pins to hold the felt in place. It will look something like this:
Use a straight edge and pen to mark where you'll want to cut the V-shape of the neckline and the point at the bottom of the top. For the neckline, start at the fold about 0.75 inches down and cut at an angle over about 2-inches. For the bottom of the top, start at the bottom of the fold and draw a line at an angle over about 1/4 of Measurement A. Then continue the line straight over to the edge of the fabric. Secure along your marks with straight pins and then cut along the lines.
Wrap the top around the child and pin the overlap in the back in place. Use straightpins to mark where the overlap in the back lies (pin them vertically to the side of the overlap). This will help guide you in placing your fasteners. Attach your fasteners, and double-check to make sure that it fits the child.
Cut two straps from black felt that are about 2 inches wide by Measurement C plus an extra inch. While the top is on the child, pin the straps in place. Remove top from the child and use the sewing machine to stitch the straps permanently in place with black thread.
Sandwich the edges of the top between the gold bias tape and pin in place. Fold over the edges of the tape and pin them down on the inside of the top. Use gold thread to sew it in place.
Cut shapes out of colored felt to mimic the design on Anna's top. Use glue of your choice to affix it to the felt top (I used hot melt glue).
Putting the Anna Costume Together
Once you've got the skirt and the top sewn, give the costume a few finishing touches. Either have your child wear a turtleneck or a long-sleeved leotard underneath the top. In these pictures, Anna is wearing a white turtleneck — it was 26 degrees outside after all. But if Anna had her choice, she'd be wearing a light blue leotard.
I've found children's long-sleeve leotards on sale online for about $12 plus free shipping. They're a great layer to use for dress-up costumes (especially on Halloween) and can be used over and over. Also, add in a pair of mittens and some black boots if you want.
If you want to get really fancy, buy some pink felt and make a cape too. And of course, don't forget the double braids!
More Frozen fun that your princess will love:
Looking for a DIY Elsa Costume tutorial too? Go here…

– Janel is a stay-at-home mom of two daughters and a "law school wife" in Virginia. Raised in a budget-conscious and DIY-minded family, she blogs about motherhood, crafts, and living on a law school budget at Life with Lucie and Ella.