Chores for Toddlers & Preschoolers
As an Amazon Associate I earn from qualifying purchases. For more details, please see our disclosure policy.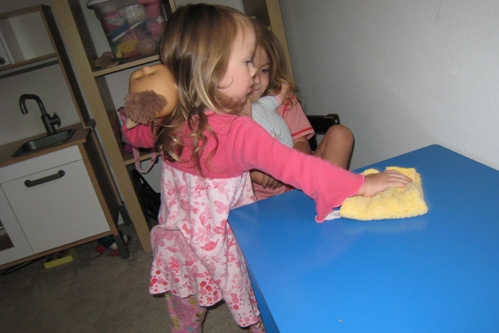 Anyone who has been a parent longer than three days is by this time exhausted. It's hard work when the life of another person rests in your hands. You are responsible for making sure he is fed, clothed, and safe. And, of course, your task goes beyond just basic physical needs. There's the fun part of loving and cuddling and teaching him about the world.
Oh, and teaching him what it is to be a responsible human being.
Hopefully, you and I are acting in ways that are a good example of that. Most of the time.
Learning through practice
But there's also that bit about giving your child opportunities to practice. Most of us learn through hands-on experience and practice. So, it makes sense that as our children move through the different stages of development that we give them opportunities to practice different life skills.
cleaning up after themselves
making the bed
folding towels
wiping windows and counters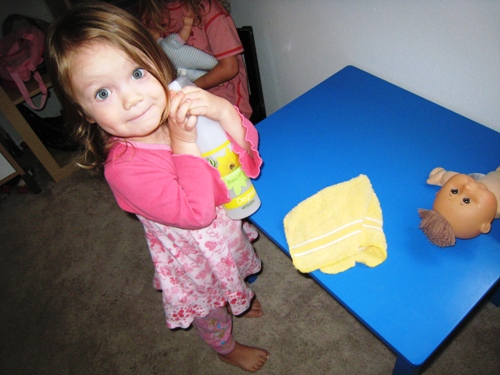 While I know all this in my head, I am sometimes hesitant to assign a task to a younger child for fear he will mess it up and I'll just have to do it again anyway. In those instances, I've either made more work for myself or for one of my older children. As a former oldest child in a large family, I know what a bummer this is.
Why do I have to do everything?
And for some odd reason, we firstborns all started pulling our own weight at a much younger age than our siblings. When I was his age…. (You know the drill.)
Find the youngest capable person
Years ago I heard a parenting and homeschooling speaker suggest that you delegate tasks to the youngest child who can tackle the job, whatever that task is.
If you need a new diaper for the baby, ask the toddler, not the teenager to go get it. If you need someone to take out the trash, find the youngest, able bodied person to do the job. If the counters need to be wiped, assign the task to the shortest person who can still reach the counter top.
This has been a wonderful reminder to me not to relegate my older children to more tasks than they need to do as well as a great challenge to consider what my younger people are really capable of.
I still need (or prefer) to do a lot of things myself, but learning to delegate tasks to my children helps them and me. And if I'm remembering to teach the littler kids, we all benefit.
More Toddler Tips
Disclosure: Please use common sense in delegating tasks to young children. And just so you know, the cleaner my tot is holding is a non-toxic, diluted cleaning solution. 🙂