California on a Budget: Grocery Shopping
As an Amazon Associate I earn from qualifying purchases. For more details, please see our disclosure policy.

If you live or travel within California, or plan to in the near future, it would be in your best interests to discover all the wonderful ways you can make ends meet in the Golden State. Whether you find entertainment out of doors or master the ways of the mouse without a million dollars, there are plenty of ways to live in California on a budget.
And one of the most important places to watch your spending is at the grocery store. While there is a food shop on almost any corner, not all grocers are created equal. And if you want to stretch your dollars as far as you can, then you need to know the lay of the land.
Here are some of the most prevalent sources of food in Southern California:
Costco – has great prices on milk, dairy, cheese, bread, organic produce, pasta, and beans. The food court rocks with $10 pizzas and buck fifty hot dog combo. Just don't get sucked in to the "low prices" in other areas of the store. Not everything is a great deal at Costco, so do some price comparisons before buying.
Health Food Stores – you wouldn't expect to find low deals at a health food store, but places like Sprouts and Henry's Farmers markets offer fantastic prices on fresh produce, dairy, meat, and bulk items. Buy your packaged foods someplace else.
Farmer's Market – This is generally the source of the freshest, local produce to be found, often organic. Our growing season is looooooong in California, so you can buy fresh grown foods almost all year long. There's a friendly vibe at most farmer's markets as well as lots of yummy snacks and samples.
Super Walmart and Target – These big discount stores are becoming more prevalent as local restrictions on their grocery components diminish. You can often could great prices and sales with coupons to get great deals. Walmart used to be the best deal in town, but that appears to have changed. It's the best deal on some things.
Smart and Final – This store offers bulk shopping at low prices without a club membership. Can be a great deal if you know your prices. Quality is generally not as good as Costco, though.
Trader Joe's – Once upon a time, TJ's offered rock bottom prices on most items. They still offer great deals on many organic and natural foods items, but the price is not as competitive as it was 20 years ago. It's hip now and has a price tag to go with. Their hummus is awesome, and their convenience items taste better than the competitor's.
Fresh and Easy – This is the new kid in town. I've watched stores pop up all over Southern California over the last year. These stores are low-maintenance in that they are all self-check. They offer lots of convenience packaging as in bundles of cucumbers or bags of carrots rather than something that needs to be weighed. Extensive offerings with lots of gourmet or organic choices. Not the lowest prices around, but good coupons and specials.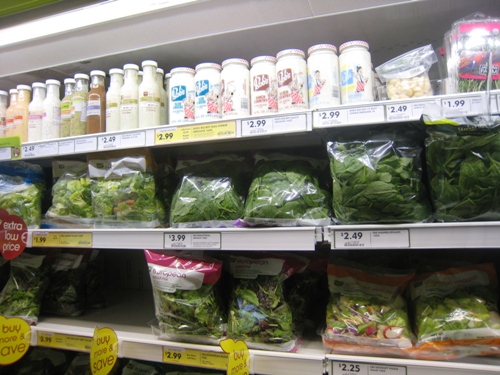 A few other caveats:

The State of California charges a fee for all bottles and cans called the CRV (California Redemption Value). This is supposedly "redeemable," but in our experience, you don't get back the full price of the fee you paid.

"Soon" the state government will also be charging a fee or tax on plastic and paper bags in an effort to make consumers use reusable shopping bags. I'm not sure how "soon" soon is since the grocery store has been telling me this for two years and it's never happened. At the moment, some grocery stores offer a cashback incentive for using reusable bags. This can be a good way to earn back some of your money spent.
How do you save money on groceries?
Disclaimer: Neither the California Board of Tourism nor the California Realtors' Association have ever heard of me. I freely offer up my opinions regarding life in the Golden State. I represent the experiences of one family who has lived in four different California counties. My opinion is just that — my opinion. Feel free to disagree. Your mileage may vary.