Disneyland on a Dime
As an Amazon Associate I earn from qualifying purchases. For more details, please see our disclosure policy.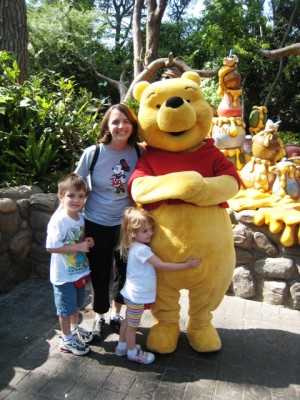 You can't live or travel in California without a trip to Disneyland. Sooner or later, I think a trip to Disneyland, the original Disney theme park, is in order. Yet, the tricky part is finding a way to afford it.
Amusement parks are never cheap. And while Disney, in my opinion, is the creme de la creme of theme parks, it also has the price tag to go with being cream of the crop.
A few weeks ago our family headed to Disneyland, taking our six kids for the first time. I grew up going to Disneyland at least once a year, and FishPapa, though not as often, went regularly. But, our kids had never been, due in part to living in Kansas for five years, waiting for "the right time," and wondering how to swing it on a tight budget.
This year we decided to make it part of our vacation fund. And while, we certainly weren't able to go for free, we were able to cut some corners to make it more affordable than many Disney vacations.
Preplanning is Key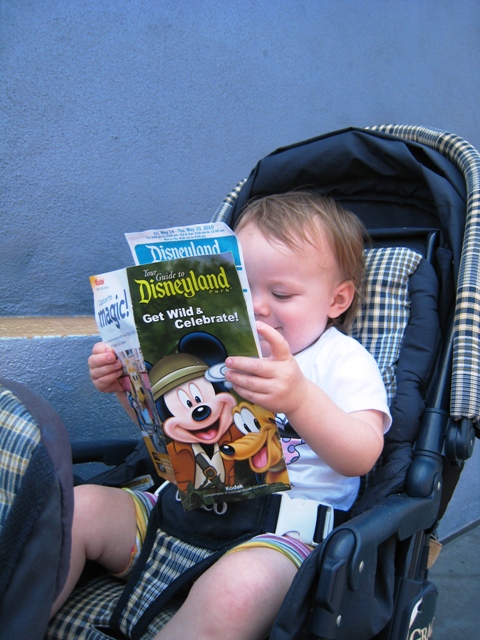 I asked friends and readers about what they did to make their Disney days a success.
Amy told me about Disney trading pins, something I'd never heard about. Alyssa gave me the heads' up on Disney apparel for cheap. Jessika clued me in about the cheapest souvenir in the park.
And my readers told me about all the tips and tricks they could think of as well as shared their Disney adventures.
What a help that was!
Here are some of the things I did before our trip:
:: Reading Research – First, I purchased the book, The Unofficial Guide to Disneyland. Great book! It made me laugh and it gave me a much-needed reality check about how to maximize our day at the park and set realistic expectations for Disney with kids. I highly recommend it. Read my more in-depth review for more ideas.
Cost = free with SwagBucks
:: Tickets on a Discount – This is probably the hardest pill to swallow. We missed out on the Give A Day, Get a Day Promotion. Instead, we bought our tickets from FishPapa's work where he gets a discount on Disneyland tickets, $68.50 for adults and $60.50 for children.
Cost for two adults and five children = $447.50
:: Dressing the Part – I logged onto the Disney store and ordered tshirts for me and the kids at a discount. I went through ShopAtHome so that I could get an extra 5% back from my purchases. I only bought shirts that were on low sale, about $5-6 each, so that we could dress the part of Disney tourists. Not a necessity, but fun, nonetheless. Next time, I'm buying all red Disney tshirts in order to keep better track of everyone. Counting six heads in a crowd is kinda tough. Cost = $43.00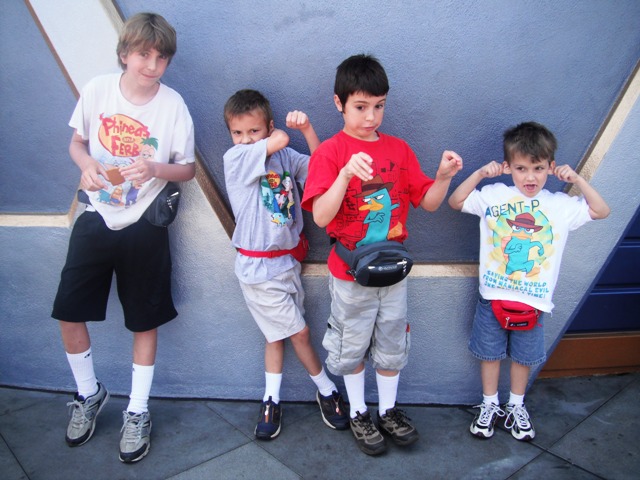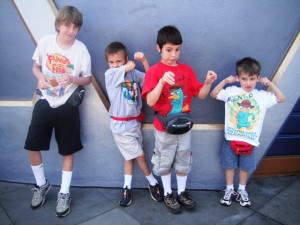 :: Geeking Out with Waist Pouches – Remember fanny packs? Well, the Unofficial Guide recommended getting them for the kids and I'm so glad I did. I shopped around and found some on Amazon. Don't worry about getting "kid size" bags, just cut the straps to make them fit. The point of the waist pouch is to let your kids stuff them full of snacks, like granola bars, fruit leathers, and crackers, so that they can snack whenever they want. This worked like a charm. Loved it and we will be doing it for more outings in the future.
Cost = free with SwagBucks
:: Ordering Trading Pins – These are a phenomena that have been around for about ten years. Disney sells pins that you can trade. They're quite cute and quite expensive. Instead of paying $15 a pin (which I would never do), I ordered a lot of 20 from Ebay (via Ebates for 3% back) and split the pack 5 ways. Each kid got to choose four and they had a great time trading them with castmembers at Disney. It was an economical way to have souvenirs and participate in a Disney tradition without breaking the bank.
Cost = $20.00
:: Packing Snacks and Lunch – Since I have two great cooler bags, I packed those full with cold drinks, water bottles, cheese sticks, and sandwiches. In my backpack I had some cookies and crackers. We grazed throughout the park and since the kids had their waist pouches full, they weren't hounding me every five minutes for a snack.
Cost = same as it would be if we ate lunch at home
Saving Money At the Park
Since we were treating this day as a vacation, we didn't want to go without fun stuff. But, since the kids already had snacks, Disney tshirts, and trading pins, there wasn't a whole lot that they wanted. We did splurge on a few things.
:: Free Coffee Refills – We were pleased to see that the coffee shop on Main Street offers free refills all day long. Just keep your receipt. I don't know about other coffee locations throughout the park, but Main Street isn't too far of a walk from anywhere, really.
Cost for coffee for the Resident Caffeine Addict = $3.00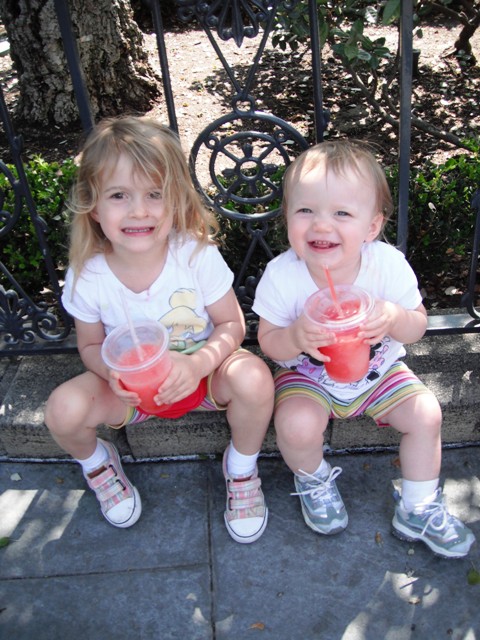 :: Yummy Frozen Lemonade – I knew that we would want a cool afternoon pick-me-up, so I had mentally prepared myself for a splurge later in the day. We found the Frozen Lemonade near Haunted Mansion to be the perfect thing.
Each cup was $4. Yikes! But, it was vacation! We ended up getting 8 cups for a whopping $32. More than I would spend on dinner! As it turns out they really were big enough for two people to share. So, next time we would buy 4 and split them. We made a sweet memory, nonetheless.
Cost = $32.00
:: Dinner at Downtown Disney – To browse the Disneyland menu options is to have a minor attack of sticker shock. Heaven help my bank account! Thanks to my sister's iPhone, we were able to check out the offerings at Downtown Disney.
We found the best deal at the Jazz Kitchen Express. Just hop the monorail and it practically drops you at the front door. Nine of us (my sister included) ate dinner and dessert for less than $45 by sharing large orders.
Cost = $43.00
:: Cheap Souvenirs – My friend Jessika always has wise ideas. She suggested that the kids bring two quarters and a penny for a fun souvenir of the day. Two quarters and a penny – you know what I'm talking about…. Those penny squashing machines were just the ticket. The big boys bought them while me and the littles met Tigger and Winnie the Pooh.
Cost = $1.53
Sweet Memories are Priceless
We had a fantastic day and we didn't spend as much as we could have. Certainly, we could have scrimped a little more. But, considering what Disneyland costs, I think we did pretty well:
Total Cost for day at Disneyland = $590.03

Memories made with FishKids and Auntie Jamie = priceless
What have you done to make to make Disney Parks more affordable?
For more budget ideas for California fun, check out my series, California on a Budget.