Dining Out on a Budget
As an Amazon Associate I earn from qualifying purchases. For more details, please see our disclosure policy.
Dining out on a budget requires compromising in small ways, but still achieving the end goals of great food and good company.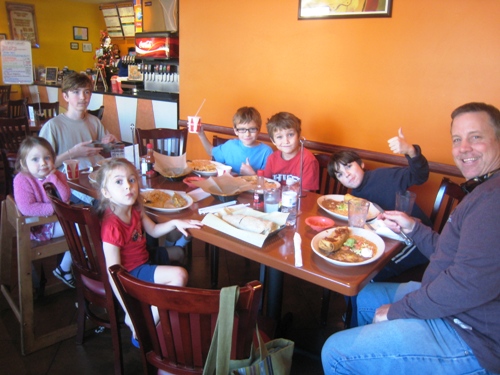 A few weeks ago I shared a few small ways our family uses to save money. One of those ways was to eat at home, of which we do a fair amount. However, while we love to eat at home, our family really enjoys its fair share of restaurant dining. I casually mentioned our target price for eating out for our family of 8: $10 to $30. Y'all jumped out of the woodwork to know how.
So, here's my story.
I've heard tales of families of 4 who can't dine out for less than $100. I am stunned when I hear these figures. Where are they eating and WHAT could they possibly be ordering?! I imagine that they go to full service restaurants, order drinks, appetizers, and desserts, and live it up.
We rarely, if ever, do any of the above. At least not all in one night. We might go full service, but we drink water and order simple entrees. Or we eat dinner at home and go out for dessert. Enjoying a meal out for our family of 8 meals requires compromising in small ways, but still achieving the end goals:
getting out of the house
keeping the kitchen clean
enjoying someone else's cooking
having a family experience
I'm not sure that I have any "secrets," but we usually spend anywhere between $10 and $40 when we do eat out, though the usual is often under thirty bucks. There are occasions when the bill reaches in the $50 to $75 range, but those are special events that might even include grandparents or aunts and uncles.
Here's how we dine out on a budget:
1. We have stand-by restaurants that serve affordable take-out.
We tend to be creatures of habit. There are a handful of places we go as a family that we know everyone likes and that we can afford. These would include: Del Taco, Taco Bell, Costco, In-N-Out Burger, Chick-Fil-A, Chipotle, and Panda Express. We know that we can get in and out the door of these places well within our target range. Del Taco, in particular, offers regular taco specials, where I can, indeed, feed my family for ten dollars or less. And a Costco pizza rings in at $9.99 even. A round of kosher hot dogs and sodas at the food court totals about $10.50+tax since the little girls share.
While some of these establishments are not as "healthy" as others, I don't fret too much. We don't make eating out a daily occurrence. (At least not usually. Vacations are a different story.) Instead, I shoot for 80% great, healthy meals (usually at home) and 20% okay meals.
After much trial and error, we've hit on a few restaurants that we really love. We're okay with spending money on "a sure thing," so we've narrowed the field to a handful of places that everyone likes and that cover a range of price points. We want it to be enjoyable for as many of our crew as possible.
This keeps me sane — and allows us "fun food" every once in a while.
2. We drink water, skip dessert, and rarely order appetizers.
We've slowly started to wean our family of sodas and beverage bar drinks. They don't like this idea in theory. But, they're warming to it in practice. In fact, recently when we did the round of hot dogs and sodas at Costco, the kids and a certain papa went whole hog on the pop. They were feeling it within the hour. No one felt that great after drinking so much soda.
Preferring to drink water is a great way to save money, as is bypassing the dessert and apps. When we do splurge, we usually split a couple orders. Enough is as good as a feast.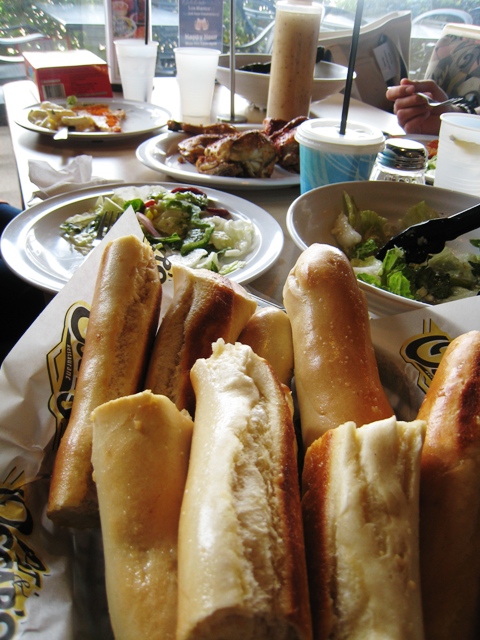 3. We visit family-style restaurants.
Since our kids are still pretty little, not every one needs his own "meal." In fact, eating at family-style restaurants, like Pat & Oscar's or Panda Express, where we can get large orders of different items is a great way for us to accommodate the differing appetites in our crew as well as save money. At this type of restaurant, we can usually get out the door for about $30 with leftovers to take home.
4. We order kid's meals only when the numbers crunch appropriately.
Kids meals are a unique experience. Most of our favorite places don't offer them. However, when the numbers crunch appropriately, we go for it. For instance at Chick-Fil-A recently, we got one free kid's meal with each adult meal. While the dinner wasn't "cheap," we were able to feed our family for $24 that night and ate like kings.
Recently, I discovered that the kid's meal at Chipotle is only $3.50. I think this is a great deal — if your kid will eat what's on his plate. However, FishBoy7 thinks that both the rice and beans are too spicy. I could buy him two quesadillas for two bucks instead. He'd be just as happy — minus the chocolate milk — and we'd shave something off the bill.
5. We don't "go big."
In our days before children we might have bought the biggest meal possible with all the extras. These days, we go for enough to feel satisfied without having too much. That means that we each might forego "a meal" for a sandwich and then share fries. Hubs and I agree that we'd rather be frugal eating out and get to go out more often rather than splurge just a fraction of the time.
6. Remember little kids don't eat a lot when dining out.
How many times have you ordered a full meal for your kids only to find out that they only picked at it? What a waste! I've figured out that my girls (ages 2 and 4) don't need to order their own meal items. I can usually order a large salad with chicken and share it with them and all three of us are happy.
Dining out, obviously means different things to different people. Granted, I can understand spending more money less often and enjoying a nicer dining experience. (We save those for date nights.) But at the same time, this is a way that works for us. We can enjoy a meal I don't have to cook, be together as a family, and not go beyond our budget.