Cleaning Out the Refrigerator
As an Amazon Associate I earn from qualifying purchases. For more details, please see our disclosure policy.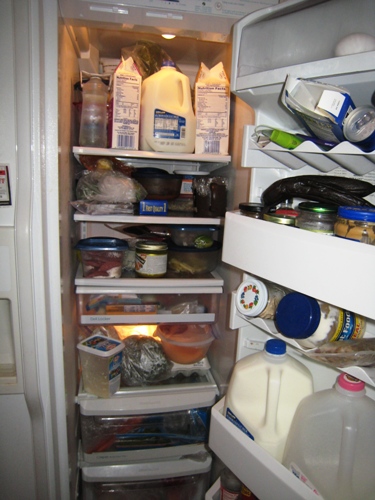 It's a dirty job. But, somebody's got to do it. And if I don't miss my guess, that somebody could be you.
Never fear! FishMama is here with an 8 Step Program Toward a Cleaner, Happier Refrigerator. And believe me, I speak from experience….
Prior to our recent vacation, I did a major refrigerator overhaul and I was so glad that I did. We had been battling illnesses for the first three weeks of September.
Dimished appetites resulted in a lot of little leftovers and a tired mama contributed to a very messy fridge. Definitely not something you want to come home to after vacation.
But, it doesn't take illness and fatigue to wreck havoc on your fridge. Just the business of life can get ya. So, ready to get cleaning? Let's go.
But first a note from my legal team: I am not a medical or nutritional professional nor do I work for the US Department of Agriculture or the food police. If you know better, then do it your way. I make no promises that mine is the best way. 😉


1. Empty
Empty the refrigerator of all its contents. Really. It will be okay.
This presupposes that you have a clean sink and clean counters. (Sorry, babe, but its true.) Remove everything from the shelves, from the door, from the drawer, from the little storage nooks and crannies.

2. Wipe and Wash
Once the fridge is empty, wipe every shelf, removing them if necessary. I took out all the drawers and door inserts and washed those with warm, soapy water, as directed by my refrigerator's manufacturer. I've also read that baking soda and water is a good refrigerator cleaner.

3. Purge
Throw away any leftover food that is older than three days or wasn't all that great the first time. It's not going to improve with age.
Scan your condiments. If you haven't used it in the last couple months and don't foresee using it anytime soon, give it the "heave ho" and make a note not to buy it again if you really won't use it in a timely fashion. I ditched old BBQ sauce and peanut butter that my daughter is allergic to. I also said farewell to ethnic condiments that just don't fit our tastes, but which we were willing to try once upon a time.

4. Rinse, load, and run
Remember all those leftovers? Well, if there were beakers of science experiments containers that need to be washed, rinse those. Load them into the dishwasher and get it going. I have to confess after several weeks of illness in our house, I had a lot of dishes to wash. (Yikes!)
And, no, that wasn't all from the fridge. I cleaned it right after dinner so I could add the dishes to the dinnertime cycle.
5. Wipe bottles, jars, and containers
Take a damp wash cloth and wipe down any bottles, jars and containers that you will be returning to the fridge.

6. Organize
As you return condiments and other refrigerated items to the refrigerator, organize them in a logical way. Place unopened containers behind their opened counterparts, so that the oldest is used first. I found out that we had two milk jugs opened. Oops! That's what happens when your fridge is a wreck!
For more ideas, check out these suggestions from Organizing Junkie.
7. Use what you have
Now that you've touched everything at least twice, you have a good idea of what's in your refrigerator, what needs to be replaced, and what needs to be used up. Build this week's menu plan from what's there as it is probably the most perishable food in your house.
8. Repeat monthly.
If you do steps 6 and 7 weekly and wipe up spills as they occur, you can easily only clean the refrigerator once a month. This works for me.
What's your method to keeping your fridge clean and happy?