Visiting the Monterey Bay Aquarium
As an Amazon Associate I earn from qualifying purchases. For more details, please see our disclosure policy.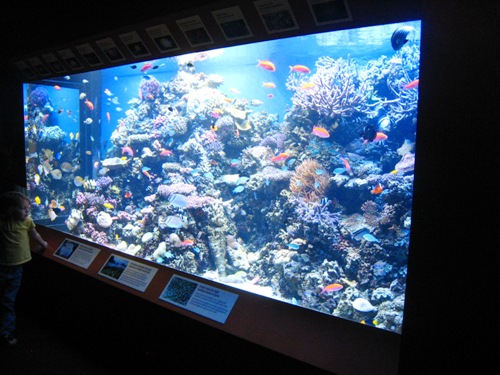 Last week our family went on our first vacation in many years. In fact, I was hard pressed to think of what true vacations we had been on. The business of life, pregnancies, newborns, lack of funds — all have kept us home bound. And for the most part that has been just fine with us.
But, let me just say that last week was a blast. More on that tomorrow….
One of the things that we did on our trip up the California coast was to visit the Monterey Bay Aquarium. The last time we were there was with these guys:
Can you believe it? We had half as many kids as we do now. And my three bigger boys were just wee ones. And I was seven years younger. Oh my!
It was fun to retrace our steps and to see how the Aquarium — and our kids — have changed over the years. Many of the special hands-on exhibits, like the shell above, are still there. But there are many things that are new, improved, and otherwise updated.
If you've never visited Monterey, it's definitely worth a day of your time to stroll through the Aquarium.
Here are some things that we found to be successful:
Go during the off season.
Both times that we've visited this Aquarium, we've done so during the month of September. This ensures a lighter crowd which means greater access to see the exhibits and participate in some of the hands-on attractions.
There was still a fairly good crowd at the Aquarium on the day we went, but staff assured us that there was much lighter foot traffic than during the summer. As it was, we arrived shortly before opening time and there was a fairly large line. Later on as we watched different animals feedings, there was a serious lack of elbow room. So, I can imagine that this is even more diminished during the more popular times of year.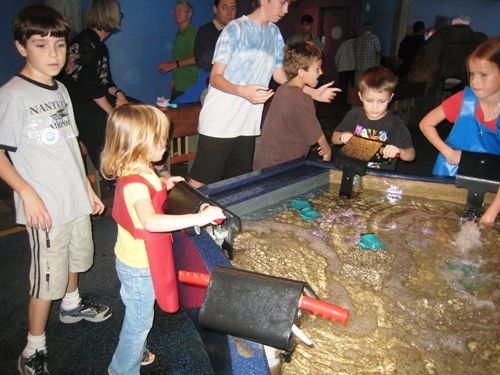 Let kids take their time.
There are so many wonderful hands-on things to explore such as petting tanks and water tables, that it's a shame to hurry your kids along. There are plenty of benches in these areas for tired parents to rest and to let children play. Even my older boys were enticed by the opportunity to splash in the water.
However, do set reasonable limits. If my 8 year old had his way, we'd still be there! He resembles his grandfather in more than just good looks. (Hi, Dad!) He wanted to read every single sign and explore every single thing there was to see. Not possible on this trip, but definitely a fun thing to observe in him.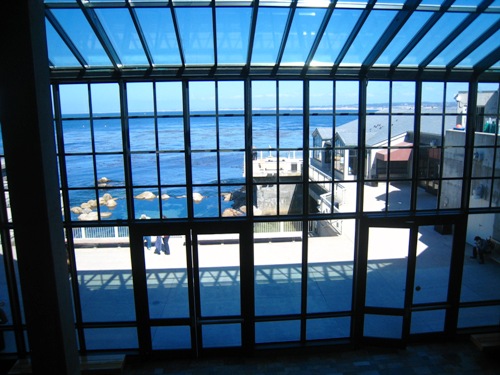 Enjoy the gorgeous scenery.
This aquarium really is located on the Bay. And there are breathtaking views from every angle — both inside and out. There are multiple patios and decks to step onto and check out the nearby birds, otters, and other wildlife. Free telescopes on the deck get you up close and personal with the different bayside buildings and attractions. We even saw our hotel on the other side of the bay as if it were next door.
Some children might not appreciate simply observing their surroundings. This is an opportune time to model to them the art of deep breathing and taking in a view. (Believe me, we had a few yawners, but how else will they learn?) Regardless, there's also a little room to run and shout outside on the decks, crowds permitting.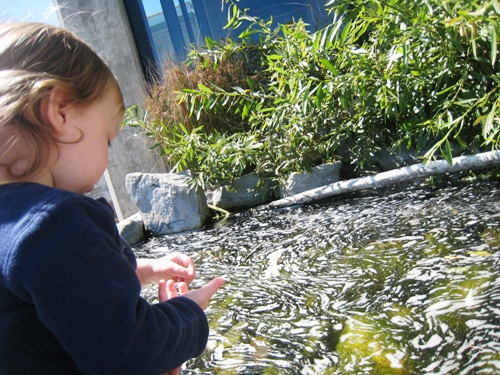 Consider taking a tour.
The Aquarium very graciously provided our family with a complementary behind-the-scenes, family tour. There are a number of different tours available, for differing ages of children.
A family tour, however, allows you "back stage" in a way that is accessible to small ones. Our kids could ask lots of questions, get to know an animal trainer, and even feed the fish before all was said and done.
I imagine that a tour would be even more beneficial during a busy day at the Aquarium. Since you really do go "behind the scenes" it would be a wonderful break from the crowds and afford a chance to see exhibits in a different light.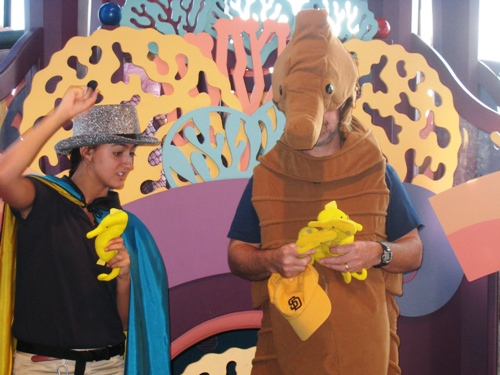 Be prepared to laugh and learn.
The Aquarium is more than just fish swimming in tanks. There is a wealth of information about the sea and its inhabitants to learn about.
Our kids had a great time watching a "magic show" that taught about the characteristics of sea horses and how the dads (that's FishPapa there!) keep the babies in their pouches. We also learned how the sea horse population is endangered, in part due to tourists shops selling dehydrated specimens.
In another exhibit, we got to morph ourselves into different videos that showed how we can conserve more natural resources. Don't miss my "Grocery Geek goes to Monterey" video!
Learning can be really easy when it's fun.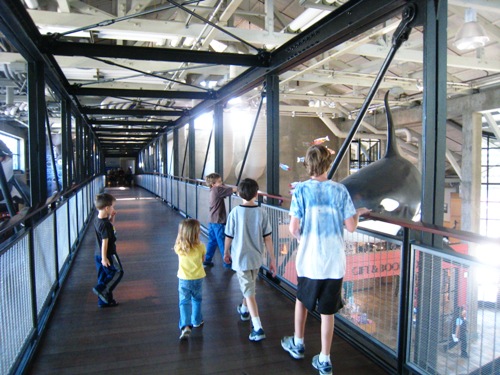 Treasure the time spent as a family.
One of the best moments, however, was when our thirteen year old, turned to me with a big smile on his face and thanked us for taking him there! Wow! Be still my heart.
When we take our kids on outings such as these, it can be tempting to sigh over the crowds, over the wayward child, over the search for an affordable restaurant. (I recommend Carl's Jr just up the street.)
But truly, for better or worse, we're making memories. And it's always more fun when they're, well, fun.

Have you got a special aquarium or family field trip memory?
Disclosure: The Monterey Bay Aquarium provided us with a complementary behind-the-scenes tour as well as four free entry passes. My opinions are my own. The preceding is our family's personal experience. For more information, read my disclosure policy.