Creating a Vision Board for Our Trip to Europe
As an Amazon Associate I earn from qualifying purchases. For more details, please see our disclosure policy.
The following content is sponsored by the Home Collection by Post-it Brand and Scotch Brand: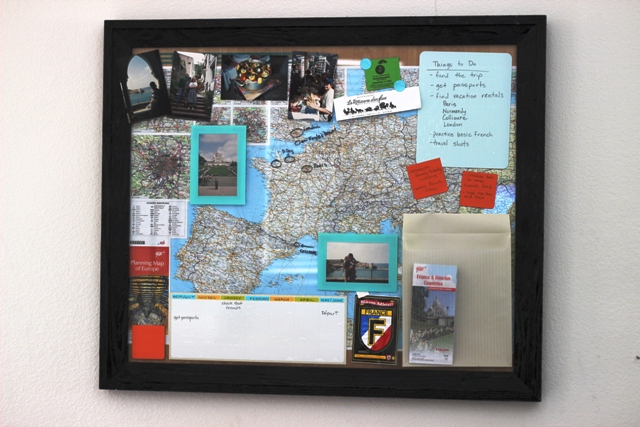 As you know, we're dreaming a big dream around here. Next year hubs and I celebrate our 20th wedding anniversary. 20 years?! Yes, ma'am. I'm so blessed to call this man my husband. Wow.
Back in 1994 I handled the wedding plans; he took care of the honeymoon: a weekend in San Luis Obispo, followed by ten days in France. Tres chouette, n'est-ce pas? (Pretty awesome, eh?)
Quite honestly, back then the dollar was sound and airfare to Paris was cheaper than a flight to Hawaii. Why the heck not? Plus, I'd only returned from my junior year abroad less than 12 months earlier. My French was pretty chouette then, too.
Well, twenty years, six kids, and many wrinkles later, the dollar doesn't buy as many Euros as one would hope – and my French is as rusty as my joints. But, that doesn't mean we aren't going to seize the opportunity to celebrate our 20th anniversary in style.
4 weeks, 6 kids, 2 countries, and an untold number of Euros? Why the heck not?
Creating a Vision Board for Our Trip to Europe
To get us inspired and organized, hubs and I created a vision board for our trip to Europe.
The folks at 3M contacted me recently to make good use of their Home Collection, featuring Post-it Products and Scotch Products, available at The Container Store. I've partnered with them not only to tell you about the line of self-adhesive, reusable Display Frames, Dry Erase Boards, Notes, and other organizers, but also to show you how we're using them to give vision to our European Vacation.
Here's what I used to make our European vision board: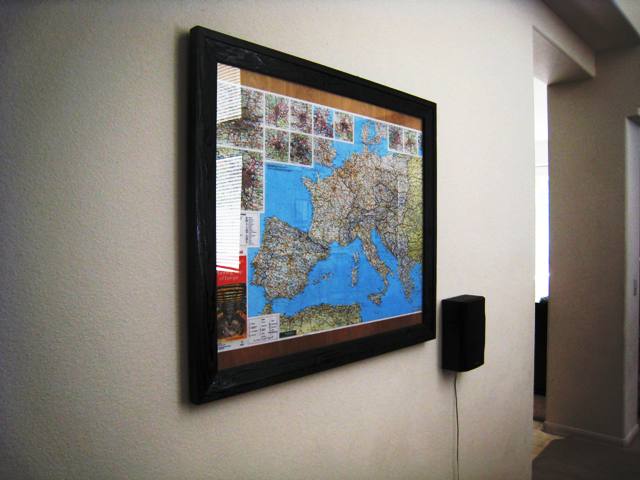 1. Framed Map
Hubs started us off by picking up some free maps from AAA. Then he built a custom frame, similar to this one he made a few years ago. You can also buy a frame, but we're kind of DIY people, ya know?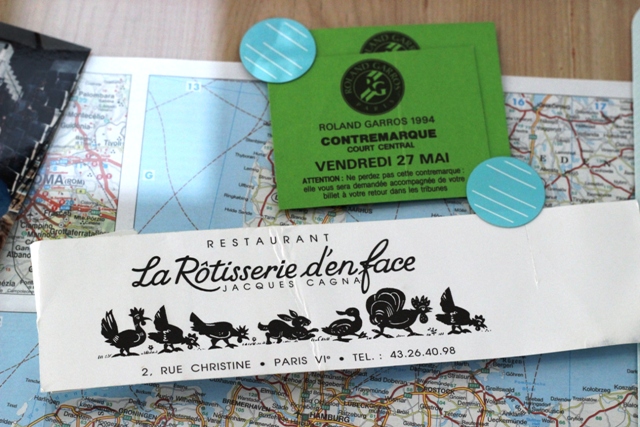 2. Memorabilia
I went through the photo box from our wedding and honeymoon — because, no, I haven't finished the scrapbook — and found some souvenirs of our trip to Paris: ticket stubs from the French Open and a business card of sorts from the best restaurant we ever ate at.
Also the most expensive: We spent 672 francs back in 1994, which was then about $134 – for two people. But, really? It was one of the best meals I ever ate. In Paris with my husband on my birthday? Yeah, totally.
Out of curiosity, I googled the restaurant. It's still there. I have no idea if it's still good, but I pinned it to my France pinboard so that we can take the kids next year.
I used Scotch Restickable Circles from the Home Collection to adhere them to the glass. They are easily removable and don't leave a mark on the papers, so I can put them into a scrapbook. Someday.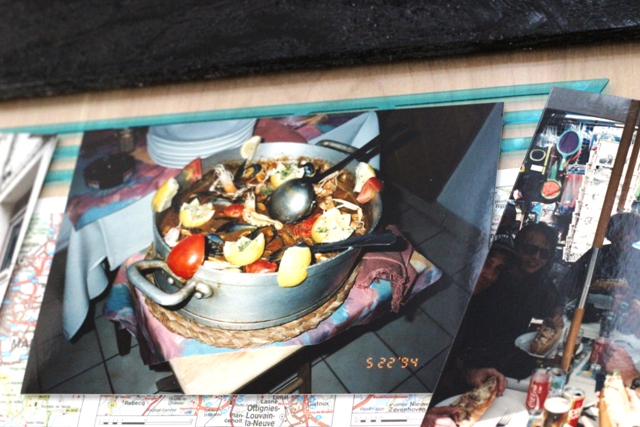 3. Photos
I also pulled some photos of us in Collioure, of my French family, of Bouillabaisse. My kids were a little freaked by the Bouillabaisse with the seafood still in the shell. Looks like we've got some experimenting in the kitchen to do.
Or find a French restaurant that serves shrimp with their heads on.
I love the Scotch Restickable Display Strip for hanging the photos. It lets you stick items to it securely, but you can still pull the photos off. I know. I couldn't decide which pics to use, so I moved them around.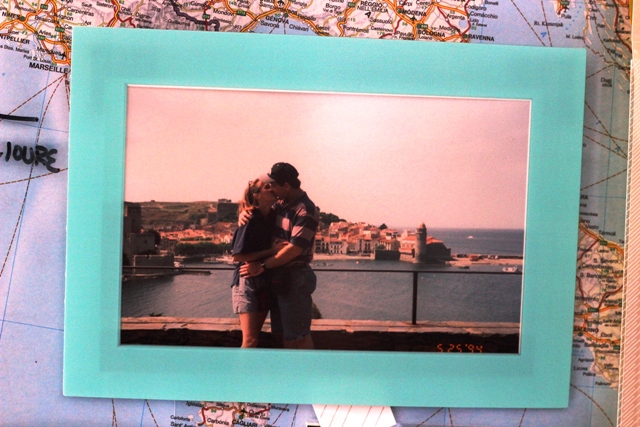 I also found some frame-worthy photos to slip into the small display frames.
4. Timeline
I'm not really sure all that needs to go into our pre-trip planning, but this Post-it Dry Erase Planner, designed for a week's worth of projects, works great for the months leading up to our trip.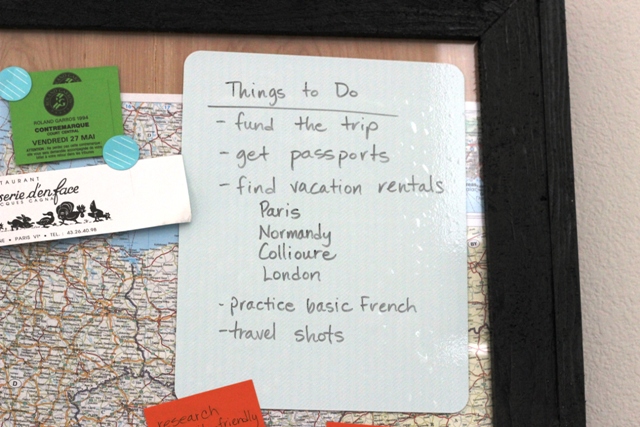 5. To Do List
You know me and my love of lists. I used a Post-it Dry Erase Board to jot down the things that I know need to get done between now and our departure.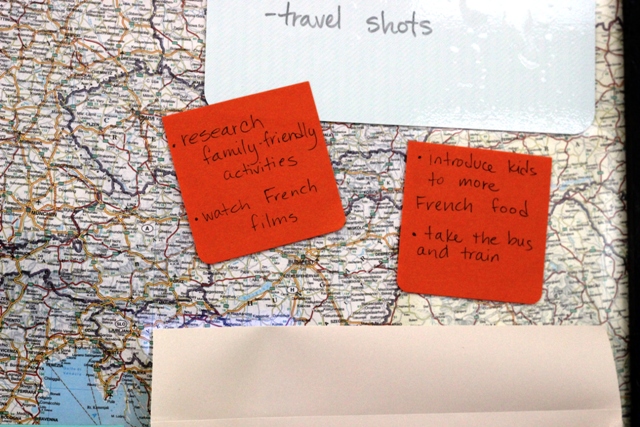 6. Little Notes
I use Post-it Notes all the time to keep track of things to remember. These Post-it Full Adhesive Notes aren't going anywhere; they have adhesive across the whole back.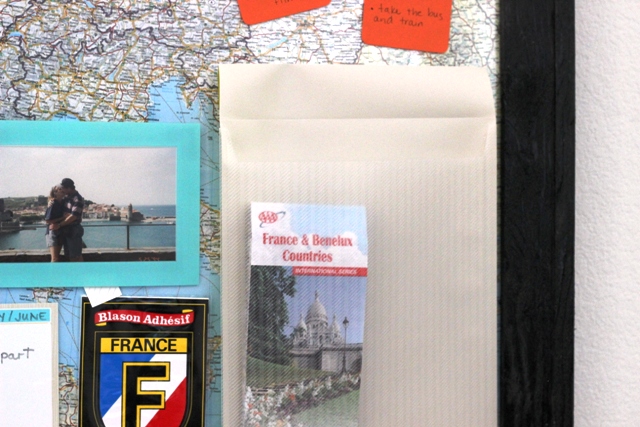 7. Storage pocket
I added a Post-it View and Go Pocket to add other maps and information that come our way. Researching for our trip and about France and England in general will play a big part in our homeschool this year.
Putting this together really got me excited about our next big thing. The kids watched as I circled locations on the map. My big boys, big WW2 buffs, got super enthused about the idea of visiting Normandy near the 70th anniversary of the D-Day Invasion.
I can see this being a great tool to get us all ready and eager for our trip. Traveling out of country with six kids who've never been farther than the mid-west could get really, um, interesting. But, I know that if we're all excited about the adventure and knowledgeable about where we're going, it has a bigger potential to be a great thing.
I'm really pleased with how the Home Collection by Post-it Brand and Scotch Brand added direction and vision to our planned trip. The color scheme coordinated particularly well with the map and the other items I wanted to include. It all came together really well for giving me a vision for our trip.
If you're interested in knowing more about 3M and the Home Collection by Post-it Brand and Scotch Brand available at The Container Store, follow Post-it Brand (on Twitter and Facebook) and Scotch Brand (on Twitter and Facebook).
What would YOU add to a vision board?
Disclosure: I have received financial compensation as well as sample product from 3M. All opinions are my own.