A Germaphobe's Review of ThredUp
As an Amazon Associate I earn from qualifying purchases. For more details, please see our disclosure policy.
I'm a germaphobe and I don't like shopping secondhand. But, I took a chance and here's my review of ThredUp, an online secondhand clothing store.
I am a participant in affiliate advertising programs designed to provide a means to earn fees by linking to certain second-party sites. All opinions are my own.
ON tshirt: $4.99; unbranded belt: $5.99
Can it really be just two months since I had that wake-up call in Nordstrom? In early September I took a long hard look at my wardrobe and how I dressed myself every day. I realized some things needed to change.
While I have always favored the capsule wardrobe and having nice clothes on hand, dressing in a stylish manner or even getting dressed every day was not my habit. For a myriad of reasons I chose not to put forth the effort that I've since learned isn't that hard at all!
Dressing in a way that flatters your body, keeps pace with the latest trends, and gives you confidence is not a monumental feat. Yes, even us moms can win at this! I've learned so much through the GYPO Style Challenges these past two months and built a wardrobe that I absolutely love.
The main trick for most of us is figuring out how to pay for nice clothes. I, for one, do not have an unlimited clothing budget, yet I've been able to add to my wardrobe in a way that does not exceed our means. You CAN build a stylish wardrobe on a budget!
I've done a fair amount of shopping over the last two months getting clothes for myself as well as my husband and kids. While I insist on buying new, quality bras (thus my trip to Nordstrom), I've spread my shopping over a number of brands and stores (Old Navy, Kohls, Famous Footwear, Banana Republic, and even Amazon, etc.), I've also delved into the world of secondhand clothing.
A Germaphobe's Review of ThredUp
Close friends and family know that I cannot stand shopping secondhand. I'd much rather buy something NEW on sale or clearance than buy something secondhand, no matter how fancy it may be. I'm a germaphobe of the finest caliber, don't you know?
But, after hearing about ThredUp from several sources I decided to give it a try. ThredUp is an online secondhand clothing shop. They offer free shipping for purchases over $79 and free returns in the form of store credit.
I've placed several orders and come to a few conclusions about Thredup. Basically, as with all second-hand shopping, it's hit or miss. You may find some great, new, high quality items, or you might find things that are worn, junky, or stinky.
Things I love
I've made some good purchases and some bad purchases. Over the last couple months, I've purchased several shirts, a pair of pants, a belt, two dresses, and a coat from ThredUp. The prices have been amazing. And some of the items have been some of my very favorites.
Loft Cargo Pants: $16.99
I love the VOILA tshirt as well as the cargo pants. I love the red boho blouse and the LOFT blouse in brown which I bought new in blue years ago. If you're looking for very specific items or notice an old favorite no longer in stores, you'll have struck gold.
However, as much as I love those items, I'm not sure I will keep shopping with ThredUp.
Things I don't love
Since the clothing is not washed at ThredUp facilities, there's "no knowing where it's been". I didn't really think too much about this until I was signing our lease renewal the same day as my first order arrived. The lease had a full two pages on bed bugs (EWWW) and then I realized that my used clothing shipment could be bringing weird stuff into my house.
Call me crazy, but now each ThredUp shipment spends 24 to 48 hours in my deep freeze before being unpacked and washed. Then I can try it on to see if I even like it!
Unfortunately, lots of people who send clothing to ThredUp also use abundant fabric softener. I am allergic to fabric softener; I can't even walk down that aisle at the grocery store. So, I've had to wash some of this clothing multiple times, adding vinegar and tea tree oil to the wash and drying things in the sunshine in an effort to deodorize them. In some cases, the effort spent was not worth any cost savings.
There have been other instances of disappointment.
In some cases I've found that the tshirt I bought, I could have bought new on sale for just a dollar more. Not really worth buying used for that profit margin.
The $5 coat was $5 because it was missing the belt. It was disclosed that "a closure was missing". I assumed that was a button that I could replace and didn't realize it was the belt. Can't really replace that, but I could potentially wear it without a belt. Or for $5 I could donate it to the homeless in my community and not worry about it.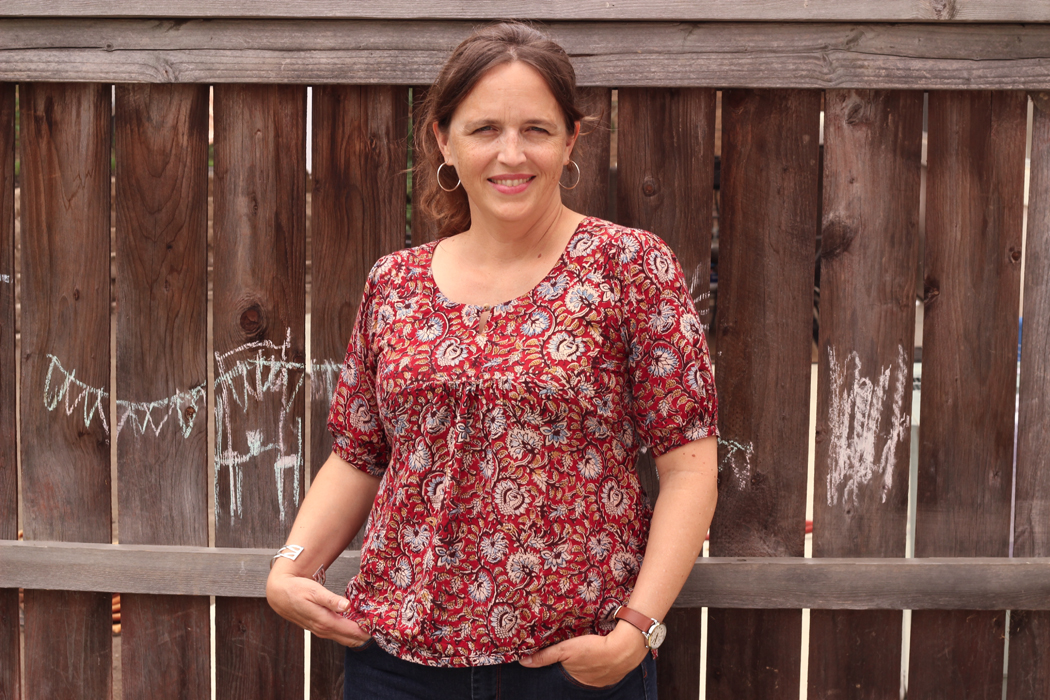 Fabinda Blouse: $10.99
The red blouse that I LOVE has minute fraying at the seams. I don't think they noticed it as it was advertised as almost brand new. I didn't notice it until I'd worn it several times. I still love my blouse, but I'm afraid to wear it too often because the fraying will only get worse.
The sweater dress is dry-clean only, something that wasn't disclosed on the listing. I didn't want to try on a dress that hadn't been cleaned, so I took a risk and washed it on delicate. It doesn't appear to have shrunk, but the jury is still out on whether or not it's flattering on me.
ThredUp does have a return policy, but you don't get your money back. You get store credit. So when you make a purchase, you're committing to give them your money, no matter what. Eventually you will land on something you like, but the potential hassle and cleaning to get to that point is real.
Review of ThredUp

Pro's

designer clothing at a fraction of the price of new
online shopping instead of chasing all over town to thrift stores
easy to sort and find your size or style on the website
relatively fast shipping
ability to find past season items that are no longer available in stores

Con's

website does not list cleaning care instructions
garments are used and may have undisclosed or unnoticed damage
garments are not washed and may carry bed bugs, etc.
clothing has odors
sanitizing before wear takes extra time and effort
discount on clothing is not always significant, depending on the item.
shipping and returns are not free
unable to see items in person before you buy
returns come in the form of store credit so you're giving them your money no matter what
credit expires in a short amount of time
While I do love many of the items that I've purchased from ThredUp, I'm not sure that I will make it a regular practice to shop from them. I am slowly weeding out clothing from my closet and will most likely send it to ThredUp and see what they will give me for it, but I think I'll be more likely to choose cash over store credit.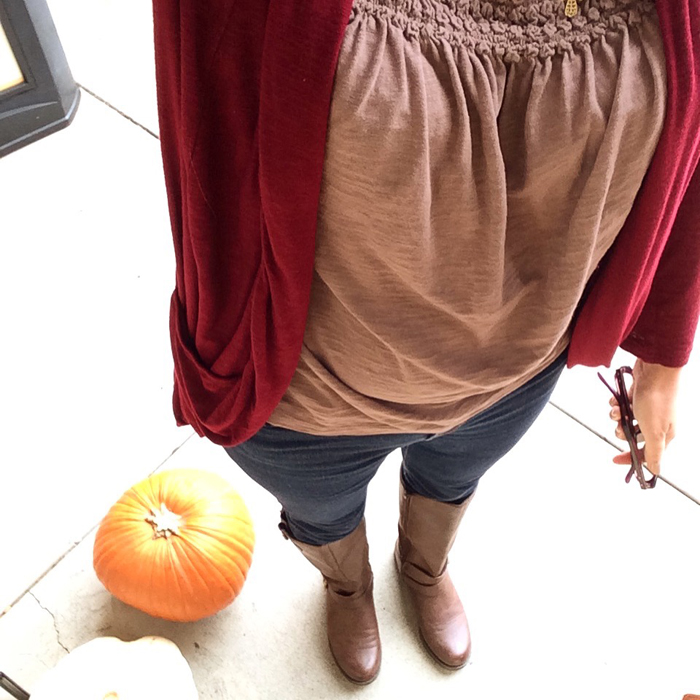 Loft Blouse: $6.99
The amount of time I spend to get each shipment of clothing in wearing condition is not always worth the savings to me, but sometimes the clothes haven't been as stinky as others.
I can see myself using the service in the future in the instance where I'm looking for something very specific or hard to find, or a trendy item that I'm not sure I'd want to invest big bucks in. For instance, I bought a leopard print belt for $5. It's already wearing out and cracking, but for $5 I could try the trend and see if I liked it before spending more on a higher quality belt.
That said, your mileage may vary. You may have mad laundry skilz and make great choices and have a flawless experience. I find that so often people rave about a service, but tend to forget to mention the downsides. Well, here are the downsides to ThredUp — at least as I've experienced them.
To be honest, even though it's way more expensive, I prefer to use StitchFix. The clothes are new, and I get the added fun of a stylist to choose them for me.
And because I know you like a good deal, here's a $25 credit to StitchFix so you can check it out yourself.
What's YOUR review of ThredUp?
This post contains affiliate links. All opinions are my own.