5 Winter Wardrobe Pieces (That Make Great Gifts!)
As an Amazon Associate I earn from qualifying purchases. For more details, please see our disclosure policy.
Want to give your winter wardrobe a boost? Today I'm sharing five of my favorite wardrobe items that make great gifts for yourself or a friend!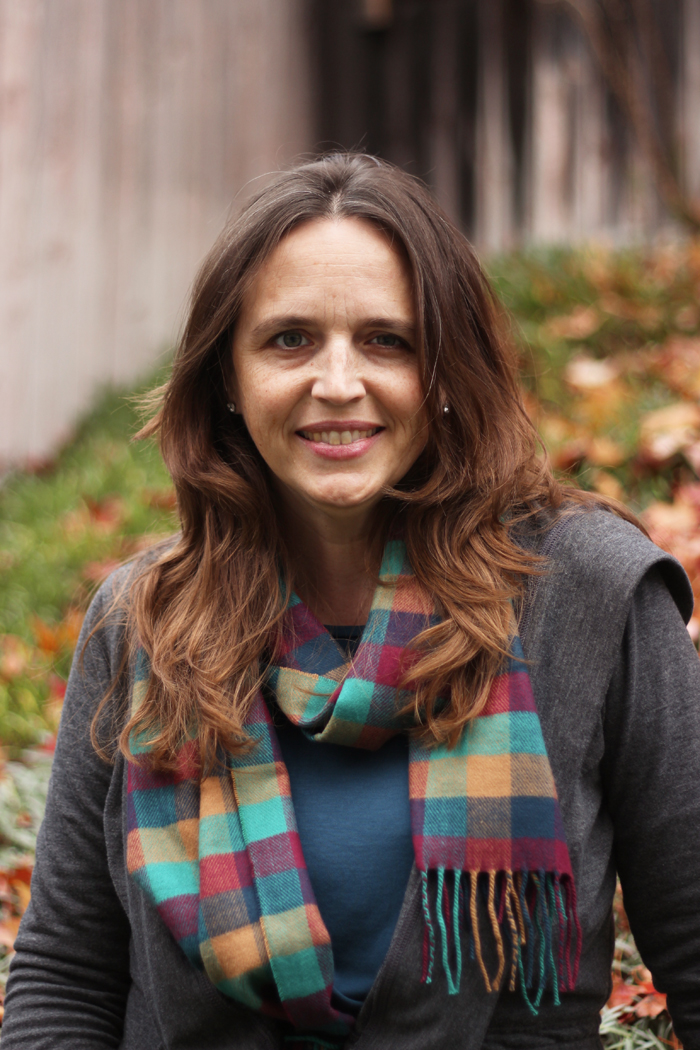 I'm doing something different this year. Well, I'm doing many things different this year. But, among the many different things I'm doing (or have done) this year, I'm fighting the frump — and I'm fighting the frump seasonally.
The first is probably self-explanatory. If you've followed along with my Fight the Frump series, you already know that September was key for me to realize that it was worth it for me to dress nicely — even if I was just staying home.
Dressing seasonally is another new thing for me. I know, weird. Since so many of you live where there's weather and stuff and you have to change what you wear according to cold, rain, and other such nonsense, it may seem odd for me to say so. However, here in Southern California, while it gets cool in winter, with only a few tweaks, I could wear the same things all year long. Same faded jeans and shorts, same stained t-shirts.
After reading this post from Renee about observing a seasonal shift, I realized that it would do my mindset some good to mark the passing of the seasons in some way. The weather doesn't really force me to notice it, and I don't want to speed through life oblivious of the passing of time. It feels silly to decorate my house with snowmen when it's 62 degrees outside, albeit cloudy.
Instead, my wardrobe was one area where I could do this, especially since I'm in the process of building a wardrobe that does not represent a tired, frumpy mom of six. Ahem.
I'm focusing on lighter weight items since it doesn't get below 30 degrees here, but choosing items that fit a wintery palate in color and texture.
Favorite Winter Wardrobe Pieces (That Also Make Great Gifts!)
Thanks to the GYPO Winter Style Challenge, I've added a few pieces to my wardrobe this winter. Not only that, though, I pulled pieces OUT of my closet that have a spring or summery vibe. I bought these cedar storage boxes and packed them with my warm weather clothes. I know that pulling them out in the spring will help me recognize the passing of seasons — and make it feel like I've got a bunch of new clothes, too.
Who knew that fashion could be so psychological?
Today I thought I'd share my five favorite pieces that I'm using in my winter capsule wardrobe.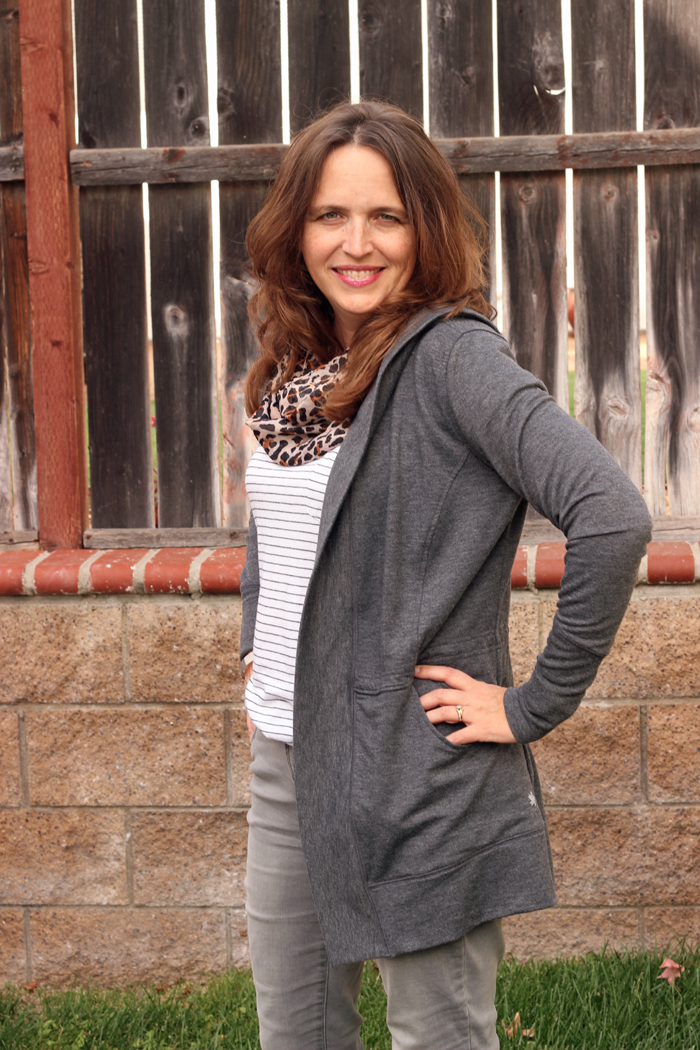 Gray cardigan
This gray cardigan-style wrap isn't new. I bought it for the Fall Style Challenge, and am so pleased with it, I'm using it through the winter.
Many of you wrote me to inquire about my gray cardigan and where I got it. It's actually from Kohl's activewear section. That means it washes well and is pretty durable.
The one caveat about this wrap is that the arms are skinny. I can layer a thin long sleeve top underneath it, but thick long sleeves won't work super well. Keep that in mind when you order. I bought the gray melange version.
You can find the Kohls Tek Gear On the Go French Terry Hooded Wrap here. (Use the coupon code WREATH to get 15 to 20% off through 12/24/16.)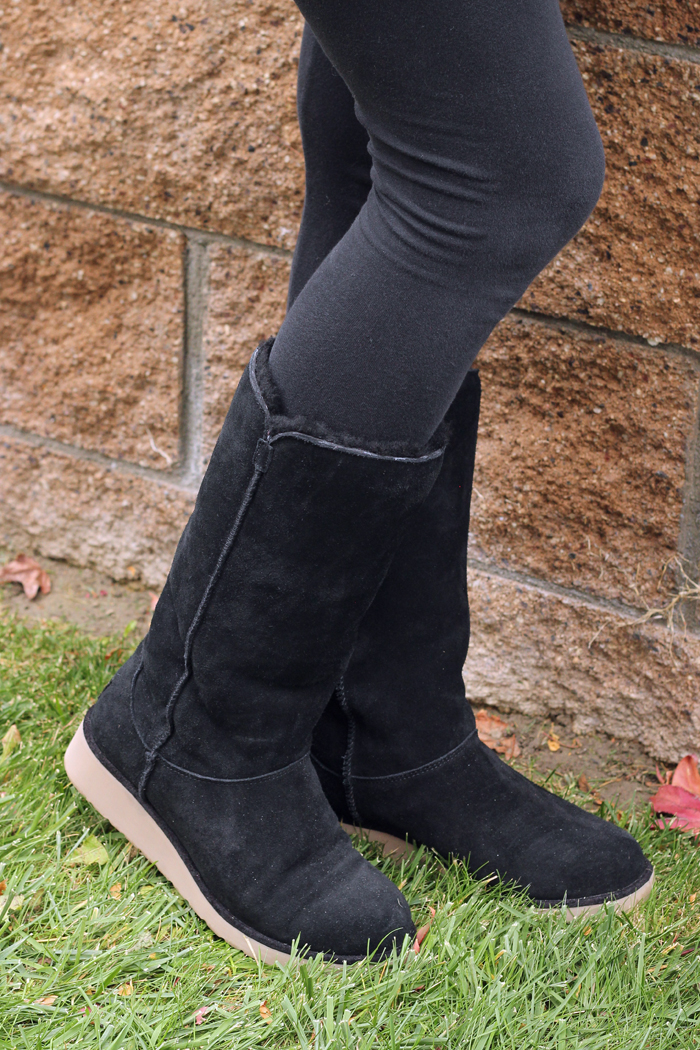 Black Tall Thin Classic Koolaburra Uggs
FishPapa bought me my first pair of Uggs back in 1994 (or 1995). I've worn them every winter ever since. Until now.
Now they've got an irreparable cut in the side of the foot, so I splurged on a new pair: these Koolaburra by Ugg Classic Slim Tall Winter Boots.
They were about the same price as the pair my sweet hubby bought me 20+ years ago — and we certainly got our money's worth out of those! These new ones are not the high end Ugg line, but for the price I'm okay with that. Plus I like the little heel and the slim tall profile.
Cashmere-like Plaid Scarf
I'm not typically a scarf girl. I'm trying, but it is coming slowly. I need scarves to be soft, lightweight, and unobtrusive. This cashmere-feel plaid scarf (pictured in the top photo) fits the bill. It's super soft, the opposite of bulky, and doesn't feel like a bib. It's also affordably priced and comes in a big range of colors.
The plaid is bright to perk up my winter wardrobe while still keeping that winter feel.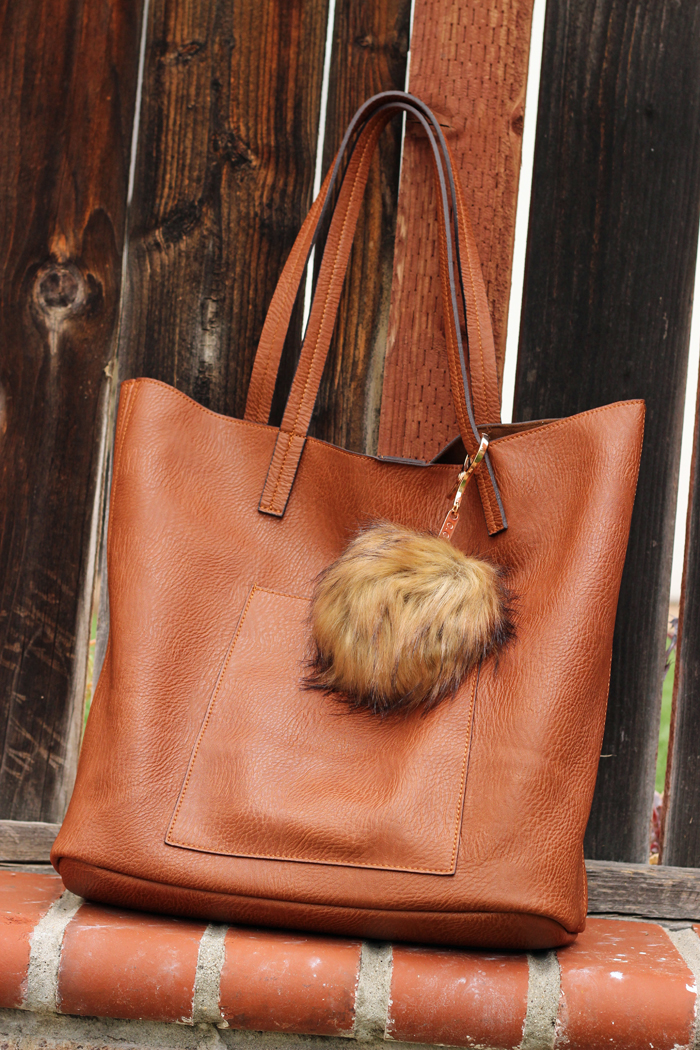 My fur baby
So faux fur is a trend these days. And while I'd like to say that I'm bold enough to wear a fur coat, vest, or scarf… I'm not.
But, this little fur baby key chain/handbag charm hangs from my totebag and serves as the perfect touch of fur without going overboard. I will call him Squishy and he shall be mine. 😉
Seriously, I didn't think I would love it, but I do. And I felt so fancy when my Bible study leader noticed and showed me the one she had on her bag. (Maybe I can be one of the cool kids yet!)
This tote bag is very similar to the one I have. Mine is by Street Level, purchased on sale at Nordstrom. It went fast. I love it, so I guess I know why.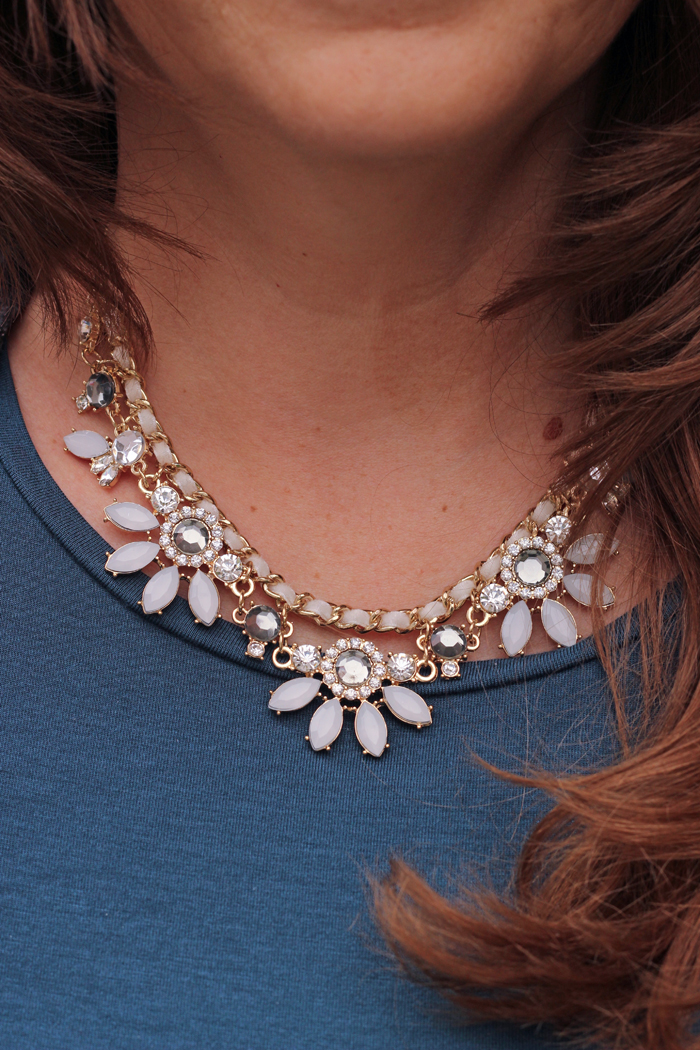 A Statement Necklace
The "statement necklace" trend has been around for a while. I'm finally getting with it. Maybe it's my minor obsession with the Duchess of Cambridge, but I'm warming up to the idea of gems.
The holidays are the perfect time to add some bling, don't you think? I found this not-over-the-top statement necklace at Kohl's. It's a perfect winter wardrobe piece, I think. The ribbon is a faux suede which adds a nice, textile touch to the metal and gems. I got mine in "light blue" but they also have a pink and purple version as well.

While fashion and beauty are certainly not the most important things we can pursue, I think looking our best can make us feel good about who we are and help us walk out our days with confidence.
Adding new pieces with the season helps mark the passing of time and to see how we've changed, too. I imagine when I open those cedar boxes come spring, I'll have a few items to pass on as well as some old favorites to welcome back. I'll also pack up my winter wardrobe and look forward to bringing it back out next year.
(I'm counting on Alison to help me make sense of it all next year.)
My guess is that you could treat yourself or a friend to one of these fun wardrobe items. No more excuses. Fight the frump and feel good about yourself when you leave the house.
More Good Ways to Fight the Frump