5 Ways to Have a Great Date Night When You're a Parent
As an Amazon Associate I earn from qualifying purchases. For more details, please see our disclosure policy.
Date night can be the highlight of your week as a parent. IF you make it a priority and plan accordingly. Here are five ways to have a great date night when you've still got kids at home.
Date Night is a term thrown around a lot in pre-marital counseling and marriage seminars. In some circles it's touted as the cure-all for all your relationship woes. During our newlywed years I wondered if there was something wrong with us that we didn't go out on dates with any regular frequency and that we were happy to stay home.
Today I realize this is because we didn't have kids at the time. Every night was "a date" if we wanted it to be!
Unfortunately, we've known couples who always had a regular "date night" and still ended up in divorce court. Cure-all it is not.
However, date night can be a wonderful way for you and your spouse to reclaim the "couple" part of your life.
Chances are that kids, jobs, and housekeeping take up a good portion of your lives and your conversations. And there is nothing wrong with that. THAT is what hacking a life out together in the jungle is all about.
But, having fun together, laughing at one another's jokes, and remembering WHY you entered this jungle with one another in the first place is vital to any relationship.
And date night can be a great time to practice this. But, what about the money? Don't dates cost money? And what about babysitters? And now that you FINALLY can string together a coherent thought, shouldn't you dish about the taxes and all those important topics you've put off?
Over the last 24 years of marriage, 21 of them with children, I've got some thoughts on the matter. And some suggestions. Here are 5 ways to have a great date night when you've got kids at home.
5 Ways to Have a Great Date Night When You're a Parent
1. Don't bring the kids. Even the baby.
Yes, really. It would seem obvious, but sometimes it is hard for parents to leave the kids behind. It's not a "date" with someone else tagging along. I believe Richie Cunningham called it a "third wheel."
Even if baby is still small, it's nice to be able to leave him home. Eating dinner with both your hands and focusing on each other? That's a gift during the baby and toddler years.
If you can at all swing it to have an occasional baby-free date, I encourage you to do it. Even if date night becomes "date hour."
That said, if it's with baby or not at all, I still choose the couple time.
2. Discuss "issues" some other time.
The issues will still be there when you go home. Take an hour or two to enjoy one another's company; don't spend it discussing why Junior can't get his homework done or how you will pay that big tax bill.
I know when things are stressful it's hard to think or talk of other things, but try.
Dream big dreams together. Reminisce. Enjoy one another's company. Remember why you're hacking through this jungle together in the first place.
3. Eat non-kid food.
Your diet is probably full of chicken nuggets and PBJ already. Unless that is what you really, really want tonight, go someplace your kids would snub their noses at. Because you can!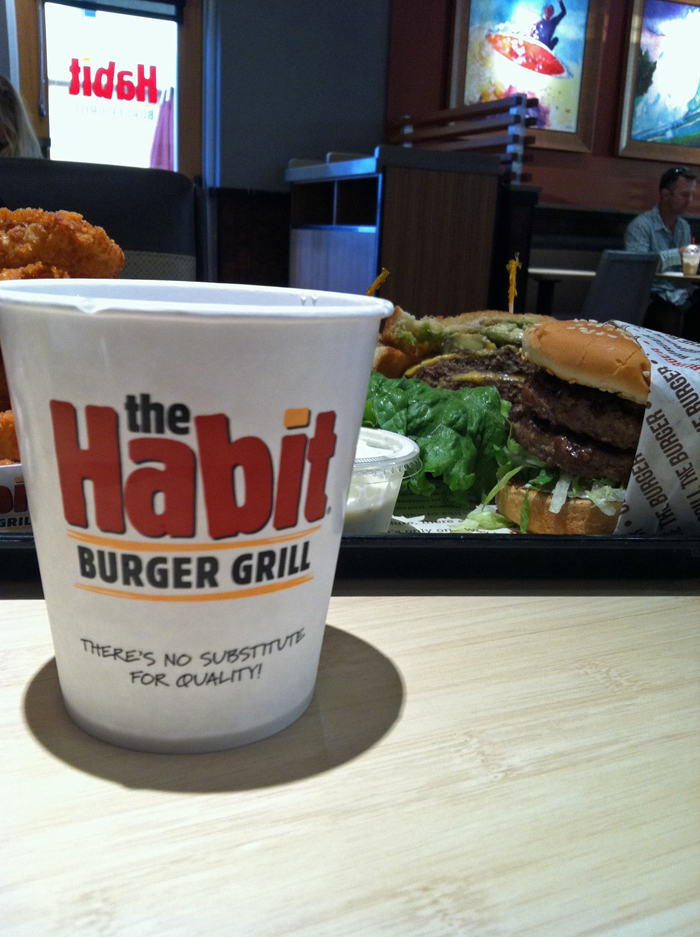 4. But, don't feel like you have to pull out all the stops.
Unless it's a very special occasion, don't feel like you have to spend a ton of money on date night. While we could go to some fancier, more expensive restaurants, our current date night vibe ranges from Pizza Port to Ty's Burger House to The Habit. Dinner for the two of us ranges from $20 to $35. While still a splurge compared to eating at home, it's enough of a treat to make the evening fun for us.
In this economy, less is more. Heck, you can even stay home!
5. Have fun!
To me the purpose of a great date night is laying a foundation (or reinforcing it) for your later life when the kids have moved on. You want to have shared interests and favorite topics of conversation that don't involve your children.
Walk down memory lane. What are the things that you used to do that you've put on the shelf for awhile? Are there sports or leisure activities you shelved when you had kids?
Consider putting them out front for date night. Go rollerskating or take in a hockey game. Enjoy time spent with one another. Build on that foundation you started long ago.
What's YOUR idea of a Great Date Night?
Originally published March 30, 2011. Updated March 3, 2018.