Date Night Ideas for Parents
As an Amazon Associate I earn from qualifying purchases. For more details, please see our disclosure policy.
Date night can be the highlight of your week as a parent. IF you make it a priority and plan accordingly. Here are five ways to have a great date night when you've still got kids at home.
Date Night is a term thrown around a lot in pre-marital counseling and marriage seminars. In some circles it's touted as the cure-all for all your relationship woes. During our newlywed years I wondered if there was something wrong with us that we didn't go out on dates with any regular frequency and that we were happy to stay home.
Today I realize this is because we didn't have kids at the time. Every night was "a date" if we wanted it to be!
Unfortunately, we've known couples who always had a regular "date night" and still ended up in divorce court. Cure-all it is not.
However, date night can be a wonderful way for you and your spouse to reclaim the "couple" part of your life.
Chances are that kids, jobs, and housekeeping take up a good portion of your lives and your conversations. And there is nothing wrong with that. THAT is what hacking a life out together in the jungle is all about.
But, having fun together, laughing at one another's jokes, and remembering WHY you entered this jungle with one another in the first place is vital to any relationship.
And date night can be a great time to practice this. But, what about the money? Don't dates cost money? And what about babysitters? And now that you FINALLY can string together a coherent thought, shouldn't you dish about the taxes and all those important topics you've put off?
Over the last 24 years of marriage, 21 of them with children, I've got some thoughts on the matter. And some suggestions. Here are 5 ways to have a great date night when you've got kids at home.
Strategies to Keep in Mind
1. Don't bring the kids. Even the baby.
Yes, really. It would seem obvious, but sometimes it is hard for parents to leave the kids behind. It's not a "date" with someone else tagging along. I believe Richie Cunningham called it a "third wheel."
Even if baby is still small, it's nice to be able to leave him home. Eating dinner with both your hands and focusing on each other? That's a gift during the baby and toddler years.
If you can at all swing it to have an occasional baby-free date, I encourage you to do it. Even if date night becomes "date hour."
That said, if it's with baby or not at all, I still choose the couple time.
2. Discuss "issues" some other time.
The issues will still be there when you go home. Take an hour or two to enjoy one another's company; don't spend it discussing why Junior can't get his homework done or how you will pay that big tax bill.
I know when things are stressful it's hard to think or talk of other things, but try.
Dream big dreams together. Reminisce. Enjoy one another's company. Remember why you're hacking through this jungle together in the first place.
3. Eat non-kid food.
Your diet is probably full of chicken nuggets and PBJ already. Unless that is what you really, really want tonight, go someplace your kids would snub their noses at. Because you can!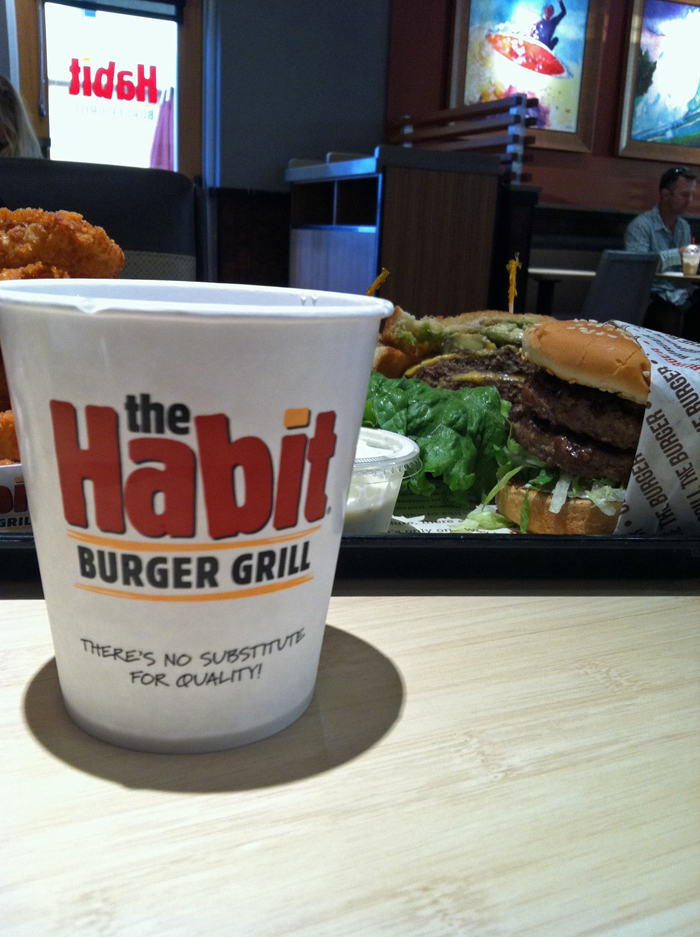 4. But, don't feel like you have to pull out all the stops.
Unless it's a very special occasion, don't feel like you have to spend a ton of money on date night. While we could go to some fancier, more expensive restaurants, our current date night vibe ranges from Pizza Port to Ty's Burger House to The Habit. Dinner for the two of us ranges from $20 to $35. While still a splurge compared to eating at home, it's enough of a treat to make the evening fun for us.
In this economy, less is more. Heck, you can even stay home!
5. Have fun!
To me the purpose of a great date night is laying a foundation (or reinforcing it) for your later life when the kids have moved on. You want to have shared interests and favorite topics of conversation that don't involve your children.
Walk down memory lane. What are the things that you used to do that you've put on the shelf for awhile? Are there sports or leisure activities you shelved when you had kids?
Consider putting them out front for date night. Go rollerskating or take in a hockey game. Enjoy time spent with one another. Build on that foundation you started long ago.
Fun Date Night Ideas
Go out to eat. Since we are true gluttons foodies, we enjoy simply dining out together. While we have fond memories of restaurants like California Pizza Kitchen or Cheesecake Factory, we've recently opted for simpler, less expensive places. Sometimes it's a free lunch, other times just a good cheap eat. But, spending time together over a meal that I don't have to cook, that I don't have to say, "Eat your vegetables," and that I don't have to clean up? Well, that is a fantastic way to spend an evening with my husband.
Head to the library or bookstore. Bookstores have become regular hang outs over the last twenty years. Gourmet coffee, mellow music, and good reads, make it the perfect venue to window shop together and get philosophical over mochas and biscotti. You might even consider picking out a book to read together!
Catch a show, concert or movie. Years ago we bought season passes to an open-air theatre. We enjoyed a picnic dinner while watching A Midsummer's Night Dream performed live. But, the movie theatre or even a movie at home once the kids go to bed is a great way to pass the evening. And there are chick flicks that guys might like.
Go grocery shopping. Yes, we really have done this on date nights. It reminds me of the old days when we'd wander the store together. Late night shopping without kids in tow takes on a totally different feel. I love how Rachel blessed Doug on this grocery shopping trip. Too cute! Be imaginative and turn the mundane into a memory.
Go to an amusement park! We usually think of places like Disneyland and Six Flags in terms of our children. But imagine going on every ride without worrying about height limitations! If you've got a park within easy distance, make a day trip just the two of you.
Check Groupon or Amazon Local.
I've found some tremendous deals on Groupon, from movie and popcorn vouchers to wine tastings to heavily discounted meals at great restaurants. I've snagged museum tickets, ice skating deals, and jet skiing credits. There's really no end to the options.
Go for coffee or dessert instead of dinner.
The biggest boost of a date night is being together without distractions. We don't need a big night out on the town. Sometimes coffee and/or dessert are all we need to have a fun food and time to talk.
Uninterrupted.
Have you signed up for Starbucks' rewards program. It's a great way to earn back some free drinks through your purchases. Check with your favorite cafe and see what specials they have going.
If you just can't leave the kids, prepare a special dessert for just the two of you and enjoy coffee and dessert at home — even more economical!
Go for a walk or a drive.
Weather permitting, going for a walk or a drive together is a great way to catch up. We have some of our best talks while on road trips. Same goes for a walk along the beach or a hike through the hills.
Watch a movie.
There are lots of ways to watch a movie for cheaper. We've used Groupons, on occasion, but our local theater has $6 movies every Tuesday and Thursday. This is a super deal in our neck of the woods where movies cost up to $15 a person.
Watching a movie at home is pretty cozy, provided you can get the kids in bed at a decent hour. Amazon Prime movies are pretty affordable as well, and they stream right to your device. Of course the cheapest way is to borrow a movie or check it out from the library.
Go to bed early.
I didn't say, "Go to sleep." 😉 Even if things don't get super hot and heavy, going to bed at the same time and early enough where you're not passed out exhausted allows for time to talk, catch up, and hopefully a little something more.
When You Can't Find a Babysitter
You have a couple options when it comes to kids and their care.
Put them to bed early – One friend told me that she takes her kids to the park and wears them out. Seriously. She finds the most exhausting activities for her kids and even skips naptime altogether so that they are wiped out and ready to hit the hay as soon as bath and dinner are over. This obviously works best with younger children.
Set them up in another room – Sequester them someplace safe with food, a long movie, and an older child to come running if they start to burn down the house supervise. If you have very little people, you may want to use this method for your bigger kids and use the previous idea for your littles.
Farm them out to friends and neighbors – When we lived in Kansas, we had lovely older friends who lived far from their grandchildren. They were happy to take our kids for an evening to give us time to ourselves. So, if you can't find a babysitter and don't live near family, hopefully you have helpful friends or neighbors.
What's YOUR idea of a Great Date Night?
Originally published March 30, 2011. Updated March 3, 2018.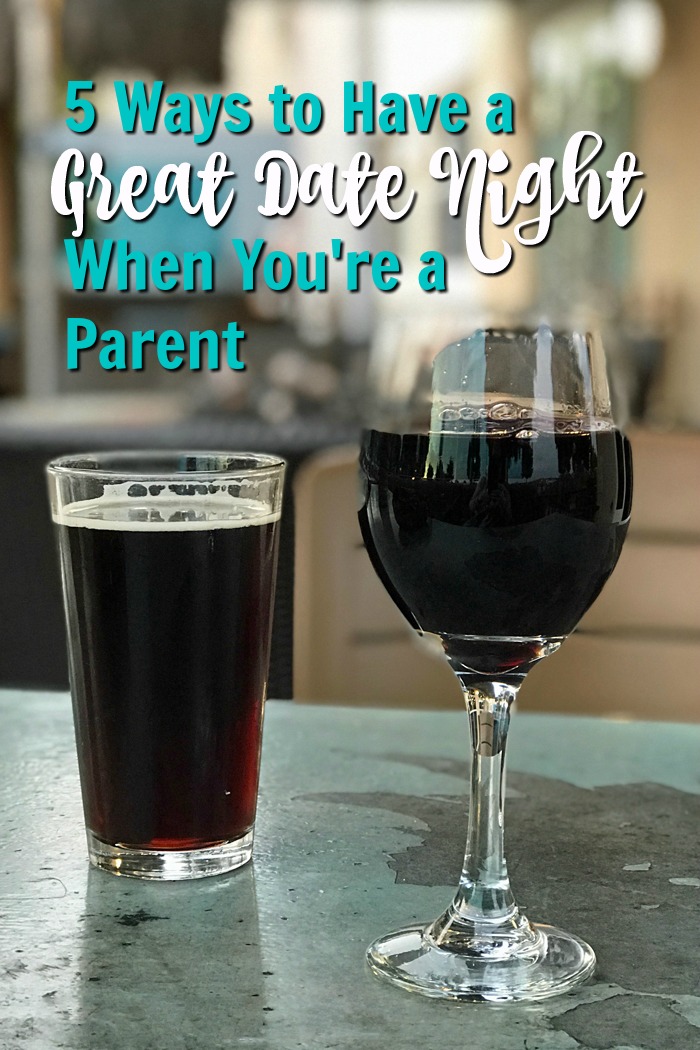 This post was originally published March 4, 2018. It has been updated for content and clarity.