Disc Golf Birthday Cake
As an Amazon Associate I earn from qualifying purchases. For more details, please see our disclosure policy.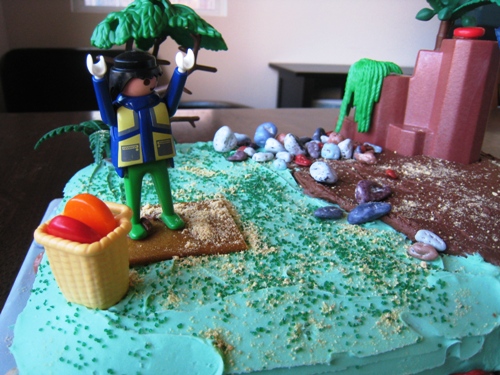 That's FishPapa. Well, sort of. You see, that's the only Playmobil guy we could find in the depths of the toybox that even remotely resembled my husband. Apparently, knights, vikings, and pirates are a dime a dozen.
Good, responsible, normal guys are hard to come by.
But, this guy does look a little like our real guy. FishPapa has dark hair, though not quite so mullet like, and he wears a blue jacket. And he enjoys playing disc golf.
For my husband's last birthday, I decided to surprise him with a themed cake to reflect one of his hobbies: disc golf. It took a little finagling to find the right candies and toys to represent this sport, er, leisure activity. Apparently, the employees at Toys 'R Us are not familiar with disc golf, nor do they sell any disc golf action figures. Who knew?
But I think we pulled it off.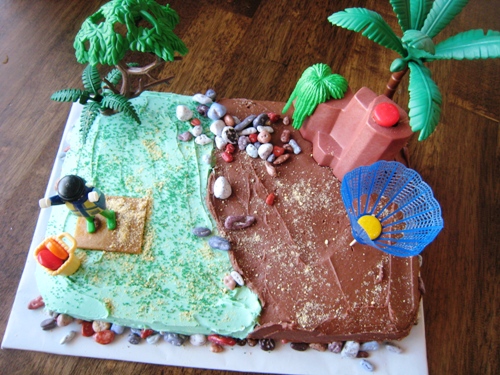 This is not a difficult cake to make. In fact, all you disc golf enthusiasts will be surprised at how easy it is. Now that I've canvased the Toys 'R Us scene on your behalf.
You will need:
a 1/4 sheet cake, baked and cooled
chocolate and green buttercream frosting
green sprinkles
a square piece of fruit leather (for the pad)
graham cracker crumbs (for the gravel that is always on the pad)
candy rocks
Spree candies (for discs)
a City Playmobil guy
Playmobil trees, bag/basket, and boulders
and this: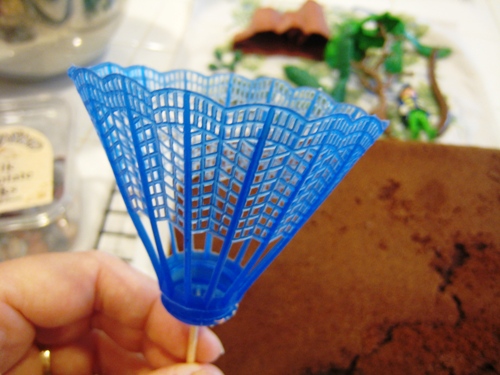 Know what that is? You do, don't ya? Come on… think.
It's the birdie from a badminton set. Minus the ball doodah attached to the bottom. How's that for success after rambling around Toys 'R Us for an hour?!
It's not exactly like a disc golf basket, but it works! Just remove the ball doodah and insert a toothpick.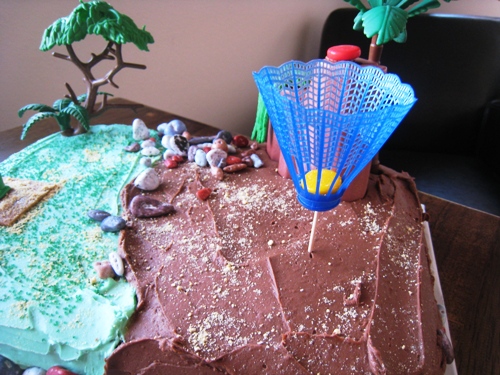 So, frost your cake. Sprinkle green sprinkles over the grass frosting. Sprinkle on some candy rocks. Position your trees and boulders. Place your disc basket. Place your fruit leather pad. Sprinkle on some graham cracker crumb gravel. Place your guy. And toss some Spree candy disks around.
You're good to go!
How far will YOU go for the perfect themed birthday cake?