Parenting a Child with Down Syndrome
As an Amazon Associate I earn from qualifying purchases. For more details, please see our disclosure policy.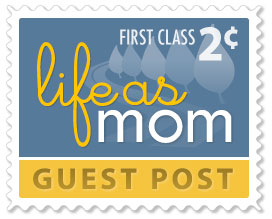 The following is a guest post from Deanna:
As a healthy 25 year old, basking in the glow of my first pregnancy, the last thing that I expected to hear from my doctor was that my unborn child had Down syndrome.
There are no words that can fully describe the initial devastation, grief and heartache as I was convinced that my perfect baby had been replaced by a defective model. I think every mom who parents a child with special needs has a very dark time as she struggles to accept her child's diagnosis and wonder if God perhaps made his first mistake.
It was during this time of searching and wondering that I needed friends and family more than I ever had before. Not to stand condescendingly by, pitying and feeling sorry for me, all the while chastising me for not being thankful for the gift that I was being given.
I needed friends and family who let me grieve – let me cry – let me recover at my own pace. I needed reminders that yes, this was unthinkably hard, but when I met my baby, I would love her more than life itself- extra chromosome or no.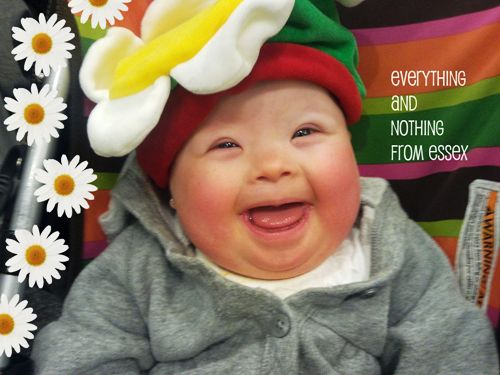 Because of course, through the birth of my beautiful daughter Addison, I was given the greatest gift of my life, and I can't even fathom loving any baby more than I love her. But there was still a dark, dark time when I understood the temptation to "eliminate an unwanted fetus" for the first time in my life. I am so thankful that my strong belief in the fact that God had sovereignly created the life inside me spared me from making the biggest mistake of my life.
Addison just celebrated her first birthday in February, and I can honestly say that this has been the best year of my life. Every minute of celebrating life with her has been a complete miracle.
This includes a 5 week NICU stay, 3 surgeries (2 of them heart), nine months on oxygen (try hauling an O2 tank with you wherever you take your baby), countless of doctor's appointments and learning the ins and outs of medical jargon I never dreamed I would need to know.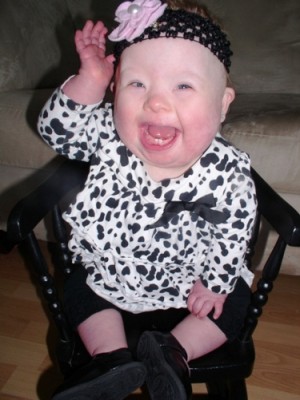 I think that if you are someone with perfectly healthy, normal children looking in on someone's life with a child with special needs, it can be very easy to feel sorry for that family and say silent prayers of thankfulness that your life isn't half as nightmarish.
I used to think that when I looked at "special" families. When I heard them proclaim what a wonderful blessing it was, I would silently smirk and think that they were saying that just to avoid the pitying stares.
But here I stand, with a one year old daughter who happens to be sporting something a little extra, and I am amazed with how I wouldn't change my life if I could. I am blessed beyond measure with my daughter.
I seriously never dreamed that I could love this deeply. Mistake? Who? My daughter is perfect.
When she looks at me with her wide blue eyes, just like her Daddy's, my heart melts. When she smiles at me, my melting heart skips a beat. When she effortlessly laughs (she is extremely ticklish, and I take full advantage), I swear that the birds chirp a little bit more cheerfully, the sun brightens and all that is evil in the world temporarily disappears.
From one mom to another, I beg of you to look beyond the labels placed on some of our children, and recognize the existence of human beings growing and loving life just like any other baby.
Because honestly? Every child has struggles in different areas, but it in no ways takes away the fact that they are exactly as they were meant to be.
God makes no mistakes.
-You can read more about Deanna, Addison's birth story and their life together at Everything and Nothing in Essex.