Fun Birthday Cake Ideas You Can Pull Off Yourself
As an Amazon Associate I earn from qualifying purchases. For more details, please see our disclosure policy.
A child's birthday is a special milestone worth celebrating with a fun cake. Check out these fun birthday cake ideas you can pull off yourself.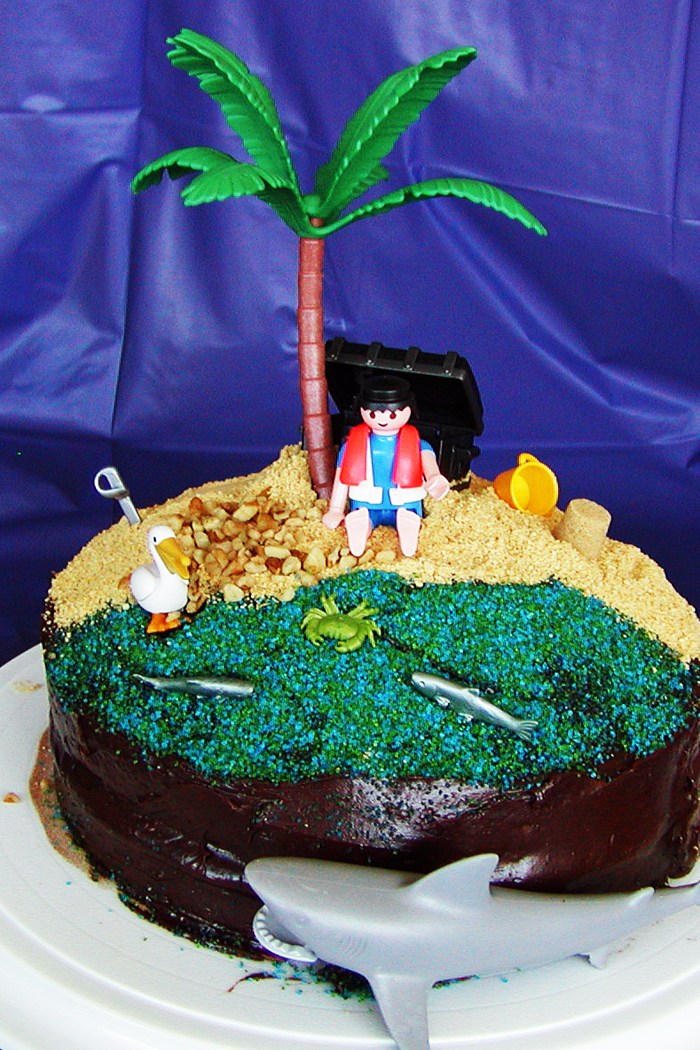 I made this cake in 2004. I can't tell you how incredibly proud I was of myself. I had always loved when my mom would splurge on a grocery store cake — or even better, the Big Mac cake McDonald's made for my 4th birthday.
Thankfully, early in my parenting career I learned that we just didn't have it in our budget to drop fifty bucks on a cake. Instead, I learned that candy and toys atop a frosted cake can do wonders to make your child thrilled to the moon.
The cake above was in response to my 7 year old's request for a beach themed birthday. We lived in Kansas at the time. Ha! I did the best I could with a water fight in the yard, a watermelon pinata, and a sea-themed cake.
It's really quite simple. Frost a layer cake (use vanilla or chocolate buttercream) and then go to town with candy, sprinkles, toppings, toys, and candy. The beach above is made of graham cracker crumbs with some walnut rocks and a brown sugar sand castle. The starring players are Playmobil.
You can adapt this basic method to all birthday cake ideas your kids throw your way. Here are a few strategies and examples to get your creative juices flowing:
Birthday Cake Ideas: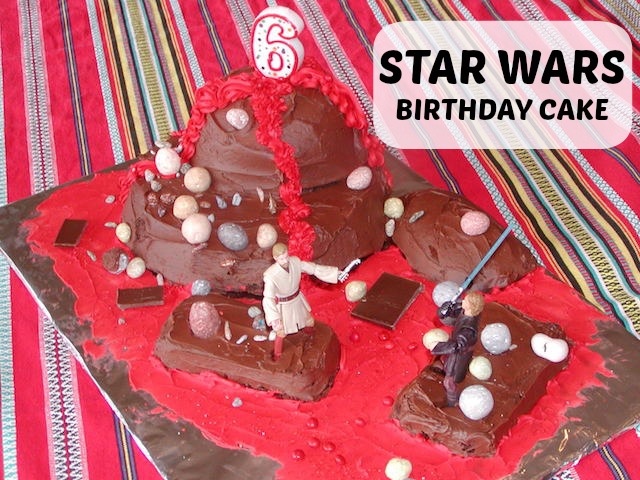 Star Wars "Revenge of the Sith" Cake
Here is our family's Star Wars fascination, circa 2006, represented in sugar: the volcano scene from Episode III. You could easily remove the Star Wars guys and transform this volcano cake to another theme, such as dinosaurs. Candy rocks make it super fun.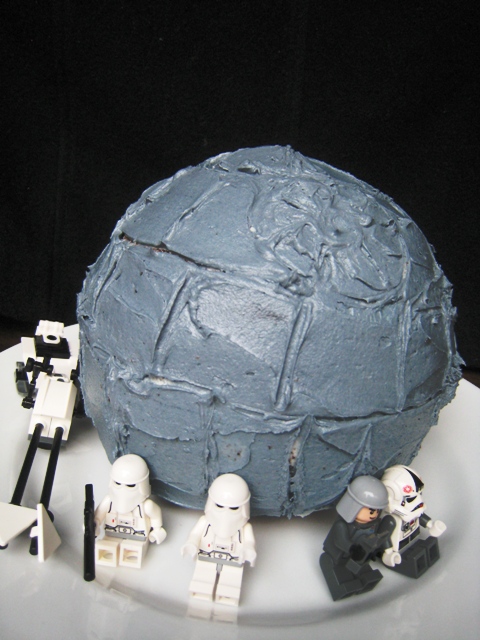 Star Wars "Death Star" Cake
This Star Wars "Death Star" Cake requires a special pan, but the spherical shape certainly adds to the cool factor. While it is not the most perfect rendition of the Death Star, the Birthday Boy was totally enraptured. He added the Lego guys for effect. Works for me.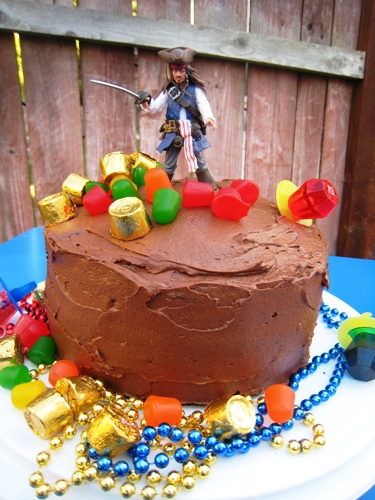 Pirates Cake
We made this pirate cake in honor of the opening of the fourth installment of "The Pirates of the Caribbean: On Stranger Tides." If you've got swashbucklers in your midst, they will love this cake!
If you're going for the simple pirate motif, any pirate toy will do. If he's brand new, so much the better. You've got a cake and a present all wrapped up in one.
The candy jems (Rollos, Dots, and Ring Pops) are a huge part of the attraction of this cake. Trust me.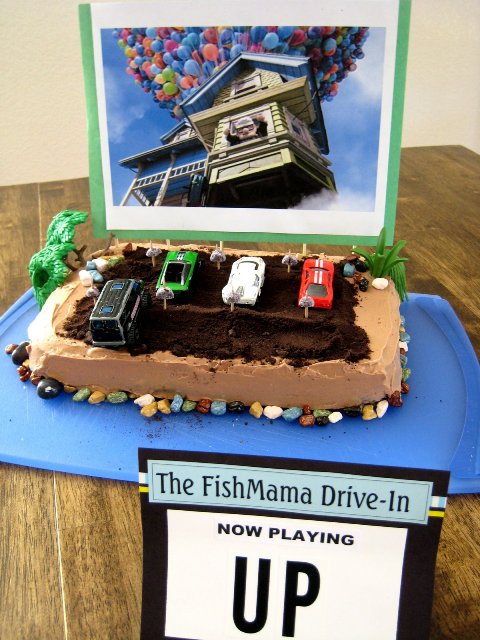 Drive-In Movie Theater
This Drive-In Movie Theater Cake is really flexible. You can use it for 1950s and 1960s themed parties, but it also lends itself well to automobile enthusiasts. But, best of all, this cake works for the mom whose kid suggests a crazy birthday theme.
If your child choose a movie or toy or birthday theme for which there are no cake toppers or action figures, you're just stumped for how to recreate that movie in cake, this is your ticket!
Simply put a favorite image on the screen, and you're good to go! It helps if your kids know what a drive-in movie theatre is. Ha! If not, swap out the cars and put minifigs out on a green frosting lawn for a big screen viewing.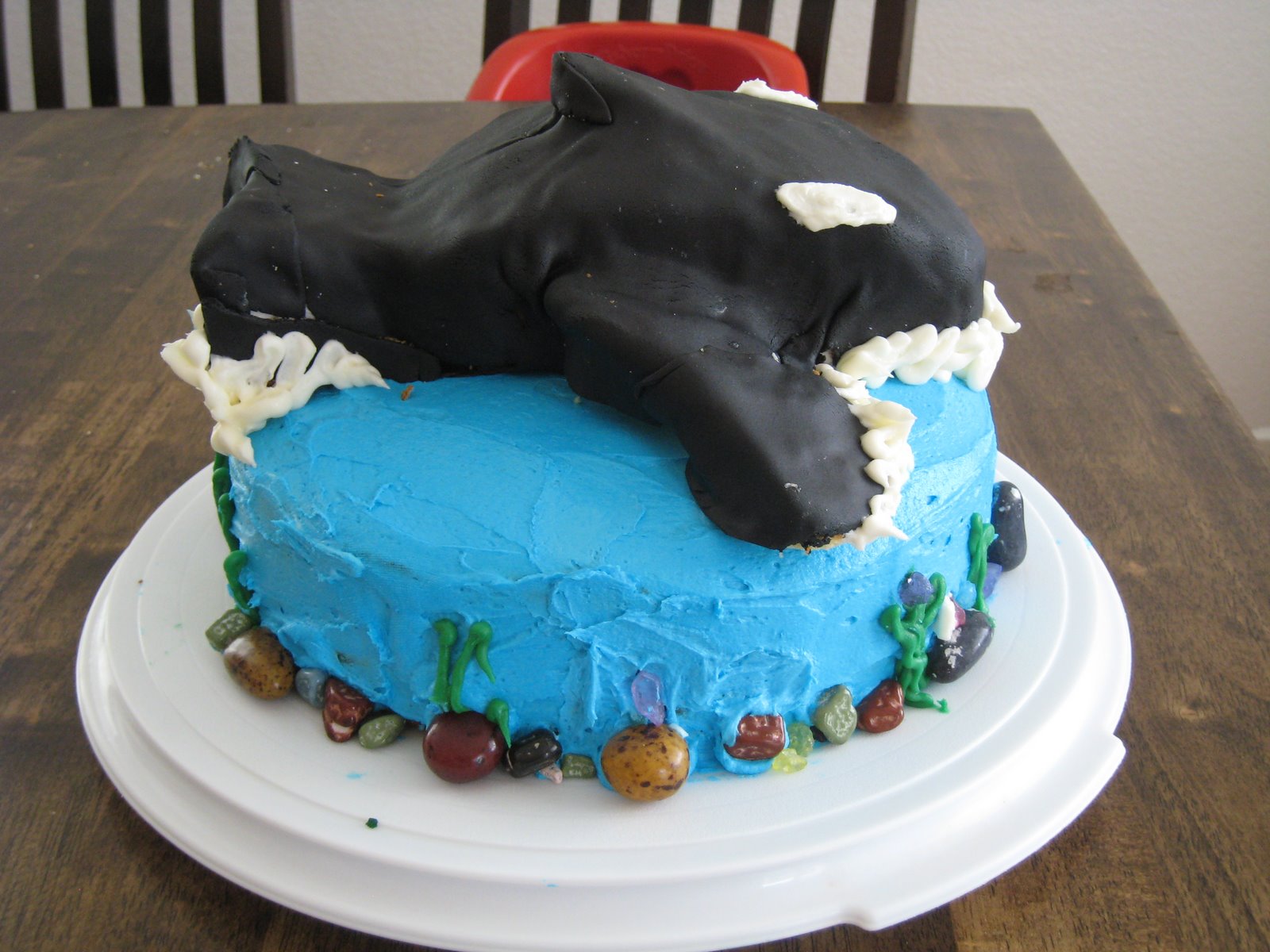 Orca Cake
If you've got ocean lovers in your midst, this Orca Cake is sure to please. I used a frozen pound cake and carved it in the shape of a whale, and then I covered it with black fondant. Extra detail with frosting and some candy rocks are great finishing touches.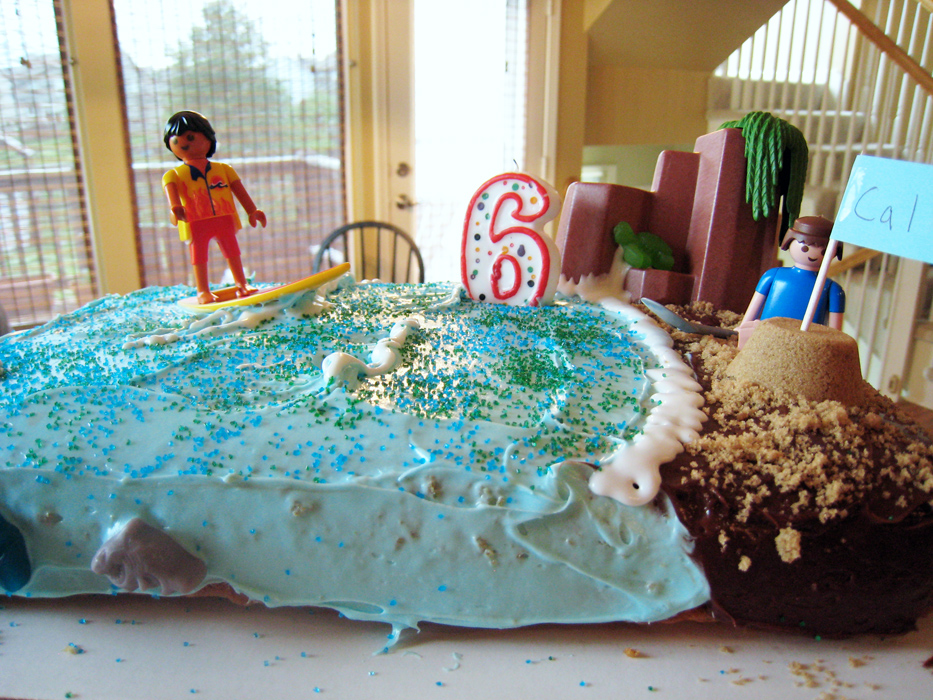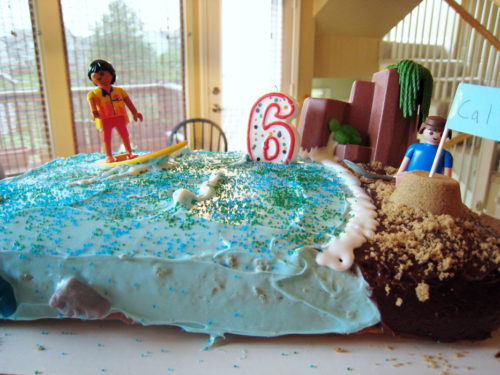 Surfer Beach Cake
If you're hosting a summer-themed party, some frosting, some candy, and a few toys make for an easy Surfer Beach Cake that any surfer or beach bum would love.
What are YOUR favorite birthday cake ideas?
For more ideas:
–> Cake Decorating for Normal People
–> Decorating Cakes with Playmobil
–> The Cakes archive on Life as Mom