Tips for Using Reusable Shopping Bags
As an Amazon Associate I earn from qualifying purchases. For more details, please see our disclosure policy.
This is part of the Going Green series. Join me as we explore ways to make green living more convenient.
Back in my youth, I worked at a grocery store. It was my very first "real" job. I bagged groceries for two years during high school. And since I was a perfectionist, I became "expert" at packing bags.
Woe to the box boy today who tries to pack my tomatoes with my canned goods!
And I'm soooooo old that I remember when the plastic grocery bags first came out. They said that they were going to revolutionize our world. Or something close. But in reality, they were cheaper than paper.
When I was new on the job I asked customers which they would prefer. It didn't take long before my manager called me over and told me not to give them a choice. Plastic is cheaper, so bag in plastic unless they ask otherwise.
Today, nothing drives me up a wall more than those fifty-two million plastic bags that seem to reproduce overnight in the pantry. Thankfully, reusable shopping bags are on the scene.
I first started building my collection about three years ago and I haven't looked back. I love it that my grocery bags won't break on me, won't clutter up my pantry and reproduce like bunny rabbits, that they get me cash credit at the store, and that they are being reused instead of going to waste.
Using reusable shopping bags has been the number one easiest means for me to reduce waste in our home. But, it did take some getting used to. And I've yet to perfect it. As always, still a work in progress.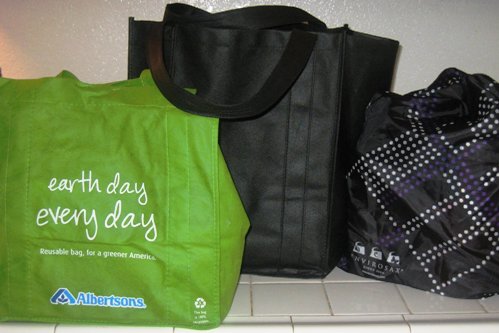 Here are some tips to make it easier for you to use reusable shopping bags:
1. Find bags you love.
I have over 20 shopping bags, accumulated over a number of years. Some were given to me. Some I bought. Some I bought again because I forgot to bring some to the store.
I have some favorites, for different reason. I've got durable, heavy duty bags for canned goods. I've got thin, easily washable cloth bags for meats and produce. I've got some all-purpose bags just cause.
If you like the function and fashion of something, you're more likely to use it.
2. Keep the bags in the car.
Probably the biggest downside to using reusable bags is forgetting to bring them with you when you shop. One solution is to keep them near the front door or even in the car. If you have your bags with you all the time, you are more likely to use them. There are even bags that roll up into tight little packages to pack in your purse.
Some objections have arisen to this over the last year due to the evidence that bacteria is present in the bags and can grow at a tremendous rate in a hot car.
One solution is to make sure that items like dairy, meat, poultry, and produce are packed in washable bags. That way you can make sure to wash the bags after shopping and then return them to the car in clean condition.
3. Wash the bags regularly.
For the reasons mentioned above, it's important to wash the bags on a regular basis. I have a small laundry basket in my kitchen for corralling wash clothes and kitchen towels. After a shopping trip, I add to this any bags that might have been contaminated by meats or dairy. They wash up easily and can be returned to their posts.
4. Designate bags for other uses as well.
We use our reusable bags for a number of uses, including toting library books to and from home, carrying picnic lunches, packing beach supplies, and anything else where a tote bag is handy. Keeping them in the car makes it easy to carry stuff around town.
In fact, since I started collecting reusable shopping bags, transportation of stuff has been simplified manifold. Not only am I reducing clutter in my kitchen as well as in the local landfills, but my life is made a little bit easier.
Carrying groceries in from the car is made easier because I know the bag is not going to break. And I make fewer trips back and forth since more can fit in a reusable bag than it can in a plastic one.
How do reusable shopping bags help your life as MOM?
This is part of the Going Green series. Stay tuned all week for daily giveaways and ideas for small ways to go green.