A Tale of Two Easy & Fun Themed Birthday Cakes for Kids (Ultimate Recipe Swap)
As an Amazon Associate I earn from qualifying purchases. For more details, please see our disclosure policy.

Birthday cakes are a big deal is these here parts. It's been interesting to watch them evolve over the years. We've traveled the world with our family's birthday cakes to Egypt to Rome to the beach to the golf disc course. We sung Happy Birthday with Bob, Dora, and Rapunzel. We've explored the deep blue sea as well as the Death Star. Heck! We've been to Infinity and Beyond.
So, it surprised me this last couple months that my kids were a little mellower with their birthday cake choices. They chose easy. Real easy. God bless them, they chose really, really easy. And I think you're gonna like them because you could so pull this off — with ZERO cake decorating skill. Observe.
Easy Cake Decorating Technique #1: Let the Kid Do It
My nine year old awoke on his birthday in a tent in the mountains, camping with FishPapa and the other boys. They came home a day early in order to celebrate with me and the girls. Early also translates into "I didn't know you were coming home, so I haven't really done anything for your birthday." But, I didn't let on. I just set about baking a cake — from a mix — because that's how I roll.
I made Homemade Buttercream with some cocoa tossed in for good measure and then said, "What would you like to put on your cake?"
Can I have a dragon cake?
"Absolutely," says I, "go find the toys."
FishBoy9 is all over the artist thing, so he searched about the house for the cake-appropriate Playmobil and decorated the cake himself.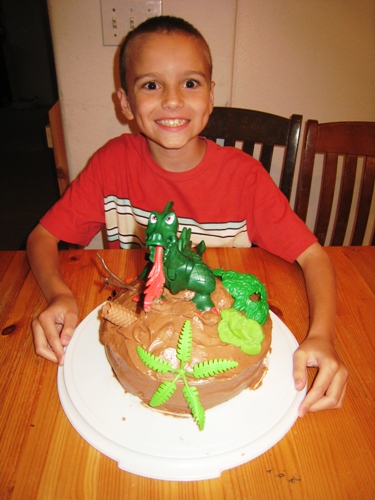 That was easy.
He loved his cake — and he did a great job positioning the toys to look just right. I couldn't have done better myself.
Easy Cake Decorating Technique #2:
Print out paper cake toppers
Now the next technique takes a little more effort on the parent's part, but not much. When FishBoy7 had his birthday in May he specifically requested paper cake toppers in the shape of his favorite video game characters, Sonic the Hedgehog and Company. Experience tells us that there is no way in the world that we will find Sonic character toys to put on the cake, so we search the internet instead and print out three dudes in color on cardstock.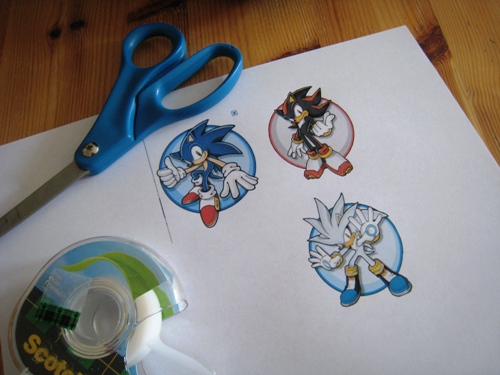 Obviously, you can do this with whatever characters your kid is interested in. Simply cut the shapes out and tape them to toothpicks, thusly,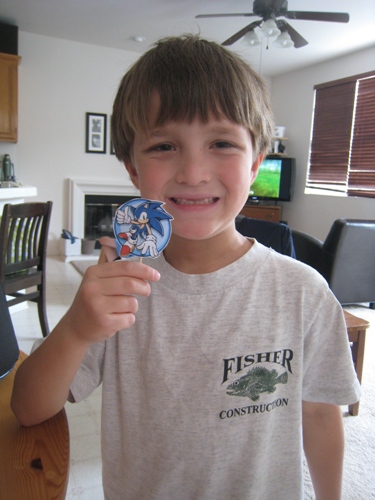 He really is happy, he just doesn't know quite how to act naturally in front of the camera.
Then stick your paper guys in the cake. Don't forget the number candle!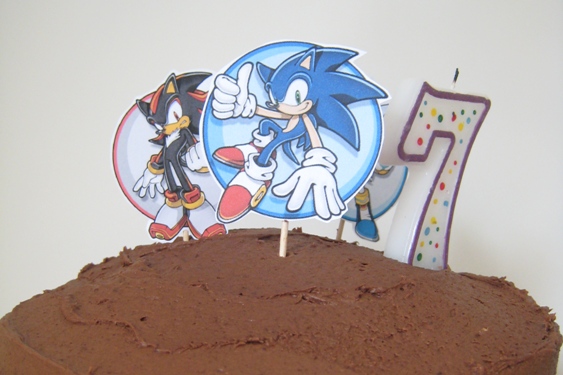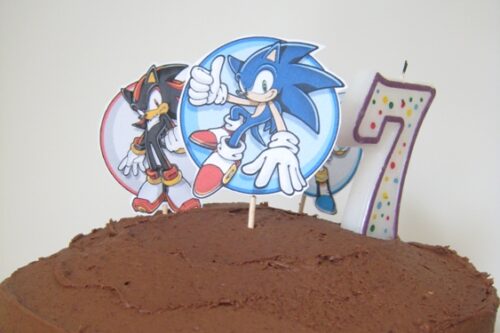 Both these cakes were incredibly easy. I can't tell you how easy.
I used a cake mix and homemade frosting, but you could certainly use canned frosting as well. You could do even make both these kind of cakes with store-bought cakes.
My kids were as happy as could be. I didn't have to jump hoops — and they were completely satisfied.
Now, that's a happy birthday!
Got a great cake?