A Cars 2 Birthday Cake & Easy Party Ideas
As an Amazon Associate I earn from qualifying purchases. For more details, please see our disclosure policy.
Hey race car fans, are ya ready? Cars 2 opens today in theaters all over. I'm excited about the adventure.
The original Cars movie opened on the day of FishBoy9's 4th birthday. We made a day of it and took the whole fam to the movies — something we rarely do or did — now or then. Afterwards we came home for a Cars cake and a fun Gas Can pinata.
Cars has held a special place in our hearts since then. We've watched it multiple times over the last five years. And somewhere along the way, I have no idea how, hubs because a NASCAR fan. I don't think there's a connection, but there it is. Go, Jimmie Johnson!
And if your kid's got the need for speed, he or she just might love to have a Cars 2 Birthday Cake. And there couldn't be an easier cake than the cake I have for you today. Well, of course, unless it was this: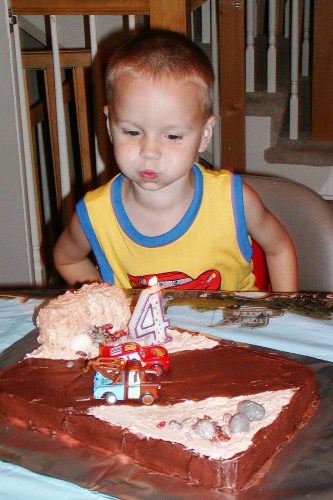 Be still, my heart. That was my boy five years ago. Time goes by quickly. Sigh….
And so it does in the Cars saga. Now good buddies Mater and McQueen are off for Europe and the World Grand Prix. The story is full of espionage, romance, and of course, a little fast driving. I can't wait!
A Cars 2 birthday cake can be just as cool and easy, if not moreso.
What you'll need:
black foam board
exacto knife and scissors
tape or glue stick
ruler
a frosted 9 x 13 sheet cake (feel free to bake it all from scratch, uses mixes and cans, or buy it at the bakery)
a dozen or so Oreos, blended into crumbs
a couple of yellow Dots candies for road thingys (can't remember what they're called)
two Cars 2 cars, pictured here: McQueen and Mater, of course (I bought mine at Target. If I were a better mother, they'd be the original cars from 5 years ago, but no, these are new.)

What to do:
Once you've printed out the Cars 2 movie posters, trim them with a straightedge or simply cut with scissors.
Paste your movie posters onto the board.
Place your cake in front of the movie display board.
Cover the surface of the cake with Oreo crumbs, the ideal edible asphalt.
Place your Cars 2 action figures on the cake.
Have a Happy Birthday!
Could that have been easier?
Kids love themes, but they don't really care about perfect fondant and carefully sculpted marzipan decor. They want the theme and the toy.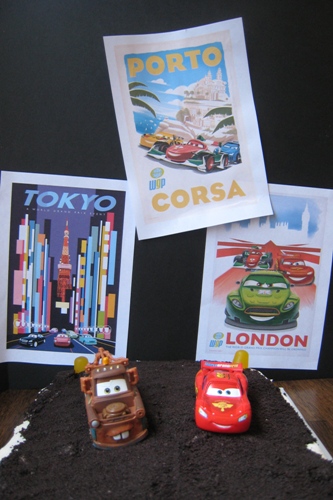 Easy Party Fun
What to Do
:: Check out this HUGE collection of activities and printables from Family Fun.
:: Download this printable activity pack from the official site.
:: Head to the movies! Yes, it's pricey — but it's an easy party activity.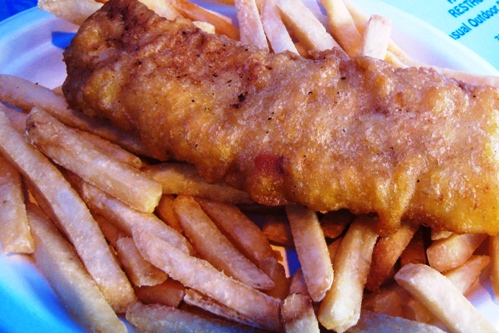 What to eat:
Tokyo :: While it may not be "traditional Japanese fare," Asian take-out is easy to procure. And most kids I know would prefer noodles over sushi. If you buy large containers of the entrees, a little can go a long way.
Italy :: Serve up lots of pasta, meatballs, garlic bread, and a big salad. Pour up Italian sodas with straws.
London :: Dish up fish and chips — and chicken strips for good measure. Serve root beer and ginger ale in mugs to replicate the British pub experience at home.
We don't have anymore birthdays for a couple of months, but I'm thinking a trip to the cinema and some fish and chips sounds like an excellent summer evening — and a Cars memory in the making
What's your favorite Cars memory?