DIY on a Dime: Perk up a Purse
As an Amazon Associate I earn from qualifying purchases. For more details, please see our disclosure policy.
This month has been pretty rough for me. I know that I am not the only one. I've found that crafting and making gifts for folks has been great therapy. It gets my mind away from worrisome thoughts and focuses on blessing others instead. This easy-to-assemble gift is one of those things.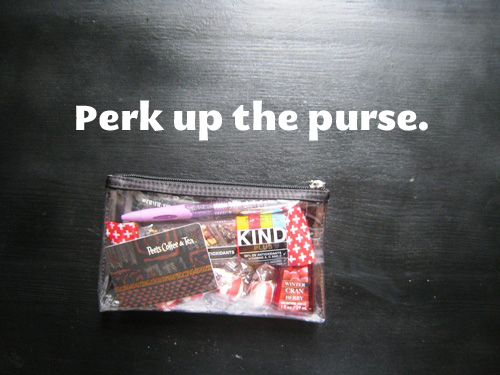 Want to save this post?
Enter your email below and get it sent straight to your inbox. Plus, I'll send you time- and money-saving tips every week!
How many of us drag around a load of junk in our purses? [raises hand] Guilty as charged. I've found some amazing bits and pieces that would make you laugh.
This little gift is inspired by those moments of rummaging around in my bag for a mint or a pen. Give some lucky lady a bag full of tricks this Christmas. This little kit can perk up any purse.
Not only does this bag include all sorts of great treats to gift to a friend, but it's fairly economical, too. Run by Walmart or the dollar store for some things, fill in the gaps with pricier pieces like the gift card to your favorite coffee shop.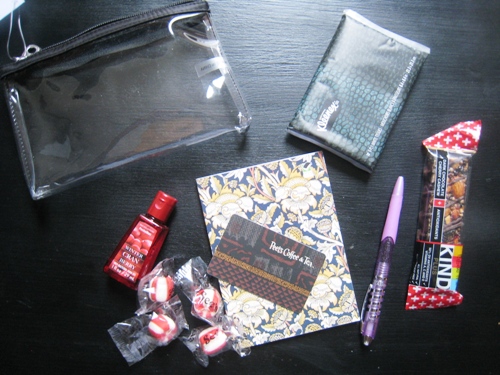 You'll need the following supplies:
a make-up bag
travel kleenex
small notebook and pen
granola or cereal bar
mints, chocolates, or gum
hand sanitizer
gift cards
any other fun perks you can think of
The purpose to this gift is to compile a bunch of fun stuff that your friend may or may not buy for herself. You can add special touches, by buying an extra special pen or notebook, her favorite granola bar, or getting extravagant in the dollar amount on the gift card.
Think about what would make her smile and then add that!
DIY on a Dime
This is part of the DIY on a Dime: Great Gifts series. For more easy and frugal gift ideas, check out the list.