Jesus Cookies for Easter (Recipe: Cinnamon Sugar Cookies)
As an Amazon Associate I earn from qualifying purchases. For more details, please see our disclosure policy.
Celebrate Easter with cookies that represent Jesus' life and resurrection. These Cinnamon Sugar Cookies are super fun to make to celebrate the Easter holiday.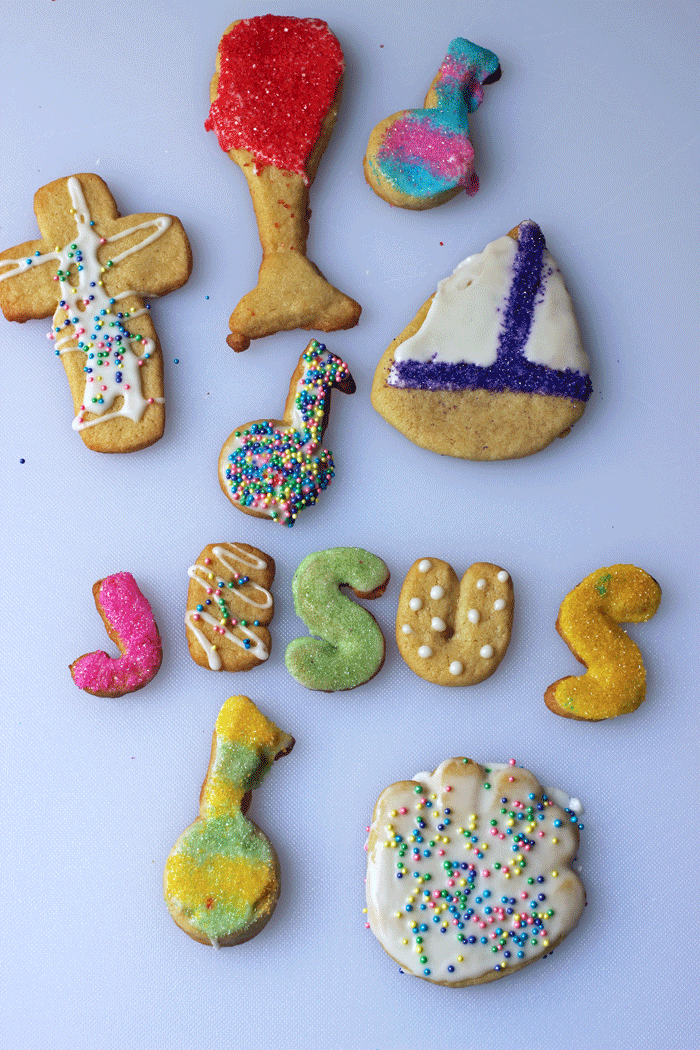 Sugar cookies are always fun. Who doesn't smile when they see brightly decorated sugar cookies, shimmering with sprinkles?
This Easter bake up a batch of Cinnamon Sugar Cookies to celebrate. But, instead of bunnies, eggs, and chicks, why not focus on some other Easter symbols, some that get to the heart of the holiday?
Bake and decorate Jesus Cookies for Easter.
In Christmases Past, at least the last 16 of them, my kids and I have baked and decorated Jesus Cookies for Christmas, including cookie cut-outs of the entire manger scene: Mary, Joseph, the Baby in the manger, the wise men, the camels, the donkey, the lamb, the star. You get the picture.
Years ago, I pined away for a similar set of cookie cutters that would represent the events Jesus' life and of Holy Week. Of course, I never found a set like that. So, one year I made my own Easter cookie collection.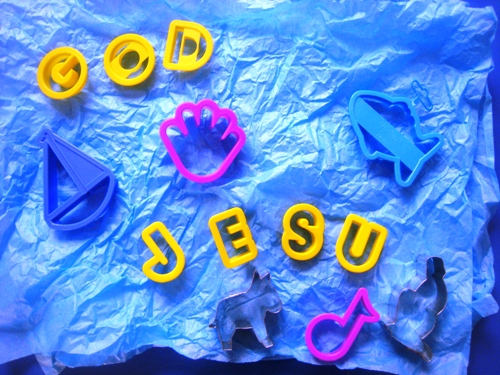 I dug through our vast cookie cutter collection and pulled out the things that we already had: a praying man (aka Joseph at Christmas), a donkey, a lamb, a sailboat, a fish, a hand, a music note, and letters that spelled out "Jesus" and "God with Us." I also purchased a few new ones: a cross, a goblet, a crown, and a foot.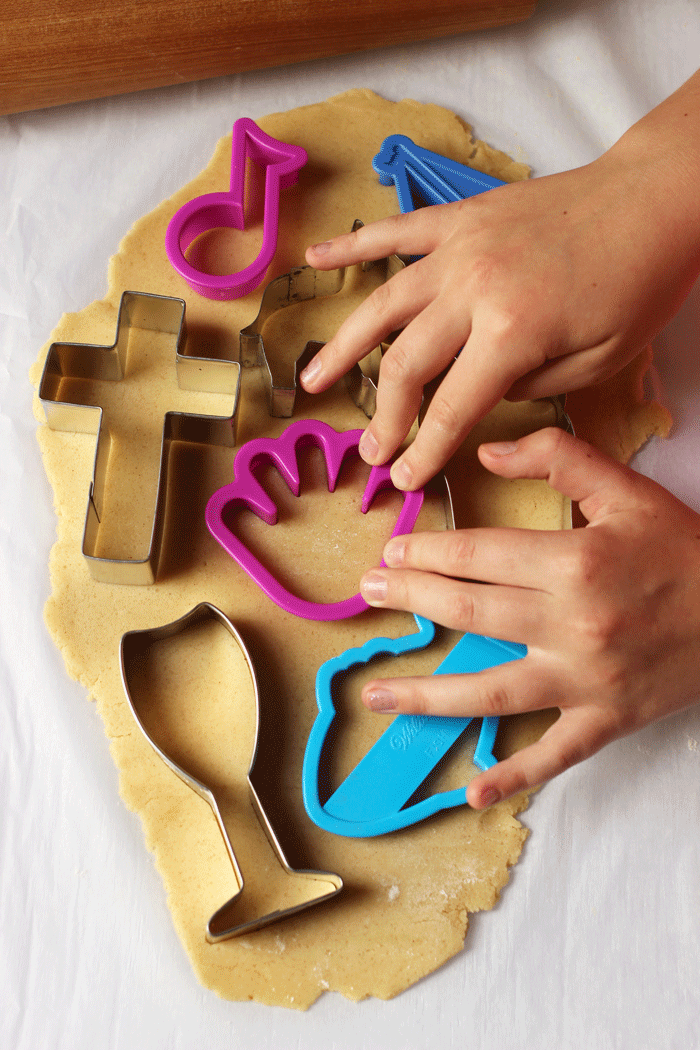 They turned out so fun! And such a memorable way for my kids (and me!) to remember our Bible study lessons. After some thinking, I found that there are no end of the symbols — and fun cookies! — to represent important points in Jesus' life on Earth.
Jesus cookies – symbols from the Bible
Consider these different cookies you could bake for Easter celebrations as well as Sunday School lessons:
alphabet cookie cutters, especially letters spelling out: JESUS, GOD WITH US, HE LIVES, HE IS RISEN
a sailboat – He controls the wind and the sea.
a hand and foot – The Servant king washes the feet of others; the nails pierced his hands and feet at the crucifixion.
a donkey – For His triumphal entry, he rode a donkey.
a tree – Zaccheus watched Jesus from up a tree; also the Savior was hung on a tree.
a praying man – Jesus prayed on the Mount of Olives.
a lamb – Jesus is our shepherd as well as the spotless lamb sacrificed for us.
a music note – All creation praises Him.
a dove – He is the Prince of Peace.
a goblet – The wine of The Last Supper; Christ's sacrifice given for us.
a crown – He is the King of kings.
a fish – He fed the 5,000; he makes us fishers of men.
a cross – He made the ultimate sacrifice on our behalf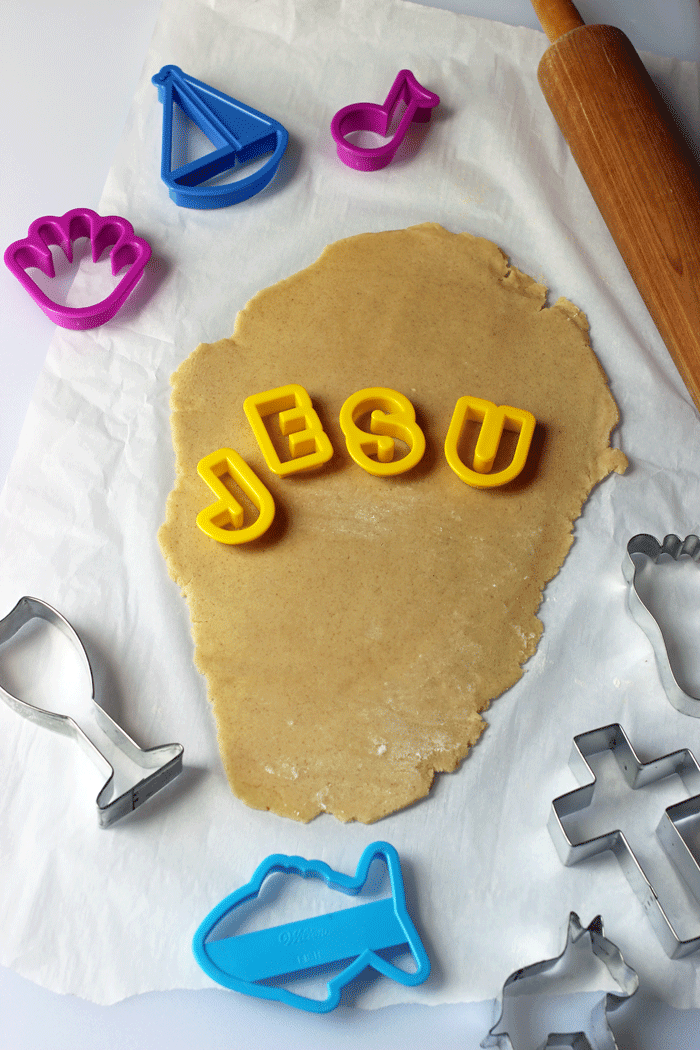 If you're looking for a fun Easter activity, baking this Cinnamon Sugar Cookie recipe into Jesus Cookies is super fun. Don't be afraid to turn over the rolling and cutting to the kids. No, it won't be perfect, but they'll have such a good time!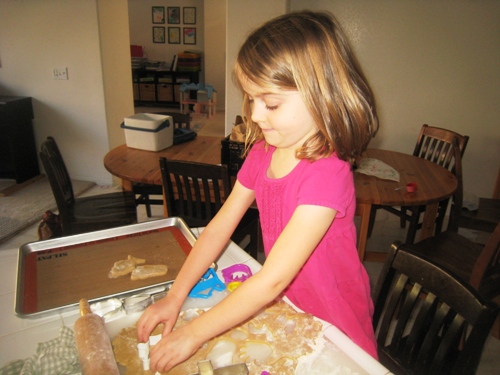 After the cookies are baked and cooled, decorate them with a simple powdered sugar icing and sprinkles.
Hint: The cookie recipe itself is light on the sugar to offset the amount of sugar you may or may not be dumping on top. If you choose not to ice them, simply sprinkle with cinnamon sugar before baking.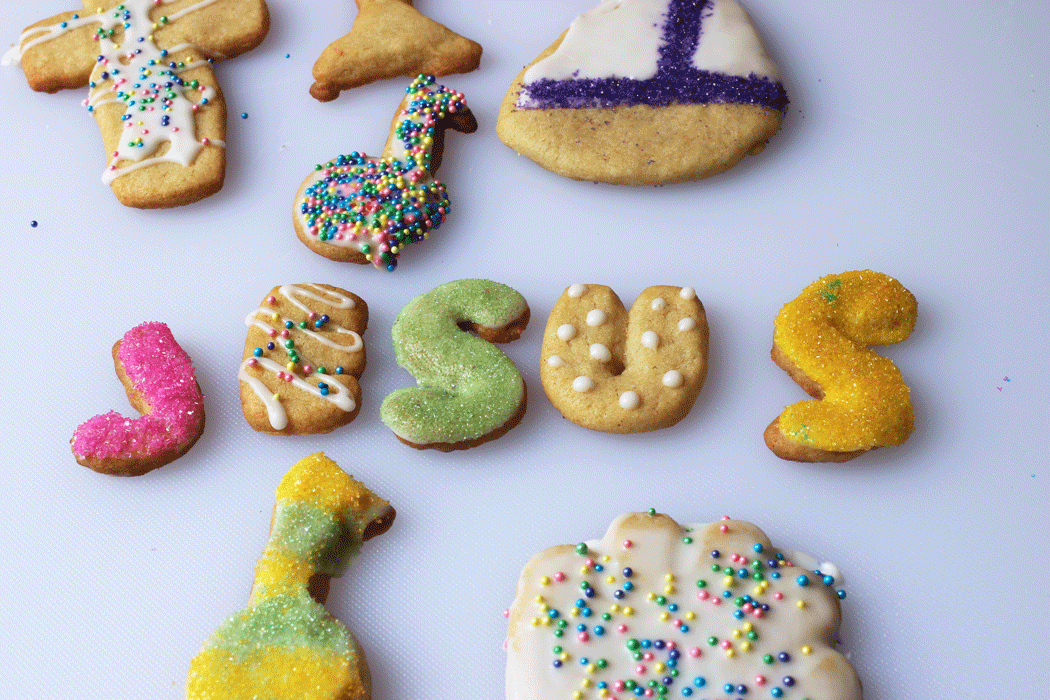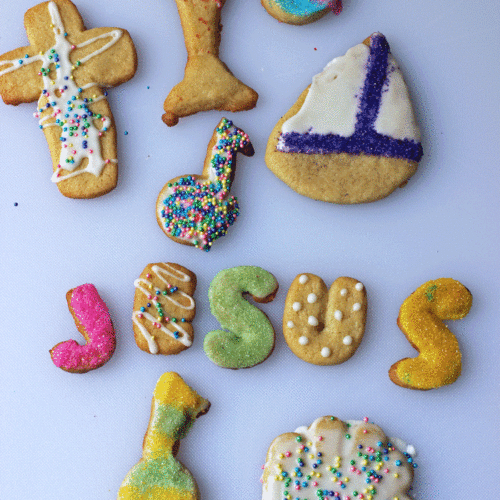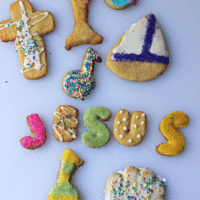 Print Recipe
Cinnamon Sugar Jesus Cookies
Celebrate Easter with cookies that represent Jesus' life and resurrection. These Cinnamon Sugar Cookies are super fun to make to celebrate the Easter holiday.
Ingredients
1

cup

sugar

1

cup

butter

1

egg

1

teaspoon

vanilla extract

2 1/2

cups

unbleached

all-purpose flour

1

teaspoon

baking soda

1/2

teaspoon

cinnamon
Powdered sugar glaze
1/2 cup powdered sugar mixed with enough milk to make a thin glaze.
Instructions
In a large mixing bowl cream together the butter and sugar. Beat in the egg and the vanilla extract. Add the flour, baking soda, and cinnamon and blend until well combined.

Chill for several hours.

Preheat the oven to 400 °. Line several baking sheets with parchment or silpat mats.

On a lightly floured surface, roll dough out. Cut with shapes.

Bake the cookies on the prepared sheets for 5 to 7 minutes. Cool completely on racks before glazing with powdered sugar glaze.

Place the cookies in layers separated by waxed paper in an airtight container; cover. Store at room temperature for 3 days or freeze for up to 3 months.
Notes
Nutritional values will vary based on the shapes and sizes of the cookie cutters you use as well as how much frosting you add.
Looking for More Easter Helps?
I've put together an Instant Easter Luncheon Kit. It includes everything you need to host a great lunch or dinner with family and friends.
Included you'll find a complete menu with allergen and special diet adaptations, all the recipes needed, grocery lists, party checklists, preparation timelines, printable buffet cards, family-friendly activities, and even tips for making it all in advance so you can even enjoy the day!
There's a printable scavenger hunt for the kids, tokens to tuck into Easter eggs, and templates to make flower pot place cards. Like Pinterest, rolled into one resource, only these crafts work!
The Instant Easter Luncheon Kit is available in my store to take the guesswork out of planning your holiday meal. It's done for you so you don't have to worry.
Enjoy this Easter holiday with less work and more fun. Grab the printable file here: https://fishmama.com/product/instant-easter-luncheon-meal-plan/