DIY on a Dime: Make a Cookie Kit
As an Amazon Associate I earn from qualifying purchases. For more details, please see our disclosure policy.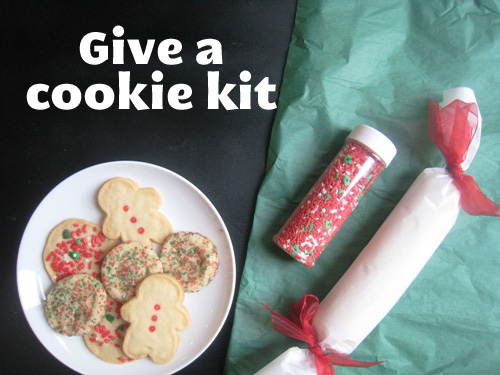 Make a cookie kit with dough, sprinkles, frosting, and cookie cutters. It's an experience and it's tangible — all at the same time!
My mom has always been a great one to help parents enjoy more quality time with their kids. I remember about thirty years ago driving around town with her delivering Christmas gifts.
She had crafted cookie kits. Rather than spend time and effort baking up cookies that folks may or may not have room to eat in their holiday menus, she gifted them with homemade cookie dough and the ingredients necessary to decorate them with the kids. It was a tangible gift as well as an experiential one.
This is a super easy and frugal gift to put together. Homemade cookie dough is easy enough to whip together in just a few minutes with pantry staples. Form the dough into a log and then add a container of sprinkles or a tube of frosting. If you want to inspire your friends further, include a few baked cookies that they can enjoy while they're crafting and cooking.
You can even make the dough in advance and freeze it, thus saving you time by working ahead of schedule. Total win!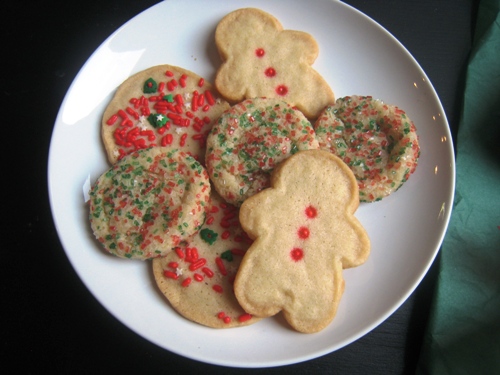 What you'll need to create a cookie kit:
a batch of cookie dough (try this recipe, this recipe, or this recipe)
containers of holiday sprinkles
plastic wrap
parchment paper
ribbon
cookie cutters
gift bag, bucket, or basket
a recipe card with directions for baking
To make a cookie kit:
Divide the cookie dough into portions depending on how large a batch the dough makes. I divided mine into two dozen portions.
Roll each portion of dough into a 2-inch diameter log.
Wrap each log in plastic wrap.
Wrap each log again, this time in parchment paper.
Secure the ends with ribbon.
Assemble the wrapped cookie dough, cookie cutters, sprinkles, and recipe card in the gift bag.
More Gifts to Make