DIY on a Dime: The Summer To Do List
As an Amazon Associate I earn from qualifying purchases. For more details, please see our disclosure policy.
Plan for summer fun now. Make a list and check it — at least twice.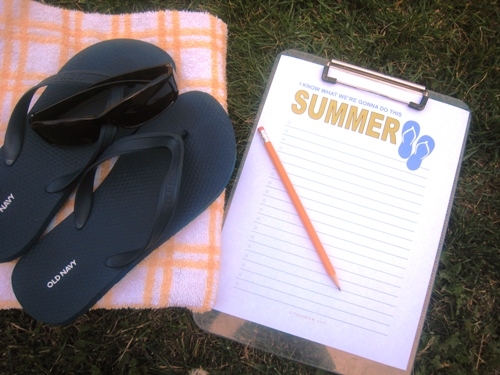 I have long been the fan of the summer to do list, aka summer bucket list. A friend hooked me onto the idea about ten years ago, and it's been a summer tradition ever since. A glimpse at the lists from 2009 and 2012 tells me how much my kids are growing and changing.
Stop the clock, please!
If you don't already plan a list of fun things to do over summer vacation, here's why you should:
1. No more "I'm bored, Mom".
If you have a list of things to do that your kids have already expressed an interest in, then you're less likely to hear complaints that they're bored. By planning fun in advance, you cut boredom off at the pass.
2. Time is passing.
You know the story of putting the big rocks in the jar first? If you don't make time for the important things, there won't be room for them later. Make time this summer while your kids are still on your watch.
3. It's fun!
Who doesn't want to have a bonfire, toast marshmallows, or make homemade ice cream?! These things truly are enjoyable activities. We can all use more of that, especially us adults. Enjoy the simple pleasures of summer with your kids.

Creating a summer to do list is absolutely free.
You don't need to list expensive things to do, either. Think of the practically free activities that you enjoy as a family and write them down. Keeping the list in a central location will help you have a ready answer when someone requests an activity that might be outside the budget.
Need inspiration? Check out this list of ideas for summer fun.
Print out this colorful checklist to fill out with your kids. I usually give my kids each of their own to fill out and then I compile all the ideas together into one larger list. Let them keep their personal lists as a record of a summer of fun.
This post is part of the DIY on a Dime: Summer Fun series. For more ideas on how to enjoy the summer holidays on a budget, check out the list.

I know what we're gonna do this summer.