Planning for Our Summer Fun
As an Amazon Associate I earn from qualifying purchases. For more details, please see our disclosure policy.
Plan for summer fun with your kids and wile away the daze.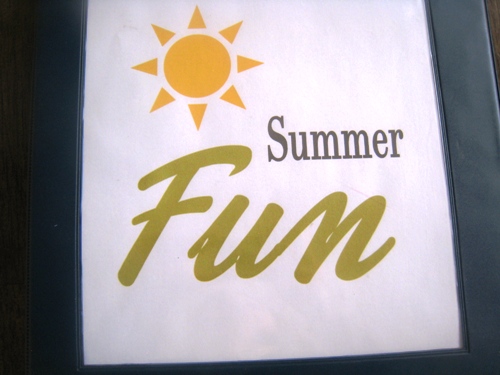 This is our last week of school. I wish that I could say that we're finishing strong. But, the truth is that the month of May just wiped me out. I had two out of town trips, two more than I normally have in any month. Ever.
And the month was just survival as a result.
But, June is here. The end of school is in sight. And my days will have a little more elbow room than they do during the school year. We've got our pool passes; we're signed up for swim lessons; we even have a little staycation planned for the end of the month.
Everybody say, "Yeah!"
As a work-at-home mom…. you know I've finally come to terms with being a work-at-home mom. I never thought I would be. But, lo and behold, when you find yourself writing books and working on deadlines and someone pays you and you do it mostly from your house and you're a mom, well then, yes, you're a WAHM.
As I was saying, as a work-at-home mom, I have extra motivation to make this summer break a good one.
There's more time in the schedule for us all to relax.
There's more time in the schedule for me to work on projects without sacrificing something else.
There's more time in the schedule to readjust our household systems so that when things get busy again, we're ready for them.
But, there are still only 24 hours in a day. And I could spend those 24 hours ten times over. I don't want this looser, more relaxed summer to go by without having redeemed some of those days with my kids.
For me that means weekly outings, plentiful pool time, learning for fun, and lots of great books.
I don't need to jam pack the days, but I do want them to be lively, enriching, and for the most part, fun. If I want that to happen though, I have to have a plan. Whether you have 1 kid or 6, a plan is always helpful.
That's where the Summer Survival Guide can come to the rescue. Jam-packed full of planning how-tos and summertime home management tips, this book also contains all kinds of fun activities to do with their kids. The cool printouts in the pictures are only a few of the things that you get with the SSG.
Wondering how to make it work for you?
Are you ready for summer fun?
To be totally honest, I'm really looking forward to some intentional down time and a chance to get caught up on stuff this summer. I also realize that though my children are on vacation, they still need me. So, it's not really a time to "clock out".
But, kid duty doesn't have to be draining. In fact, some of my favorite ways to recharge include my people. A break from the norm can be more refreshing than just "checking out".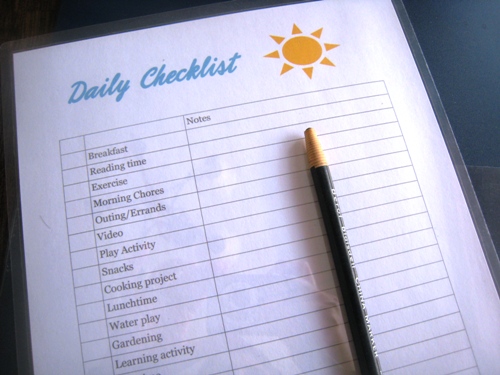 So I've spent some time this weekend to plan for our summer vacation. Here are some of the things that I've done to prepare:
1. Plan a month-long meal plan.
I love to have a month's worth of meals thought out and planned for. It doesn't take much longer to plan for a month than it does for a week and it helps me think about the month as a whole and to plan ahead for special events. Check out these links for inspiration:
2. Plan a weekly schedule for you and the kids.
While hockey season was a lot of work, the built-in schedule gave our family rhythm and measurable benchmarks throughout the spring season. The last few weeks that have been tough have been characterized by a lack of rhythm. Hmmm….. connection?
I mapped out a schedule for our summer weeks, including some anchors to mark sections of the day as well as of the week. For instance, I'm going to try to serve meals at the same time each day as well as head to the pool on a regular basis. If I make the time now, it's more likely to happen. And having those things to "count on" each day will help my kids, too.
Here's how I envision it:
I don't kid myself that these will work out exactly as I plan, but if you don't have a target, you'll certainly never hit it.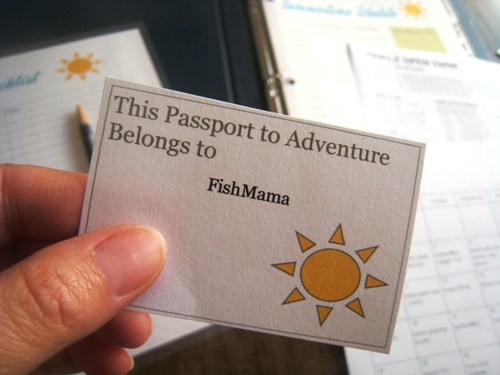 3. Plan for fun.
Aside from date night and a work night, I've left our evenings free for fun activities as a family. I've done the same for weekends, envisioning time to explore our community, have a game night, or just shoot baskets with the neighbors.
Here are some of the things that I'm hoping for our family this summer, my "bucket list", if you will:
In all honesty, we may not do half of the things I've dreamed up here. But, if I don't brainstorm now, we're even less likely to do a small fraction of the things that we could do. I'm not set on filling our days and making them busy. Rather, I want to be intentional about how we spend our free time.
I want to know we were happy and productive over the summer. The two really do go hand in hand.
Buy the Summer Survival Guide

The Summer Survival Guide is a 200+ page ebook filled with inspiring ideas and practical suggestions for making the most of the summer as a family. You will have a guide book for sailing through the summer with a smile.

Included you will find:

a summer calendar
summertime checklists
home management worksheets
bookmarks for everyone
tshirt transfer artwork
scavenger hunts
scrapbook pages
100+ family-friendly book and movie suggestions
inspiration for home management during the summer months, addressing meal planning, daily schedules, emergency preparedness, road trips, and more.
recommendations for family nights and summer reading
16 summertime learning themes looking at everything from Art to Zebras through crafts, games, books, movies, outings, and general family fun
How do YOU plan to spend the summer?