Mud & Worm Cupcakes
As an Amazon Associate I earn from qualifying purchases. For more details, please see our disclosure policy.

My first four children were boys. My last two were girls. I live a dual life as a mom. There's legos and Jedi and lots of mud on one side. There are princesses and Dora and lots of mud on the other. For some reason, lots of mud is the common theme that runs through them both — particularly in Spring.
When I was making cupcakes recently I looked to my cupboards for inspiration. I found some gummy worms leftover from the Lego Powerminers Cake in November as well as the ubiquitous candy rocks that go on all our cakes. I was out of powdered sugar — and though I learned a few weeks ago that my Magic Bullet can make powdered sugar — I decided to use a frosting recipe without powdered sugar. Call it Spring Fever. Call it laziness.
Call it mud.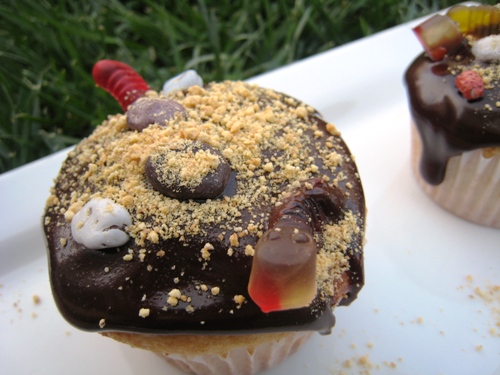 We made mud cupcakes with worms and rocks. How cool — in a gross, kiddie like way — is that?
These are easy to do, so you can enjoy the mud both insides and out on this beautiful spring day. Just try to keep the mud off the carpet!

Recipe: Mud & Worm Cupcakes
Instructions
Drizzle Mud Frosting over the tops of the cupcakes.
Place one or two gummi worm halves on each cupcake, placing them so that they look like they are emerging from the mud.
Place a few candy rocks on each cupcake. Sprinkle graham cracker crumbs over the top.
And it goes without saying, of course, that your kids will love to make these with you.
Today we're sharing Springtime Recipes on Ultimate Recipe Swap.
What do you cook up to welcome Spring?
There will be no URS next week. Instead join us for a weeklong Spring Fling of giveaways.