Do You Name Your Cars?
We are a participant in the Amazon Services LLC Associates Program, an affiliate advertising program designed to provide a means for us to earn fees by linking to Amazon.com and affiliated sites. We participate in other affiliate programs as well. For more details, please see our disclosure policy.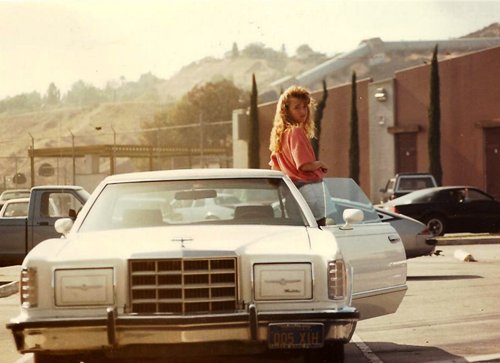 That monstrosity — the car, not the girl — is what I drove during my senior year of high school. The girl, of course, is me, circa 1990. We called it, "The Boat," for obvious reasons.
While I no longer am suffered to drive that particular set of wheels, my vehicles still have names. When I was a kid, they were The Red Car, the Gold Car, The Blue Van, etc. During marriage, we've had The Hatchback, The Camry, The Truck, The Van, and The Scourge.
Naming our cars creatively, ie The Scourge, is a new phenomena, but one that seems to be sticking. What do YOU do?
Do you name your cars?