Dump or Donate?
As an Amazon Associate I earn from qualifying purchases. For more details, please see our disclosure policy.
As we gear up for Zone Defense, guest writer Kate offers some important suggestions for what to do with discards. Some can be donated, others need simply to be dumped.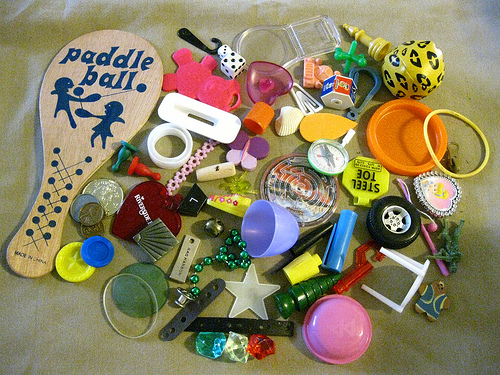 Maintaining an organized and uncluttered home means that you must regularly assess your possessions, and frequently cull your belongings. Whether you're clearing out the closet, paring down the tower of toys, or trying to make room on your bookshelf for the newest best seller, there will be items leaving your home.
The moment of decision looms: do you throw the stuff away or donate it to charity?
I work for a human services non-profit and I've spent the last five years on the receiving end of well-meaning, charitable donations of "stuff." Ask yourself the following questions before you lug your box of goodies to the nearest rescue mission.
Is It Broken?
If it's broken, throw it away. That sounds like a no-brainer but I think people take too seriously that old adage of "one man's trash is another man's treasure." Don't donate broken furniture, household appliances, etc. Your donation will just wind up getting thrown away and you've wasted the resources of the organization you're trying to support. (The exception to this is if an organization advertises that they refurbish non-functioning electronics.) If you have broken furniture, you're actually better off putting it out on the curb. There it might well fall into the hands of the professional dumpster divers who may be able to fix it up and use it.
Is It Stained/Ripped/Otherwise Yucky?
This one goes for clothing. Ask yourself why you're getting rid of that shirt. Is it because you just don't wear it? Great! Donate it! Is it because it's got sweat stains? Um, trash it (or shred it for rags). No one wants to wear clothing with rips, holes, and dirt.
Is It Safe?
Be careful donating children's "gear" like car seats or cribs. For one, many organizations will not accept these items due to concerns about safety. Car seats are not meant to be passed down through multiple families. If you do have an item to donate, be sure to check a reputable recall site (like the Consumer Product Safety Commission — http://www.cpsc.gov/) to make sure the item has not been recalled.
Is It Old?
Like, really old. Canned goods that have been lurking in the back of your Pantry for ten years are not good candidates for donations. Food pantries frequently cannot stock items that are past their expiration date. Be considerate and check the dates before you donate.
Really old furniture can be dicey, too. The line between "antique" and "junk" is pretty fine and most non-profits aren't in the antique business anyways. They want functional, relatively current pieces that will be easy to distribute to families in need.
Is It Needed?
Well-meaning people give a lot of unsolicited (and, to be honest, unwanted) "stuff" to charities. If you're interested in donating an item to a charity, call them to see if it's something they need and want. Don't just show up on their doorstep with that dish set of Aunt Mildred's. Some organizations have very strict guidelines about what they will accept, while others will take just about anything. You'll save time – yours and theirs – if you check the acceptance policy before you load up your car with bags and boxes of stuff.
Did I forget anything?
What guidelines do you use to decide what to donate to charity?
— Kate lives in Pittsburgh with her husband, two children, and a slightly deranged Labrador. She blogs at Green Around the Edges, pondering food, family, and hugging the occasional tree.