How We Are Refinishing Our Chairs and a Giveaway from Rockwell Tools (CLOSED)
We are a participant in the Amazon Services LLC Associates Program, an affiliate advertising program designed to provide a means for us to earn fees by linking to Amazon.com and affiliated sites. We participate in other affiliate programs as well. For more details, please see our disclosure policy.
We've saved hundreds of dollars over the years by buying used furniture instead of new. Thanks to some easy tricks we can refinish used stuff and make it new again, like this simple method to refinish a chair.
This giveaway is now closed. Congrats to the winner: casto.lawanna@
The following post is sponsored by Rockwell Tools:
In our twenty years of marriage, we've never had a huge income. When I made the decision to quit teaching in order to be home with our kids, we knew that financial excess was going to be one of the things we opted out of. It hasn't always been easy, but we've always had enough. I can't say that I'd trade the opportunity to teach my kids at home for a set of new furniture.
And that's honestly, one of the things that we've done without: new furniture. Even though we've had a chance to buy a few brand new pieces from IKEA over the last few years, much of what we have furnished our home with is a collection of hand-me-downs, clearance buys, and craigslist purchases. The fact that FishPapa, a carpenter by trade, knows how to build and repair things has saved us a boatload of money over the years. Used furniture has served its purpose.
For years our kitchen table was surrounded by folding chairs because that was all we could afford. When we got fed up with the stains, we were stunned at the prices of dining room chairs. $89 for one chair? Heavens!
That was too far out of our budget, so FishPapa started trolling Craigslist and found a super good deal on wood chairs from a pizza place. He bought 17 sturdy wood chairs for $180 about six years ago. They were beaten and well-worn, but they were well made and cheap at just a little more than $10 a chair. We ended up giving my brother four that didn't match the rest and we were set with enough chairs for our kitchen table and a few extras for the school room.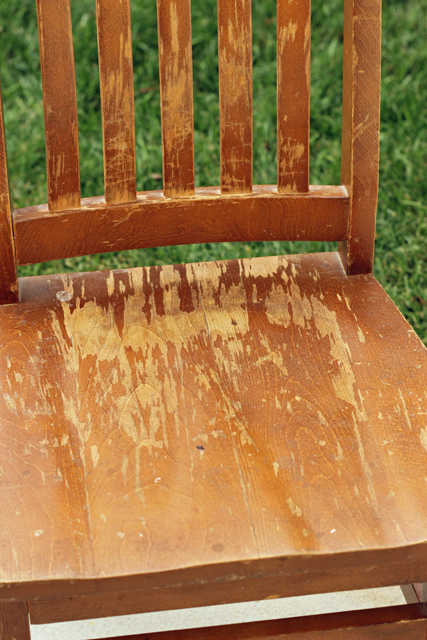 We meant to refinish them six years ago, but as you know, life happens. Obviously, after six years of use in a family with six kids, the chairs were a little bit more beaten and warn.
Recently, Rockwell Tools sent us a Sonicrafter F50, an oscillating tool that works super well for sanding. We knew that the time had come to get our chairs in shape. FishPapa researched several different ways to go about the process and played around with our new toy, I mean tool.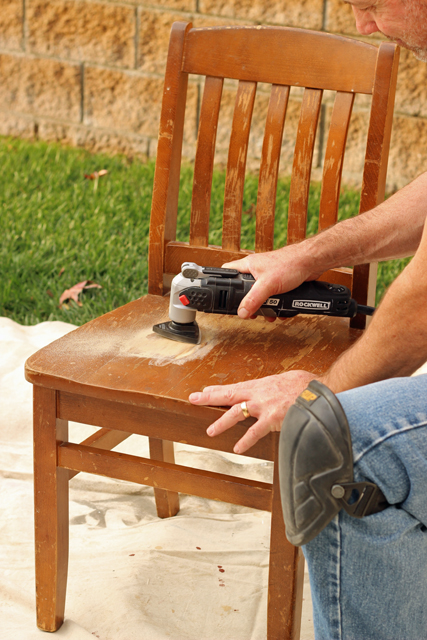 It was really cool to see the chair after the original finish was sanded off. The Sonicrafter F50 did a great job of removing the old paint and varnish. FishPapa really liked that you can use any brand replacement blade, so if Home Depot or Lowe's don't have the "exact" one, you can still find something that will work.
About Rockwell Tools

Rockwell Tools produces a variety of tools including cordless tools, saws, workstations, oscillating tools (like the Sonicrafter), universal fit blades, sanders, and accessories. Currently they are offering a 15% discount to YOU.

Use the coupon code LIFEASMOM15 on rockwelltools.com until December 31st, 2014. 

You can also enter their Tools for People That Rock "Give One, Get One" sweepstakes for a chance to win TWO sets of tools.

By following Rockwell on social media, you will have an opportunity to learn more about all Rockwell products, as well as stay updated on all current deals and promotions. Visit them on Facebook, Twitter, Pinterest, YouTube, and Instagram.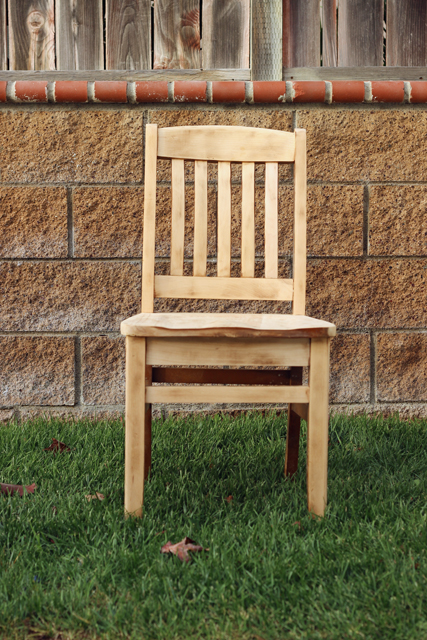 It was really tempting to just add a clear coat of finish instead of staining or painting the chair. We've only messed with two chairs so far, so we're not quite sure where we'll end up. I may just lacquer this baby and see how it fits into the landscape. But, we bought paint to mimic the colors in this painting.
One Simple Way to Refinish a Chair
FishPapa's current favorite method is not to sand the chairs completely, but to take a simpler process toward prepping and painting.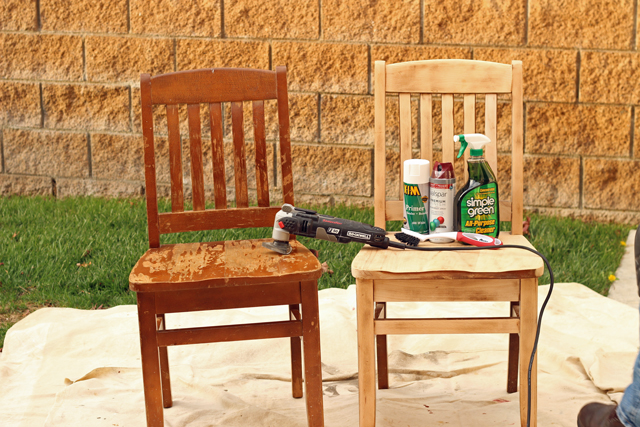 What you will need:
all-purpose cleaner, like Simple Green or TSP
scrubbing brush
180-grit hand sand paper
spray paint
What to do:
Wash the entire chair with the all-purpose cleaner, scrubbing off any kid-grunge, pizza sauce, etc. with the brush. Wipe it well. Allow the chair to dry for 24 hours.
Sand off any rough edges and smooth the surface of the chair with the Sonicrafter F50 and sand paper as needed.
Tighten the legs if necessary.
Spray the primer all over the chair. (We used XIM primer. It's pricey but does a really great job. We are going to try BIN for the next chair since it's cheaper.) Allow to dry according to primer instructions.
Spray your chair in your desired color.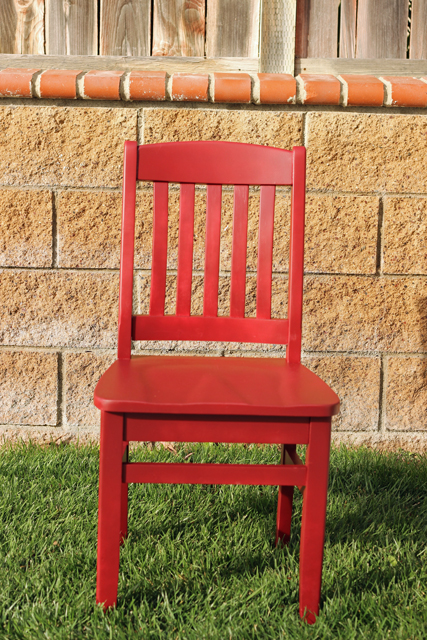 This is how our first chair turned out. I love the bright red color, but you'd be amazed at all the colors that are available in spray paint these days. We have a red dresser and red front door in our foyer and a red couch in the living room, so I'm hoping that the red chair will add a bit of color to the rest of our house.
Now that we know what we like, we can finish the rest of the chairs. One down, only 12 to go!
Win a Sonicrafter F50
This week, Rockwell Tools is giving one Life as MOM reader a Sonicrafter F50.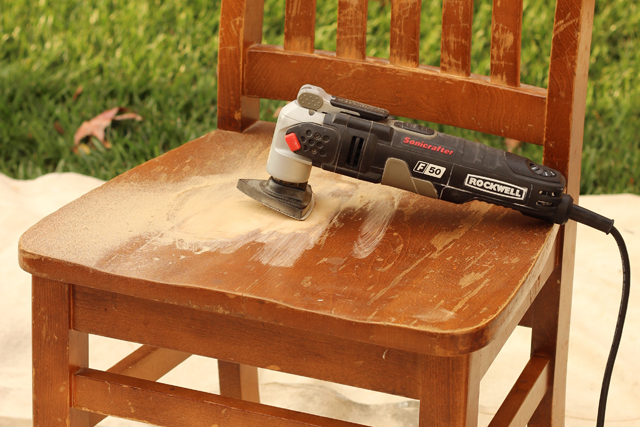 To Enter
Simply complete the information on the form below. Please know that the information is only being gathered for the purposes of mailing you your prize in the event that you are chosen as the winner. This information will not be sold, traded, or given away.
This promotion is open until Wednesday, December 17, 2014 at 8 pm PST and is limited to US residents, 18 years or older. Friends and family of Jessica Fisher and Life as MOM are ineligible for entry. The winner will be chosen randomly. This post will be updated with the beginning of the winner's email address. The prize for this promotion is provided by and shipped by Rockwell Tool and/or its representatives. Jessica Fisher and Life as MOM will not be held responsible for unclaimed or undelivered prizes.
Disclosure: I have been compensated for my time spent writing. All opinions are my own.
Do YOU have a favorite way to refinish furniture?