LA Kings Hockey Birthday Cake (& a Birthday Cake Round-Up)
As an Amazon Associate I earn from qualifying purchases. For more details, please see our disclosure policy.
A Kings birthday cake, whether for an LA Kings Hockey fan or other special guest of honor, is super easy to make with a layer cake and a cardboard crown.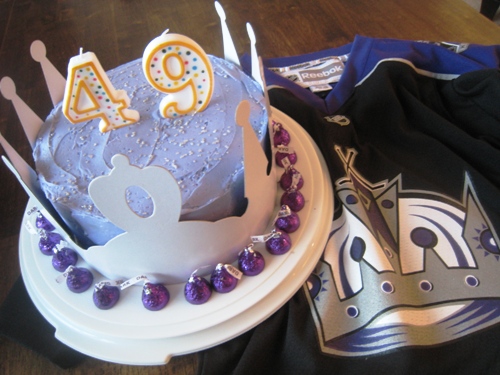 I am not a big fan of purple. I'll admit it. But, I couldn't very well serve a black cake to my LA KINGS hockey fan of a husband. So, even though I am not a fan of purple, I took one for the team, as they say.
I actually shopped in three different stores trying to find the right inspiration for this cake: Party City, Target, and Michaels. Hockey paraphernalia is hard to come by as are paper crowns, believe it or not. (At least those that match the color scheme I was going for.)
I cheated this year. Yes, I kinda did. I chose a very simple cake to serve my husband on his birthday. I guess that's becoming my MO. The last year's worth of birthday cakes have not been some of my best work. They've been uber-simple, not that fancy.
I think part of that has been that my bigger kids aren't all that jazzed about themed birthday cakes. The older two no longer request Bionicle Thornax or Roman Gladiator birthday cakes. Instead, both requested cheesecake on their birthdays.
I definitely pulled out all the stops when they were little guys. The younger ones are easily pleased. And I'm getting old.
I'm not sure how I did it, back in those days when I stayed up into the wee hours of the night sewing capes for 2 dozen knights in shining armor. I don't think I could — or would — do it today.
But, I'm a firm believer in making birthdays special nonetheless.
Good Meals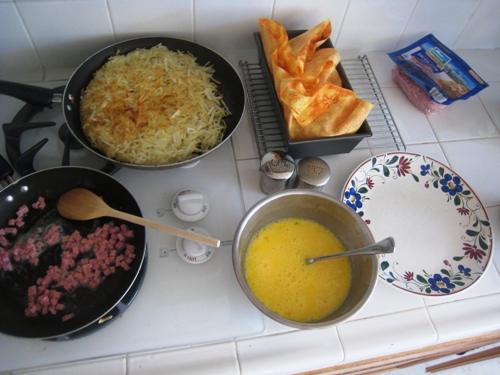 On FishPapa's birthday on Sunday, he requested a full breakfast. This is by far his favorite meal. Typically, we go out to breakfast, but it is often very expensive and not that great. So, I stocked up on everything I needed to make ham and eggs, bacon, biscuits, pancakes, and hashbrowns and we feasted at home. My kids adore a full breakfast.
Good Cake
Later in the day we sang to him and ate cake. LA Kings Hockey Cake. Here's where the cheating part comes in. In retrospect, the cake would have looked cooler if it had been fondant for a crown instead of cardboard. But, we don't like the taste of fondant. Nor the taste of cardboard, either, for that matter. But, it seemed less wasteful to recycle a paper crown than to chuck one made of fondant.
And hubs didn't mind. Though he did miss the chocolate frosting. I think he'll be requesting cheesecake next time, too.
A Kings cake, whether for a hockey fan or some other royal dignitary, is super easy to make, especially with a paper crown. Frost a round layer cake and place the crown around it on the platter. I made sure that the crown would allow you to peek at the purple frosting. And I added a touch of silver sprinkles across the top. The purple kisses also added a little sparkle to the other wise plain Jane cake.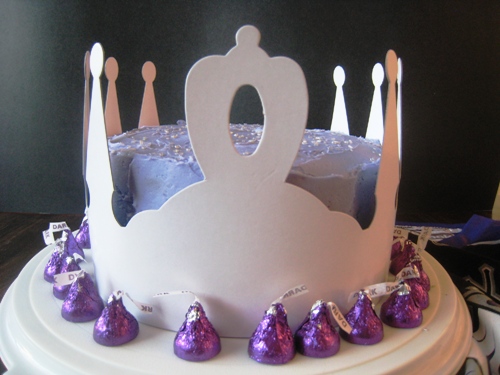 And there you have it: super simple cake for a King.
Baked any fun cakes lately?
You can view the upcoming topics on the URS Calendar. Next week: Valentine's Recipes