From Envy to Admiration: When She's Got What You Want
As an Amazon Associate I earn from qualifying purchases. For more details, please see our disclosure policy.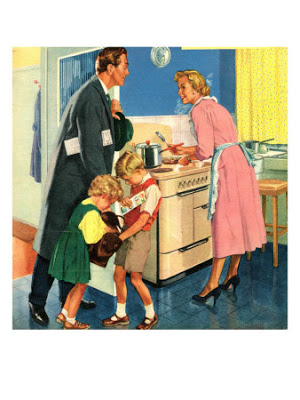 image from
Allposters
This post was originally published November 5, 2008.
She's got a nicer house than you.
She's skinnier after having a baby than you were before you ever got pregnant.
She's better organized.
She's got a great job, and you're "just" ________________. (fill in the blank.)
And on and on and on. Chances are you find yourself comparing yourself to someone else and thinking that you come up short. I know I do.
In fact, as my mother and my sisters will testify, I am fiercely competitive. Combine that with a perfectionist mentality and, well, let's say that my teen years weren't all that pleasant for those around me.
Thankfully, I've grown a little in the last twenty years. But, while I may know more self-control, I still have twinges of envy when I see someone else doing something "better" than me. It can take awhile to talk myself out of envying this other person. And I really do have to lecture myself from time to time.
Some things to Consider if You Find Yourself in a Similar Place:
1. Don't compare your insides to her outsides. You have no idea what struggles she has or what obstacles she's had to overcome to achieve her success, or what you perceive as her success. Many times we compare ourselves to an inaccurate picture of reality.
2. Remember to find your own groove. For years I struggled with the fact that my sister Jamie is Ultra-Creative, Talented, and Never Looks Frumpy. I wanted to be all those things, but they take a lot more work for me than for her. God gifted her in other ways than He did me. But, thankfully, He gave her to me — to help me!
3. There's plenty to go around. Unless we're talking about the presidency or someone else's husband, there really isn't a limit to what we can achieve. My sister can be creative and so can I. It's not as if there's a limit to the amount of blessings God can give, and Jamie got all the artistic talent. I can grow and learn in the areas where I am weak. We all can.
4. Learn from her. Take that jealousy and knock it to the ground. If you find yourself envying the woman with the great organization skills, ask her if she can teach you some of her best tips. Strive to develop a friendship, not a competition.
5. Rejoice with those who rejoice! If something good comes her way, congratulate her. It may take a little work to swallow your pride, but in the end, you'll feel better if you can walk alongside her, rather than spitting at her as she passes by.
6. Admiring her strengths doesn't make you less of a person. Somehow we can think that to admire a peer means we become the low man on the totem pole. That is not so! We all are gifted in different ways. And that's a good thing.
It may take a little retraining our brains and hearts, but I think we can turn our envy into honest, wholesome admiration.
Do you ever struggle with envy? What do you do when you find yourself pining for what she has that you want?