How Do You Store Your Legos, You Maniacs?
As an Amazon Associate I earn from qualifying purchases. For more details, please see our disclosure policy.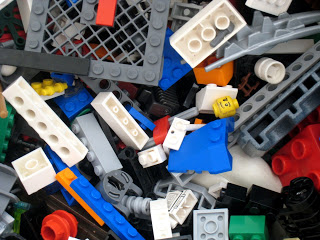 My youngest brother, Jace, is about fourteen years my junior. I'm the oldest; he's the youngest. Interestingly, FishBoy12 is closer in age to him than I am. Jace was the original Lego Maniac, if there ever was one. His childhood infatuation with Legos is the main reason that I held off ever letting my children play with them. I had very real memories of injured feet in the middle of the night!
His love of Legos is still quite real. Lucky for him he has four nephews who are equally enamored with the plastic brick. But, he's become very particular about Legos being cleaned up. Thank goodness! And I benefit from this OCD behavior now that he's moved in with us. He makes the FishBoys clean them up before their wrestling matches. Hallelujah!

(True confessions: I just shut the door — and a blind eye — on the playroom.)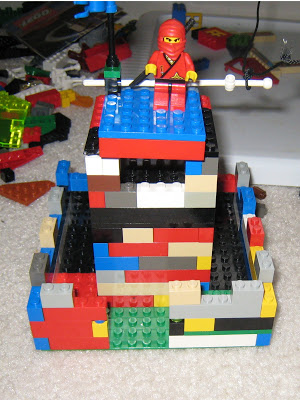 My friend Jessika is a wealth of creative, good ideas. She recently emailed me a list of great Lego-organizing suggestions. With her permission, I've turned her email into this guest post. Perhaps it will help you put some order to the brick collection at your house.
From Jessika:
Thanks to the many moms who gave me storage solutions for Lego pieces and creations. I worked on organizing most of our Lego in May. I still have some work to do, but a friend warned me it may be a lifelong issue! At least we have a plan in place so everything can be put away, and my feet have been spared stepping on those sharp corners because we've used some of the great ideas listed below.
Some great storage options to tame the Lego Madness:
tall plastic storage towers with drawers that can be completely pulled out
sewing/beading boxes to sort out the smaller or more prized pieces (like swords, scuba tanks,heads and bodies,tiny tools) or to sort Legos by kind, ie regular, girl, technic, etc
one giant plastic box for all the pieces and room for creations on top of them
a tool box
a tackle box
homemade Lego bags – use heavy duty fabric cut into a circle, attach brackets and thread cord through them so it can be a play mat and then cinched up and taken back to the closet or storage area. These can also be painted to match a theme for the particular Lego set it holds.
under bed, shallow, flat storage containers
IKEA Gles or Trofast storage
bookcase, dresser or high closet shelf to store special creations away from younger siblings (OrgJunkie's got a great one here.)
accordion files to store the instructions that come with sets. Laminate the instructions.
labelled baggies for spare parts from each set
flatten boxes from sets and keep for reference
a specific bin for pieces that have come off sets and need to be replaced onto the projects at some point
a sheet for putting down on the floor when the kids are working so none of the pieces get lost – sheet can be picked up and pieces dumped back in a bin at the end of building time
a bigger house with a dedicated Lego room
— Jessika Leonard is a crafty mom of two children.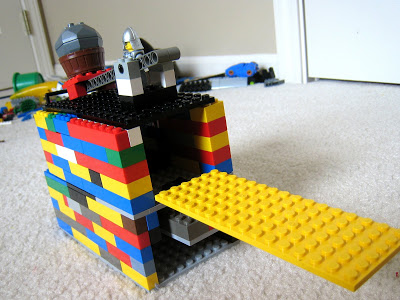 How Other Mamas Do It:
Like Merchant Ships
Laurie @ Create Your Own Experience
What do you do to store Legos at YOUR house?