Theme Parks on the Cheap
As an Amazon Associate I earn from qualifying purchases. For more details, please see our disclosure policy.

This past week our family ventured into the world of theme parks. While our oldest is almost twelve years old, we had been waiting for the "right" time. In different seasons "the right time" has been defined as
when we lived close to one we wanted to visit.
when the kids were old enough to enjoy it.
when we could afford it.
Well, since moving back to California, we live within a short driving distance of Magic Mountain, Disneyland, and Legoland. While our baby and toddler girls still sit on the bench with me, the FishBoys are now of a collective age where they can really enjoy a day at an amusement park. In fact, a couple of them are old enough — and tall enough — to be able to have the run of the rides.
Now, that last criteria? Well, that's a little tricky. Do you know how much theme parks cost these days??! My question is who can afford it?
A one-day pass to Disneyland is $59 for those under 10, $69 for 10 and above. Ouch! Double ouch if you have many children.
So, how did we handle a theme park on the cheap?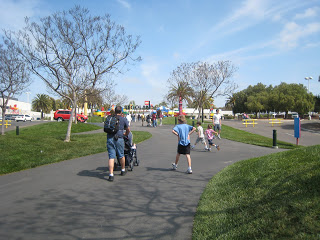 1. We waited for a discount. These are available if you are patient and keep your eyes open. Businesses are often able to acquire discount tickets for their employees. Ask your employer if this is the case. Check different clubs and associations that you belong to, such as AAA. Military often are eligible for discounts as well. Local residents are also allowed discount admission. Ask around and find out what's available to you.
In our case, Legoland sponsors a homeschool day on Mondays during the off-peak season. We paid $17 per admission after having registered in advance online for their homeschool programs. This special day includes six classes to choose from that teach science and engineering through the use of Legos.
2. We went early and stayed late. Part of being frugal is getting the biggest bang for your buck. So, make the most of the time available. Go during the off season when crowds won't keep you from enjoying the attractions. If your kids can handle it, prepare to be there all day, so that you can enjoy it at your leisure.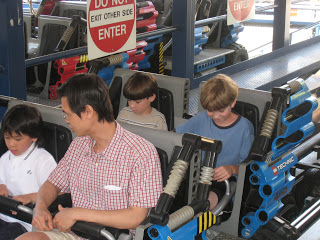 We didn't want to feel rushed to do it all, but we wanted to "get our money's worth." We arrived about five minutes after the park opened. (We would have been there earlier but my sweet husband knew that I hadn't had my coffee yet, so in order to protect us all from my bad headache, he stopped at Starbucks to get me a mocha — purchased with Swagbucks, of course.)
We stayed until closing time. Doing so even got us a few perks. The employees were so generous as to allow a few more turns on the roller coaster at closing time.
3. We packed our own lunch, drinks, and snacks. Many amusement parks provide picnic areas near the parking lots for guests bringing their own food. If not, tailgating is fine by me. Just make sure it's permitted by the park's security.
I didn't mind the walk back to the car in order to save a few pennies hundreds. Oh my! A small bag of popcorn was five bucks! Instead, I was able to treat my kids to fifty-cent Oreo Sticks and a bag of pretzels for $0.75. To them, these were welcome treats, and they didn't care that it wasn't the park's food.
4. We stayed out of the shops. At first I thought it would be fun to peruse the huge selection of toys, games, and dress-up. But, two reasons stopped me. 1, the kids were too busy having fun; and 2, I knew that all that would give them a big case of the gimmies. While I waited with the girls outside the rides, I took a peek and saw that there wasn't anything that we couldn't buy new online, used on eBay or reduced on Target clearance. Avoiding the shops helped us save money — and at least a few tears and grumps.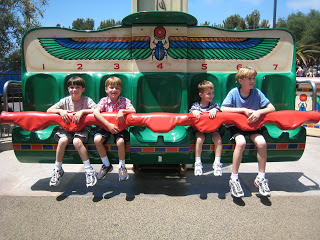 5. We paid cash. This is a tried and true method to avoid debt. If we were still in the habit of charging things, we might have felt free to spend more. Even if you intend to "pay it off at the end of the month," you will probably spend more if you use credit. Studies have shown that people spend more money when they use credit instead of regular ol' greenbacks.
Since we have been planning to do Legoland for months, we knew that we were going to work this expense into our budget. This made sure that we could pay the price.
While I haven't been able to swing a free trip to the amusement park, we did find ways to make it a fun, yet frugal experience. If we had done it other ways, we would have easily spent this:
Lunch for 7: I saw a pizza special for 4: $29.95. Buy two to feed our family = $60
Snacks: 3 bags of popcorn and 6 drinks = $39
Parking = $12
Admission @ full price ($63/adult, $53/child) = $438
The day could have cost us a whopping $548!
Instead, we paid this
Lunch and snacks – already part of our grocery budget
Parking – $12
Legoland admission – 6 tickets @ $17 = $102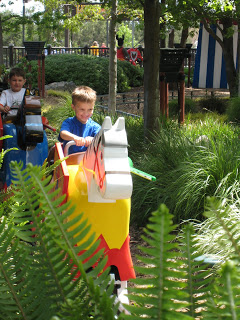 The cost of our day: $114
The fun my kids had: priceless
Got another trick up your sleeve? How do you save money at theme parks? Tell us in the comments.
Coming early next week: An in-depth review of Legoland
Now what's your money saving idea for the week? Share it with us!
Write about it on your blog and bring your link back here. Anyone is welcome to participate provided that both the blog and the post are family-friendly.
Please remember
1. to add a link to www.LifeasMOM.com, so that your readers know where to find all the other good stuff that people are sharing. (It's always good to share, isn't it?)
2. to make sure that the link you share here directs us to your post, not the main page of your blog. You can find directions to do that here.
Looking forward to your great ideas!
(Mr. Linky has had some issues this week. If the widget doesn't show up, leave your link in the comment section or try again later.)