Legoland with a 2 Year Old
As an Amazon Associate I earn from qualifying purchases. For more details, please see our disclosure policy.
Last week our family spent a day roaming about Legoland, a major attraction in San Diego County. Legoland was one of the big selling points for my boys when we told them three years ago that we were moving to this area. We promised, "We'll go to Legoland."
Thankfully, we've been able to keep that promise. Legoland generously offers discounted tickets to homeschoolers on certain Mondays throughout the year. Advance registration is required. It is a wonderful way for our family to fit a fun experience into the family budget.
Is it for big kids only?
Legoland California was our first family amusement park experience. It was an eye-opener for me two years ago because it was my first amusement park experience as a parent, and I didn't go on but one or two rides.
One of the distinctives about this park over others in its genre, like Disneyland, is that there are not many rides for small children. In fact, it can be quite frustrating to take toddlers and preschoolers to Legoland due to the height and age restrictions imposed on so many of the attractions.
One solution to this dilemma is to stay home. I did that two years ago, staying home with the girls, while FishPapa took the boys for one of the boys birthday.
Be a kid.
Another solution is to approach the day at Legoland with the mind of a child, a two-year old child. There is a lot to interest a little person without going on every roller coaster.
The following are tips for enjoying a day at Legoland with a 2 year old or other small person under 36 inches:

Divide and conquer.
If you have older children, your best bet is to divide your party. Have one adult take those 36 inches and above on the roller coasters and other rides, while you take the slower route. There are plenty of tame rides to enjoy like the Coast Cruise or the Cargo Ace as well as a number of playgrounds that are well-suited to small ones.
Watch the shows.
While the boys did Big Things, my girls and I watched the Bob the Builder 4D adventure show. They loved it, though one opted out of wearing the 3D glasses. It's a fun little diversion that the kids really enjoy. There's also another show about Clutch Powers that older kids would enjoy as well.
Pack snacks.
My kids all wear their infamous fanny packs on these adventures. We stuff them with little bags of crackers or fruit leathers so that they have provisions on them. I never hear a word of complaint; nary a whine of "I'm hungry."
Fanny packs rock. Seriously.
Tour the miniland.
The Miniland at Legoland was already amazing with its to-scale constructions of major world monuments but they've taken it over the top with the new Star Wars Miniland. Every important scene from all 6 movies, as well as some from the Clone Wars cartoons, is depicted — in Legos. It's really quite amazing.
Not only is it a hit with kids, it's also pretty popular with adults, particularly those grown-up boys who played incessantly with Legos or wielded a lightsaber back in the day. I saw quite a few couples without children at Legoland, the men clearly geeking out over the Lego structures. Your husband might just volunteer to take the toddlers to the Miniland while you go on the roller coasters! My teenage son said the Miniland was his favorite attraction.
Want more help in your life as mom? Get the newsletter!
Sign up for the newsletter for bonus offers, surprise giveaways, extra content, and special deals.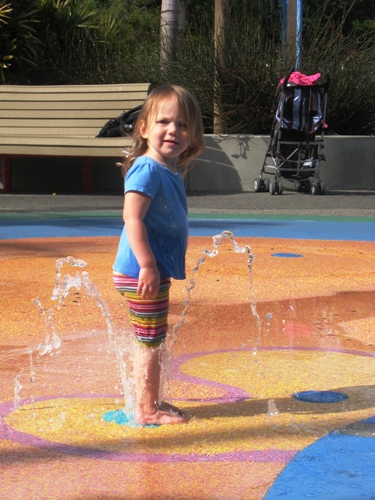 Prepare to splash about.
There are two splash pads within Legoland, one designed for young children, one clearly made for older kids. They are brightly colored, whimsical and fun, the perfect end to the day. We brought swim trunks for the boys, but I just let the girls wear their clothes. I'd done too many potty stops already that day. We went back to the car during the last hour for towels and headed to the splash pad.
The water area designed for older kids is really for older kids. Small children are not allowed to climb the stairs or go down the slides without an adult companion. Unless you want to get wet, keep the little people in the little area.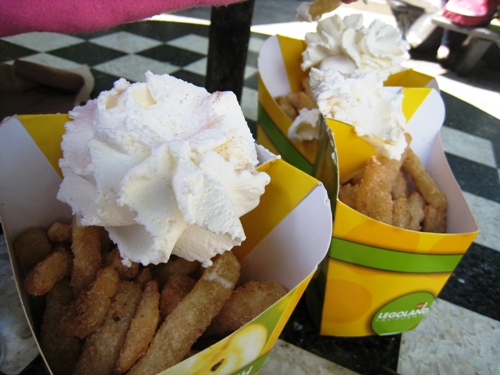 Enjoy a sweet treat.
The apple fries at Legoland are delicious. They are about $5 each, a typical amusement park price for an atypical treat. They are deep fried apple slices served with whipped cream. Very yummy and a nice break in your day.
Adjust your attitude and have a great day.
Your two, three or petite four-year old can still have a wonderful time at Legoland, even if he or she can't go on all the big kid rides. You can help them by having a good attitude yourself. It may seem a bummer that you're spending this money, but you have to sit it out with a kid who can't go on anything. Sure, you can both park it on a bench or trade off with another adult. Or you can take the toddler route — and just embrace it.
If you've decided to spend the money (children under 3 are free), then give yourself over to making the best of it.
Pretend you are two only so far as looking at the things that will interest a young child.
How do you make the most of amusement parks with little people in tow?