The Smart Mom's Guide to Playing Monopoly
As an Amazon Associate I earn from qualifying purchases. For more details, please see our disclosure policy.

As a child I loved playing Monopoly. I somehow had no idea how many hours a full game entails. Yes, ignorance is bliss.
Last Christmas we finally had enough kids old enough to play "the real Monopoly," so that was one of our family gifts. And recently the boys and I have started playing it at night after the girls go to bed.
FishBoy6 isn't quite up to speed; it's still boring to him. But, the bigger boys are all over this idea of buying up property and charging people rent. Little do they know what a total pain it is to be a landlord in real life. (But that's a post for another day….)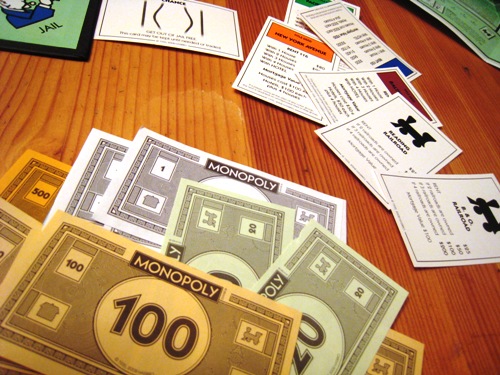 I realized after getting started with Monopoly — and actually reading the directions — how quite a time intensive game it is. So much so that we'd be up until midnight if wanted to play a full round. So, I made a few adaptations. Here are the game rules:
The Smart Mom's Guide to Playing Monopoly
Set a time limit. We go for anywhere between 20 and 60 minutes. Don't worry, you'll complete the full game of Monopoly eventually, just not in one sitting.
Get to a saving place. You've heard those words many times if your kids play any kind of computer or video games. Real life doesn't often have "saving spots." But, in this case, it does. When the timer rings, finish the round so that everyone has had his turn.
Take a photo. If you don't have a digital camera, you'll need to take copious notes. Otherwise, just snap a photo of where every playing piece is on the board. Save the picture, label it: "Monopoly," and know that you can pick up where you left off next time.
Create "safety deposit" boxes. Give each player an envelope with his or her name on it. This is where each will store his money, deeds and playing pieces. If it's really important to your kids to keep the same order of turn, mark those on the envelopes as well. Store these in the Monopoly box.
Come back another time. Now that you've stashed the goods and taken a snapshot of where you left off, you can easily pack it up to play another time. My kids love this and it actually enhances the attraction of the game.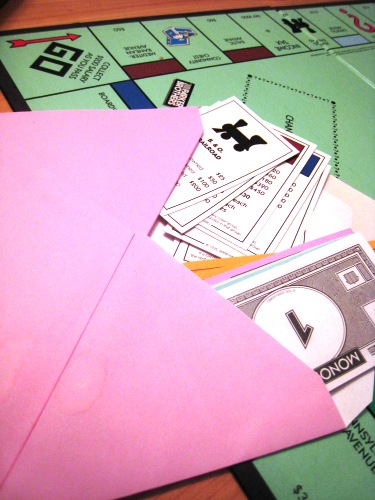 While I've heard that more recent versions of Monopoly include credit cards and I don't know what else, I recommend purchasing a more classic version with paper money. While I don't agree with the game's stated goal of "making everyone else bankrupt," I do think it's a great tool for teaching them about money, expenses, rent, mortgages, etc. It's been eye-opening to me to see how my kids think about money.
Do you play Monopoly?