Simple Freezer Meals for Summer
As an Amazon Associate I earn from qualifying purchases. For more details, please see our disclosure policy.
Are you looking for some simple freezer meals for summer that the kids will actually eat? I've got you covered with this super simple, yet totally delicious cooking plan of simple freezer meals for summer.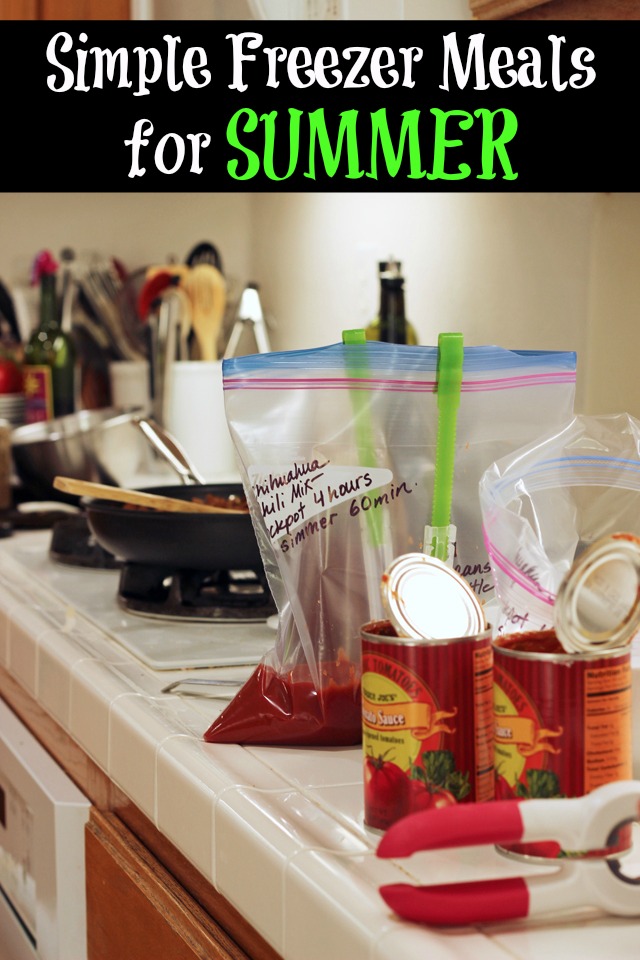 I am so thrilled with this month's freezer cooking plan. Simple summer freezer meals?! Yes, ma'am! Not only can you knock it all out in a few hours, but it also involves very little Heating O' the Kitchen. With summer temps rising somewhere — the weather has been fickle and even RAINY here in San Diego — it's nice not to turn on the oven.
If you get the Life as MOM newsletter, you know that I made the case for oven-turning-on for meatballs. They are so versatile and can be reheated a number of ways. You could totally just go to the store and buy a few bags of frozen meatballs but that would not be custom-made convenience foods. And unless you paid for organic, I would guess those are of dubious quality? I dunno. I don't think I've ever bought frozen meatballs. Making my own is so easy.
Speaking of meatballs, I made mine with a generic seasoning: salt, pepper, onion, breadcrumbs, and eggs. In this way, I can make Boules de Picolat or Sweet and Sour Meatballs in the crockpot or reheat them on skewers on the grill. Easy peasy.
Let me tell you what else I did in executing this freezer meal plan.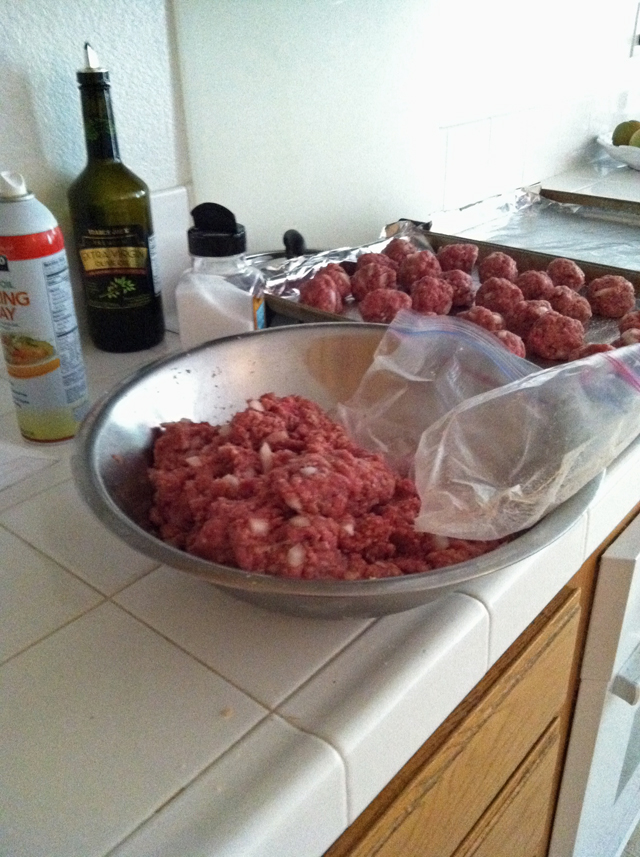 I broke it up over several days.
I estimate that you can easily knock this plan out in a couple hours, however, I found that I was able to work the prep into regular meal prep pretty easily.
I bought three packs of pork tenderloin over the weekend and cooked one when my parents were visiting. While I made the seasoning that night, I made two more bags of seasoning for future nights. This Spice-Rubbed Pork Tenderloin is super good with Peach Salsa. Keep that in mind when you serve it!
I had no more room in the fridge when I came home from Costco, so I made up the hamburger patties right away. This took about fifteen minutes and saved me space in the refrigerator.
While I was making meatballs for dinner one night, I baked up the rest of the meatballs and chilled them overnight.
Then I made the last few items in about an hour and a half on another day: fish spice, chicken marinades, chili, pie.
I made some dump and go kits.
While I was writing the freezer cookbook years ago, those "dump and go" Crock-pot freezer meals were all the rage. My editor called asking what I thought of them. He described them as weird specimens floating in formaldehyde. I have to admit, that's what many of them look like.
(By the way, )
I tested this method while I was working on this book and found that the texture of vegetables really suffered and that meat became tough sitting in some of the liquids. I only included the Cranberry Pork Chops in the book and only because it works well to sauté  the aromatics, cool them, and then add the other items.
Furthermore, my experience freezing vegetables is that you are asking for trouble if you freeze certain vegetables without blanching or even cooking them first. Raw potatoes will turn black. Broccoli and green beans will lose taste and texture. Even cooking raw vegetables in the crockpot is not as tasty as sautéing them first. A little kindness to vegetables will reap big rewards. I had one reader write to tell me that she had ten bags of potato soup turn black. The pin on Pinterest didn't tell the whole story.
All this is to say, I'm not a fan of slow cooker freezer meals unless you do them a certain way. I made two styles this week that I think are foolproof as well as delicious.
Sweet and Sour Pulled Chicken – the sauce in this recipe is very much like a marinade. While I haven't cooked it after freezing yet, I have no qualms about doing so. I can thaw the bag the night before and dump it in the crockpot and go. This saves a lot of time on freezer cooking day so I understand the appeal of this type of freezer meal.
Chihuahua Chili – this cooking round I found myself averse to paying for canned beans. They are so expensive when you're buying a lot. So, I cooked beans from scratch. To save time, I decided not to simmer the chili together, but to package a "chili mix" separate from the beans. I cooked the meat and added the tomato sauce and seasonings. I marked the bag to remember to add the beans and beer later. I can dump the bag and the extra ingredients into the slow cooker and it'll be good to go. This method is particularly helpful when you don't have a lot of space in the freezer. You could use canned beans but just not add them until you cook it all up.

By the way, that green gadget for holding the bags? It's a Baggy Rack. I liked it, but not sure how much more effective it is than using bowls. Longtime LAM reader, Michelle, said she uses clothespins to hold the bags in place. I think that's a much cheaper alternative!
I filled the freezer without a lot of work.
This freezer meal plan is amazingly easy. In fact, I'm tempted to do another round this weekend. This picture represents the biggest mess I ever had in the whole process. This plan will not destroy your kitchen.
The recipes share common ingredients, allow for personal tweaks, come together quickly, and are perfectly simple freezer meals for summer. What more could you ask for?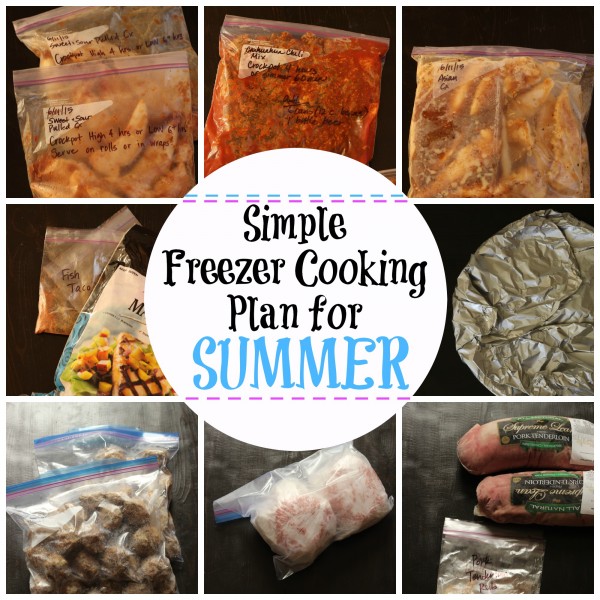 You can fill the freezer, too!
Grab the recipes here:

Print off the cooking plan.
Get the Simple Summer Cooking Plan.
Buy my book.
Not Your Mother's Make-Ahead and Freeze Cookbook has 200 delicious recipes and 10 easy cooking plans. They are family favorites that even picky kids like. 🙂 Thanks for your support!