FREE Paper and Pencil Game Book
We are a participant in the Amazon Services LLC Associates Program, an affiliate advertising program designed to provide a means for us to earn fees by linking to Amazon.com and affiliated sites. We participate in other affiliate programs as well. For more details, please see our disclosure policy.
Looking for an easy homemade gift to give to the children in your life? Take them on a trip back in time with this free printable paper and pencil game book.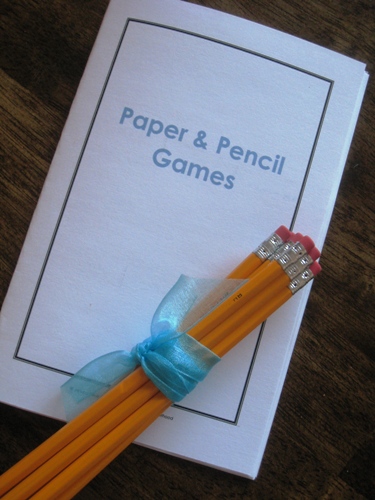 Years ago money was extremely tight. Wisdom said that I couldn't spend a lot of money on Christmas gifts. But, I so wanted to! Wisdom got her way though, and what resulted was a years long quest for homemade, budget-friendly gifts to give to family and friends at the holidays.
This paper and pencil game book was one of those gifts. It's a far cry from today's electronic gadgets, but in some ways, that is quite refreshing. You can play a number of games with only paper and a pencil. Believe it or not, Battleship even had its beginnings as a paper game! This is the perfect game to pack for car rides, the boring afternoon with relatives, or when the power has run out on the favorite electronic gadget.
And sometimes, unplugging is just a little more peaceful!

Want to plan a fabulous holiday? A Simpler Season holds almost everything you need to do just that.This guide to planning the winter holidays provides creative ideas , time-saving tips, and budget-minded inspiration for making the most of Thanksgiving, Christmas, and New Year's. With the busy family in mind, I've provided recipes, to-do lists, children's activity sheets, planning pages, gift ideas, and step-by-step tutorials for creating homemade gifts. Grab your copy today.
FREE Printable Game Booklet
You ca n download the booklet for FREE. Print it out on back to back pages, fold and secure with staples or ribbon. Wrap it up with a pack of pencils for a fun gift on the go. The pages will look wonky to the naked eye, but if printed back to back, in order, they should fold up just right.
(An easier, though slightly more expensive, option is to have your local copy shop print and staple the booklet for you. That's what I did many moons ago.)
Homemade gifts are a great way to save money on holiday gift giving. Here are some other homemade gifts we love:
How do YOU save money?